2022 Teen Vogue Bacne Award Goes to...Cherry Jelly Cleanser!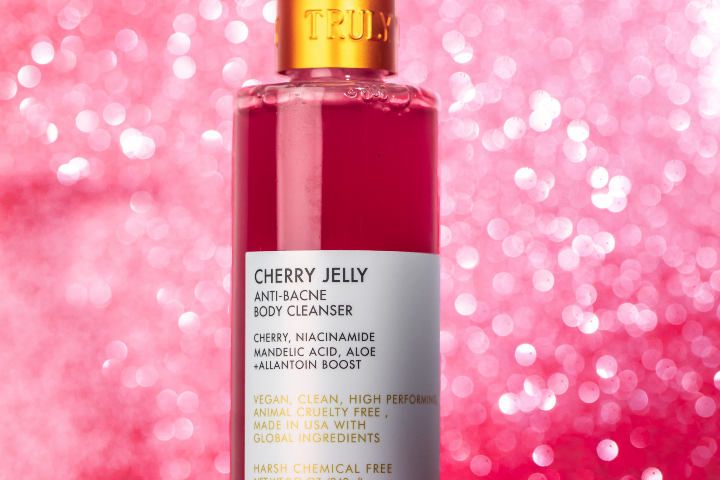 We have a special announcement for you: our Cherry Jelly Body Cleanser just won a Teen Vogue Award! Woo-hoo! This blemish-fighting body wash is the winner of the Teen Vogue 'Best for Bacne' award, and we couldn't be more thrilled.
Obviously, we knew this cleanser was a bodne-banishing baddie, but this award is the seal of approval needed to show you how much this formula rocks.
Anyone who's used our Cherry Jelly Cleanser will know. For those who haven't, here's everything you should know about this award-winning body cleanser.
Cherry Jelly Body Cleanser
What it is
A daily body cleanser designed to clear up bacne (or any body acne). It's formulated with a blend of exfoliating BHAs, soothing niacinamide, and hydrating allantoin which work together to improve the appearance of breakouts that occur on the thicker skin of the back while alleviating dryness, redness, and irritation. It's also enriched with antioxidant-rich cherries that aid in brightening, protecting, and eliminating hyperpigmentation.
Key Ingredients
Salicylic Acid: Found in most acne treatments, this beta hydroxy acid gently buffs away the buildup of dead skin cells and sebum, unclogging pores and preventing future pimples.
Mandelic Acid: Boasting superficial dermal peeling, mandelic acid is an all star for reducing the appearance of body acne. The gentlest of AHAs, mandelic acid penetrates the skin slowly which makes it ideal for all skin types.
Niacinamide: A stable vitamin that acts as an antioxidant to fight free radicals, diminish discoloration, promote elasticity, condition, and calm redness.
Cherry: Rich in vitamins A, B, C, and E, cherry rejuvenates skin while evening pigmentation and deeply nourishing skin.
Aloe: An ultra-calming ingredient that hydrates and soothes, alleviating redness, dryness, and itchiness.
Allantoin: A non-irritating ingredient that soothes and protects while spurring the skin's natural healing process. Allantoin provides non-greasy hydration to acne-prone skin while improving signs of aging.
What it Targets
Cherry Jelly Anti-Bacne Cleanser targets the unique blemishes that occur on your back and any other part of your body (i.e. your chest, shoulders, butt).
Salicylic and mandelic acid work in tandem to buff away acne-causing buildup and bacteria while aloe and allantoin aid in counteracting any irritation caused by these two acids. Meanwhile, cherry and niacinamide assist in hydrating skin and reducing the appearance of post-inflammatory hyperpigmentation.
Why it's Special
Teen Vogue Award winner

Packed with a combination of only the best bacne-fighting ingredients

Clean

Vegan

Cruelty-free
Best for
This formula is best for oily skin and acne-prone skin. It's also gentle enough to be tolerated by dry skin and sensitive skin, when used sparingly. If you're dealing with body acne, this resurfacing, blemish-busting elixir is a daily essential. 
Scent
Reviewers describe it as having a sweet cherry scent. If you love a fresh fruity fragrance, you'll love lathering up with our Cherry Jelly Bodne Cleanser.
How to Use
In the shower, dispense a couple of pumps of cleanser and apply onto wet skin. Lather up your back, chest, or butt (or all three!) to thoroughly cleanse. Rinse and pat dry. Follow up with a lightweight moisturizer and sunscreen with SPF 30 or higher.
Pro-tip: Let it stay on the skin for one minute before you rinse off to let all those powerhouse active ingredients work their zit-zapping magic.
What Cherry Jelly Cleanser Works Well With
You can create a full bacne-fighting skincare routine using our Cherry Jelly Cleanser. Here are some beauty products to pair it with to zap back acne out of existence!
Tansy Water Body Mist
A quick fix spritz for your bacne. A blend of salicylic acid, blue tansy, and blueberry assist the body in quelling inflammation while promoting a clear, brightened, and even bod. It's basically like a toner — only in mist form.
Dragon Milk Body Lotion
A berry-scented body lotion that pairs the resurfacing powers of glycolic, salicylic, and lactic acid with the hydrating properties of shea butter and squalane. Together, these work to unclog pores, refine skin texture, and seal in long-lasting moisture for smooth, clarified skin.
Pimple Party Pack
Our biggest patches yet - these 12mm patches are perfect for tackling larger body blemishes. Hydrocolloid works to drain and flatten active blemishes while preventing scarring and future breakouts.
Looking for more acne-fighting skincare products? Whether you've got zits on your face or back, we've got an array of formulas to get you clear — FAST. From face masks to serums, polishes to body scrubs and cleansers, shop Truly today and start paving the way to clearer skin.
All our formulas are vegan and cruelty-free. We utilize high-performing actives such as retinol, vitamin C, AHAs, BHAs, vegan collagen booster, coconut oil, and a variety of fruit extracts to deliver the fastest, most effective results.
First time here? You'll also find haircare, body care, eau de parfums, and glam accessories like makeup bags and robes on our site.
Share
---