5 Benefits of Exfoliating Soap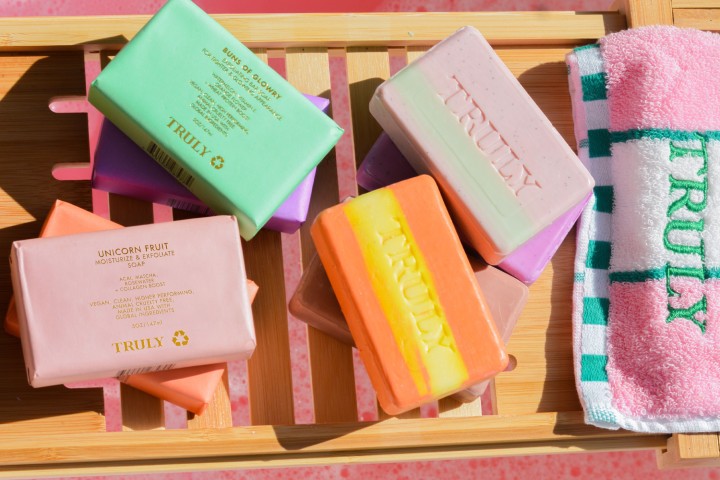 Exfoliating soap is a type of soap used to buff away the buildup of sebum and dead skin cells for smoother, clearer skin. Unlike your regular bar of soap, exfoliating soaps can treat a slew of skin concerns ranging from blackheads to dullness and uneven skin texture.
The two most common forms of exfoliation are physical exfoliation (loofah, face + body scrubs) and chemical exfoliants (glycolic acid, lactic acid, salicylic acid) commonly found in cleansers, body washes, and serums. Exfoliating bath bars are a type of physical exfoliant that works by sloughing away dead cells.
If you've never used an exfoliating soap bar before, it's definitely worth including in your daily skincare routine. Ahead, all the benefits of exfoliating soap.
#1: Brightens
When dead cells accumulate on the skin's surface, light doesn't reflect as well, leading to dull skin. With regular exfoliation, skin becomes brighter. It sloughs away those old dead cells, revealing fresh, glowing skin underneath. If you're looking for a quick glow fix, an exfoliating bath bar can help — and you can use it all over for a head to toe glow.
#2: Combats Breakouts
Clogged pores happen due to a buildup of oil, impurities, and dead skin cells. To unclog pores and keep blemishes at bay, it's important to exfoliate at least 2-3 times a week. An exfoliating soap bar can help to dislodge dirt and dead cells, keeping pores clear and preventing the formation of breakouts.
While cleansers and topical treatments can help to combat acne, you really need to start with a freshly buffed canvas. Whether you're experiencing face or body acne (or both) an exfoliating soap bar might be your path to clearer skin.
#3: Improves Skin Texture
Buffing your skin with an exfoliating soap bar helps improve skin tone and texture for a smoother look and feel. Whether you're dealing with roughness, dry skin, or fine lines and wrinkles, gentle exfoliation can alleviate these skin concerns, and leave your skin feeling irresistibly smooth.
With better skin texture, your skin will not only feel and look smoother, but it'll also make your foundation, concealer, and other products look even more flawless.
#4: Eliminates Odors
Sweat doesn't actually smell. Bad odors occur when sweat mixes with bacteria, causing you to reach for the deodorant. Skin exfoliation removes the buildup of dead skin and bacteria, keeping your pores clear, skin clean, and unpleasant odors away. To keep your skin smelling fresh, use your exfoliating soap daily in the shower or bath. You can use exfoliating soaps on the face and body, so focus on those areas where things smell a little funky.
By making it a part of your daily body care routine, you prevent the accumulation of odor-causing bacteria, and stay smelling fresh!
#5: Makes Your Skincare Products Work Harder
Your serums, lotions, and creams won't absorb as effectively if there's a layer of dead skin cells sitting on the skin's surface. For maximum product absorption, buff away the dead cell buildup with an exfoliating bath bar. This way, you're prepping skin for the next products in your skincare routine, and ultimately boosting their effectiveness.
Regardless of your skin type, everyone can benefit from regular exfoliation. And if you want to make sure you get your money's worth from your luxury serums and creams, buff first.
WHAT TO LOOK FOR IN AN EXFOLIATING SOAP
With so many exfoliating soaps available, you might be wondering what to look for in order to get the best effects from it. Above all, you want to look out for hydrating, brightening, and resurfacing natural ingredients like vitamin C, coconut oil, retinol, and vitamin E.
If you've got sensitive skin, avoid using soaps formulated with sugar or sea salt as they might irritate the skin. Those with oily skin or acne-prone skin would benefit from using soaps infused with retinol and salicylic acid, which resurface, unclog pores, and fight acne-causing bacteria.
HOW TO USE AN EXFOLIATING SOAP BAR
It's easy! Simply hop in the shower with your bath bar in hand, rinse it under warm water to create a nice lather, then massage it into your skin using circular motions. You can use it on your face and body for all over exfoliation. Let it sit on the skin for a minute before rinsing to let all those active ingredients sink in and work their magic!
If you have oily or acne-prone skin, aim to exfoliate around 2-3 times a week, or daily if you're dealing with severe oiliness. Those with dry or sensitive skin should limit exfoliation to 1-2 times a week to prevent irritating or drying out the skin.
Shop our NEW Exfoliating Bath Bar Set
Our NEW Exfoliating Bath Bar Set has arrived! Luxurious, lathery, and utterly indulgent, each bath bar is modeled after our iconic lines — Acai Your Boobies, Buns of Glowry, Anti-Cellulite, and Unicorn Fruit. Infused with antioxidant-rich, collagen-boosting ingredients like retinol, acai, orange flower, and vegan collagen, this 4-piece bath bar set can suds away everything from dryness to sagging and dimply skin.
By buffing away dead skin and stimulating blood flow, these bath bars add instant glow to your skin. Featuring the signature fragrances of our bestselling body care lines, these mood-boosting soaps will leave you smelling sweet — all day long.
Because each bar comes with its own set of skin benefits, you can use a different one each day. From smoothing out cellulite to tackling blemishes and firming up loose skin, these exfoliating bath bars do it all!
All different sorts of exfoliating products line the shelves of beauty stores, but how do you know which one to choose? To maintain smooth, healthy skin, it's always best to stick to gentle formulas that won't irritate or dry out your skin.
As much as we recommend incorporating exfoliating acids into your routine, an exfoliating soap bar is a handy product for sudsing away dirt and dead skin from the whole of your body. And it's something you can do in your daily bathing routine!
Share
---