6 Best Skin Tightening Treatments for Stomach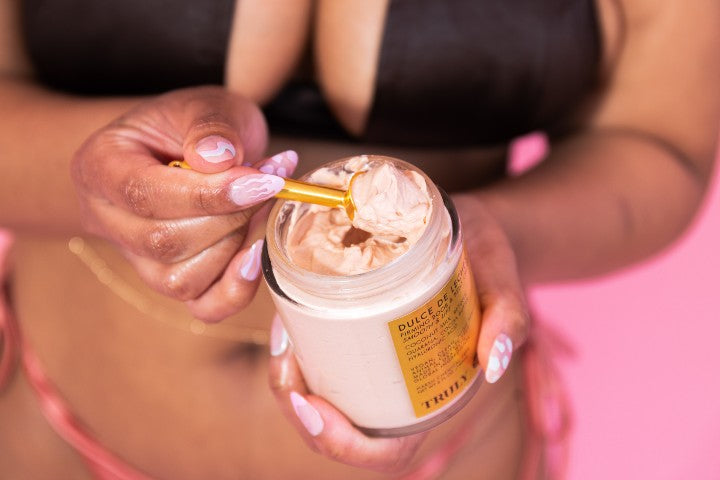 Stomach tightening is the latest skincare trend people are obsessing about. Instead of opting for painful and expensive in-office treatments with days (or possibly weeks!) of downtime, beauty babes are slathering their skin with skin tightening treatments that typically come in the form of creams, scrubs, and masks.
If you're interested in non-invasive skin tightening for your tum, here's a list of the six best skin tightening products you can find in a bottle or tub.
#1: Dulce de Leches Firming Belly Polish
Firm up loose skin on your stomach with this skin tightening scrub. Retinol and guarana work in tandem in this resurfacing formula to boost collagen production, restore elasticity, and tighten loosen skin. In addition to its skin firming benefits, this caramel-scented polish smooths out stretch marks and fine lines. The formula is further enhanced by hydrating coconut milk and hyaluronic acid, both of which intensely moisturize skin for long-lasting smoothness.
Even though it's designed for the belly and boobs, you can use it on other areas of the body prone to sagging and dryness such as your upper arms, jowls — or anywhere where there's loose skin.
What's more, it helps to buff away dead skin cells, enabling your freshest, glowiest skin to shine through while helping other skincare products penetrate deeper.
#2: Dulce de Leches Firming Belly Serum
A shimmery body contouring serum formulated with retinol, guarana, and cocoa butter to promote smoother, firmer skin in just a few uses. Together with hyaluronic acid, these ingredients help build collagen and elastin — giving skin a sculpted, more youthful appearance while fading out stretch marks and creases.
If you're not keen on the idea of skin tightening procedures, try this non-surgical skin tightening treatment instead. It won't give you a tummy tuck, but it will give you tighter skin on your tum!
Have you experienced dramatic weight loss and you're looking to tighten loose skin? Or perhaps you're dealing with skin laxity? This decadent serum can help — and it smells SOOOO good!
#3: Dulce de Leches Firming Belly Butter
A rich and buttery stomach firming cream powered by powerful actives like retinol and hyaluronic acid. Together, these ingredients join forces to deeply hydrate, increase collagen, and improve elasticity for a visibly sculpted stomach.
You can also use it on other areas prone to sagging like your arms, jawline, and butt. In addition to making your droopy parts extra perky, it'll leave you feeling and smelling like a snack! Plus, it's safe for all skin types, and can be used as a daily moisturizer after showering or bathing to tighten loose stomach skin.
Just be aware that the Dulce de Leches line is not recommended for pregnant or breastfeeding women as it contains retinol.
#4: Jellyfish Jammin' Tightening Body Mask
If you're looking to firm up loose skin after pregnancy, this is your go-to body mask. Unlike the skin tightening stomach treatments above, this formula does not contain retinol, making it a safe choice for breastfeeding moms looking for quick lift.
Jellyfish Jammin' Body Mask is a silky n' soothing gel infused with anti-inflammatory aloe, plumping hyaluronic acid, and tightening seaweed to secure taut, supple, and glowing skin on the stomach.
Besides being safe for pregnant and breastfeeding moms, it's also super easy on sensitive skin and soothes easily inflamed skin. If you have a skin condition such as eczema, this formula should be gentle enough for your skin without any unpleasant side effects like dryness, flaking, and irritation.
#5: Nice Melons Boob Serum
While it's designed for the cleavage, this fruit-powered potion also works wonders at firming other areas of your body like your belly and butt. Enriched with melon, ginseng, and kiwi, this decadently fruity body serum helps to condition, tighten, and prevent fine line formation on the chest while leaving you smelling like melon!
Another essential ingredient in this formula is Kigelia, a fruit native to tropical Africa with powerful skin-firming and elasticity-restoring capacity. While it's commonly used in Africa to firm and lift the chest, you can also use it on your stomach to keep it smooth and toned.
#6: Acai Your Boobies Serum
A silky, smoothing, and regenerative serum powered by antioxidant-rich acai and anti-aging retinol. These ingredients work in tandem to deeply moisture and assist in cell regeneration to improve the appearance of dry, dull, and sagging skin. One of our bestsellers, this and the rest of the Acai line are clinically proven to show improvements in skin tone, texture, and firmness in just four weeks of daily use.
Retinol takes most of the credit in this firming formula. The vitamin A derivative increases collagen production while stimulating cell turnover, leaving the skin with increased elasticity and improved tone and texture. It also has the added benefit of clearing up breakouts — and preventing them!
SHOULD YOU TRY AN IN-OFFICE SKIN TIGHTENING TREATMENT?
If you're looking for dramatic results, we recommend booking an appointment with a dermatologist or esthetician to discuss your skin tightening options. The most common procedures available include radiofrequency (Thermalift, Thermage, and Exilis), Intense pulsed light (Velashape), laser skin tightening, microneedling, and ultrasound (Ultherapy). These are all non-surgical procedures that require minimal downtime while providing intensive skin rejuvenation.
Many dermatologists recommend laser treatments for combatting skin issues like sagging, cellulite, and discoloration. However, make sure you visit a professional dermatology professional in order to receive the best possible service.
If you're going to try an in-office treatment, we always recommend opting for non-surgical treatments instead of invasive procedures, which can be a painful, risky, and expensive.
Interested in injectables, Botox, or fillers? Speak to a qualified dermatologist before booking to discuss all the risk factors.
Personally, we like the firming skin formulas better! Have you tried any of them yet? Tag us on social media! We'd love to hear what you think!
Share
---