Agave vs Honey: How They Compare in Skincare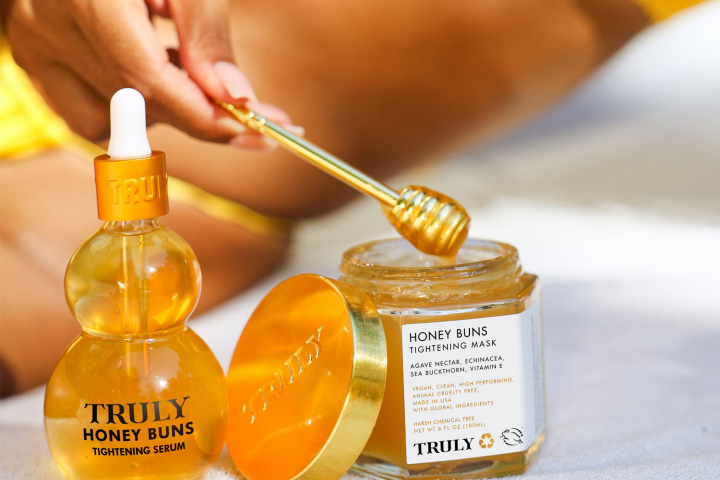 You may already stir agave nectar or honey into your morning cup of coffee — if you're not already using one of the many other white sugar substitutes (maple syrup, molasses, Stevia, etc.), that is.
On the surface, agave and honey look, feel, and smell very similar. However, these natural sweeteners are two different ingredients with varying skin and health benefits.
In skincare, honey is already a prominent ingredient commonly found in hydrating formulas like face creams, body lotions, and butters. Agave nectar, on the other hand, is a newly discovered skincare ingredient that's only just making its way into face and body formulas.
Wondering which is better? Below, we compare the differences between agave and honey, and the products you'll find them in.
WHAT IS AGAVE NECTAR?
Agave nectar is a syrup derived from the blue agave plant, a succulent native to the Americas, which is famous for its use in tequila-making. Otherwise known as agave syrup, this added sugar predominantly consists of fructose, glucose, water, and small amounts of other carbohydrates, fats, vitamins, and minerals. Due to its high fructose concentration, agave is sweeter than table sugar with less of an effect on blood glucose levels, making it a healthier alternative.
"Agave in very small doses—one teaspoon or so—may be healthier than table sugar because it's mostly fructose and therefore won't affect blood-glucose levels as much as plain old sugar, but its fructose could cause it to contribute to fatty liver or increased deposition of fat in the body," says registered dietitian Dana Hunnes, PhD, MPH, RD.
Nowadays, agave nectar can also be found in a range of skincare products. Packed with antioxidants and minerals, it makes an excellent plant-based honey substitute that can hydrate, soothe, and tighten skin.
BENEFITS OF AGAVE 
Agave can be added to tea, coffee, and smoothies as a healthy sugar alternative. Unlike high fructose corn syrups and other sweeteners, agave has a fair amount of nutritional value, as it's rich in potassium, calcium, and selenium.
It also boasts several skincare benefits thanks to its profile of vitamin C, B1, B2, C, D, K, and provitamin A. Agave nectar used topically helps to moisturize skin, soothe inflammation, and tighten loose skin.
A vegan honey alternative, agave gives you the texture, scent, and look of honey while remaining 100% plant-based. It's the perfect choice for anyone following a vegan lifestyle.
WHAT IS HONEY? 
Honey is a sweet liquid made by bees. It begins as flower nectar, which bees collect and transport to their honeycombs. From there, it's converted into simple sugars, which beekeepers collect, strain, and bottle up. According to dietitians, honey is closer to table sugar (sucrose) than agave nectar is. It also has a low glycemic index, which means it raises blood sugar quickly.
It is commonly used in skincare products, especially hydrating products like creams and lotions. You'll also find it in hair care products such as shampoos, conditioners, and hair masks.
BENEFITS OF HONEY 
One of Mother Nature's power players, honey can treat a slew of skin concerns including acne, scars, dryness, and even skin conditions such as seborrheic dermatitis, atopic dermatitis, and psoriasis. It's even been said to support weight loss and prevent obesity. But don't just buy any pot of honey you find at the grocery store. Support healthy eating habits by always choosing raw honey.
While it may not be as healthy as agave, honey does boast a slew of health benefits. With its antibacterial and antioxidant properties, raw honey can treat everything from acne to allergies to sore throats and even heart disease.
AGAVE VS HONEY: THE BOTTOM LINE
Agave is a relatively new skincare ingredient that's already shown to boast a throng of skincare benefits, such as hydrating, tightening, and soothing skin. While research is limited compared to honey since honey has been around much longer, agave nectar is a promising skincare ingredient that can treat numerous skin complaints.
It's also 100% plant-based, making it an excellent alternative to honey-based products. Best of all, it feels, smells, and looks just like honey. The only difference? It's VEGAN!
SHOP AGAVE SKINCARE 
We've just released our NEW Honey Buns Tightening Mask and Serum Set to take your self-care routine to a whole new level. Harnessing the powers of agave nectar, this 100% vegan honey skincare treat tackles everything from dryness to loose skin and acne scars. Here's everything you need to know about this brand new skincare set.
Honey Buns Tightening Mask and Serum Set
The Honey Buns Set is a two-step body care routine featuring a mask, serum, and our limited edition Honey Dipper Stick for drizzling. Deeply indulgent and delectably sweet, these skincare treats harness the hydrating, soothing, and firming powers of agave nectar for irresistibly smooth, supple skin.
WHY IT'S SPECIAL
Honey Buns Mask + Serum are enriched with high-performing vegan ingredients such as agave, sea buckthorn fruit oil, echinacea, and vitamin E to soften fine lines, sculpt sagging skin, and fade acne scars while offering relief to sensitive, irritated skin. Honey Buns brings you a sustainable, honey-inspired skincare routine to transform your entire body — and help you keep a clean conscience.
HOW TO USE 
Step #1: Dip, Twist & Drizzle
Use your uber-cute Honey Dipper Stick for dipping into your Honey Buns Mask. Simply dip, twist, and drizzle this syrupy formula over your dry n' doughy parts.
Step #2: Apply Your Honey Buns Mask
Drizzle the mask over your entire body (or the areas most prone to dryness and sagging). Let it sit for 15-20 minutes, then rinse off.
Step #3: Apply Your Honey Buns Serum
After rinsing and patting your skin dry, massage 4-5 drops of serum into your skin to leave skin soft, springy, and supple.
Where to Shop Honey Buns Tightening Mask and Serum Set
This luxurious, honey-inspired body care set is available on our official website. Soon to be available on Ulta! Get yours before it sells out!
Share
---