How Avocado Will Help Your Razor Burn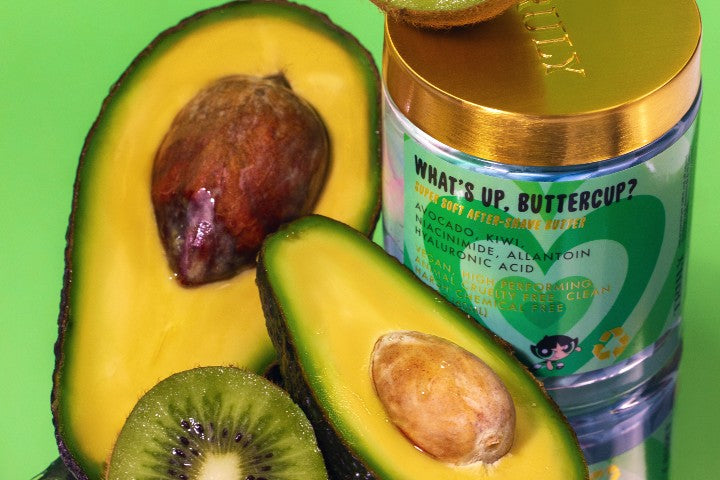 At some point in your life, you're probably going to deal with razor burn. 
Razor burn is skin irritation that occurs while shaving different parts of your body, including your face, underarms, legs, or bikini area. It typically affects people with sensitive skin. However, it can also be caused due to poor shaving techniques.
You know you're dealing with razor burn if you're experiencing red bumps, irritated skin, a rash, or itchiness. 
The good news is, a skincare hero is here to save the day (or your skin, at least!): avocado. Here's what you need to know about this ultra-hydrating, skin-soothing ingredient -- and how to use it in your skincare routine.
WHAT CAUSES RAZOR BURN?
Ever wondered what's causing those rashes and razor bumps on your freshly shaved parts? According to dermatologists, razor burn is caused by trauma while shaving.
"As the razor blades move over the skin, they can disrupt the outer skin layer, leading to microscopic cracks, loss of hydration, and inflammation," says Joshua Zeichner, MD, an associate professor of dermatology and the director of cosmetic and clinical research at Mount Sinai Hospital in New York City. 
Not prepping with shaving cream or gel, shaving against the grain, or using an old razor may also lead to razor burn. That's why it's important to always apply an emollient prior to shaving to protect the skin from razor-induced inflammation. 
HOW AVOCADO CAN HELP ALLEVIATE RAZOR BURN
Avocado oil has multiple skin benefits thanks to its bioactive molecules, including fatty acids, vitamin C, and vitamin E. As board-certified dermatologist Hadley King, MD explains, "Vitamins C and E are potent antioxidants that can help protect the skin from damage from free radicals from UV rays and pollution. And fatty acids are great for moisturizing and nourishing the skin barrier."
What's more, avocado oil also has anti-inflammatory properties, making it an extremely handy tool for soothing irritated, post-shave skin. Here are all of avocado's benefits for shaved skin, summed up.
It's Deeply Hydrating
Olive oil, coconut oil, and almond oil are all well-known natural oils commonly found in serums, lotions, oils, and face masks. Avocado isn't so widely known, but that doesn't mean it shouldn't be.
Avocado is known for its moisturizing and nourishing properties, acting as an occlusive to seal in hydration. Research shows that it is an excellent ingredient for dry skin. While another study shows its ability to increase collagen synthesis, which helps the body create new healthy skin cells for a strengthened skin barrier. 
It's Anti-Inflammatory
Avocado acts as a powerful anti-inflammatory by lessening the number of inflammatory cells in your skin. As a result, it speeds up the healing process while soothing active irritation. According to the derms, it can also be helpful in calming inflammatory skin conditions like eczema, acne, rosacea, and dermatitis.
In other words, avocado is an excellent ingredient for soothing razor burn and bumps. It's definitely worth keeping a tube of it in your beauty cabinet -- for those last minute emergencies! It can even be helpful in reducing redness and irritation associated with ingrown hairs.
It's Highly Nourishing
According to the pros, avocados are the best for boosting the overall health of your skin. 
"Cold-pressed avocado oil has an abundance of antioxidants, plant sterols, omega-9, minerals, and vitamins, including vitamins C and E," says Maya Ivanjesku, chief scientific officer at LaFlore Probiotic Skincare. "Together, these nutrients can help boost the production of collagen, soothe inflammation, and lift away old skin cells."
Whether you're dealing with itching, dryness, or a burning sensation, avocado oil conquers all -- especially in relation to shaving irritation.
BEST AVOCADO-INFUSED SKINCARE PRODUCT
Try What's Up, Buttercup?, Truly's limited edition super soft after-shave butter designed to soften, smooth, and fight acne. This adorable swirl of avocado and kiwi contains a deeply conditioning blend of ingredients to reduce irritation and help heal razor burn. 
Avocado's anti-inflammatory properties aid in soothing post-shave redness and irritation while niacinamide regulates oil and strengthens the skin's ceramide barrier. Together, these ingredients work wonders!
How To Use: 
Apply a thick layer of after shave butter directly to skin or affected areas. Rub it in gently until the butter is fully absorbed. For best results, use after every shaving session.
OTHER QUICK TRICKS FOR PREVENTING RAZOR BURN
As great as avocado is for helping razor burn, here are some other tips to bear in mind the next time you plan on shaving.
Always Use a Fresh Razor-- a fresh razor means a sharp razor, and that indicates a smoother, closer shave sans razor burn. It doesn't matter whether you're shaving your underarms or your pubic area, a sharp razor is key to shaving success.
Apply a Cold Compress-- if you're feeling super sore following your shaving session, apply a clean washcloth soaked in cold water to the affected area. Hold it over the area for 2-3 minutes, and repeat until irritation subsides.
Treat-- try an over-the-counter 1 percent hydrocortisone cream to calm inflammation. Use it twice daily for one to two weeks. 
Try Other Natural Remedies-- tea tree oil, witch hazel, and aloe vera are fab ingredients for soothing the skin and reducing the appearance of razor burn. Apply one of these oils, diluted, directly after hair removal to instantly remove discomfort. It's a home remedy that works!
Exfoliate Before Shaving-- exfoliation should always come before shaving to dissolve dead skin cells and unclog the hair follicles. The end result will be fresher and smoother.
Avocado is an awesome ingredient for getting rid of razor burn and prompting overall skin health. In addition to applying avocado oil to the skin, try doing the obvious things like using shaving gel or cream before putting to razor to skin, and always shaving in the direction of hair growth. Avocado can also help if you've got irritation from waxing. Simply apply it in small amounts and lather it up with your shower gel and warm water for added hydration and nourishment. Or simply dab it directly onto affected areas. 
In the meantime, steer clear of drying astringents and fragrances. 
Share
---