How Body Shimmer Oil Changed My Going Out Game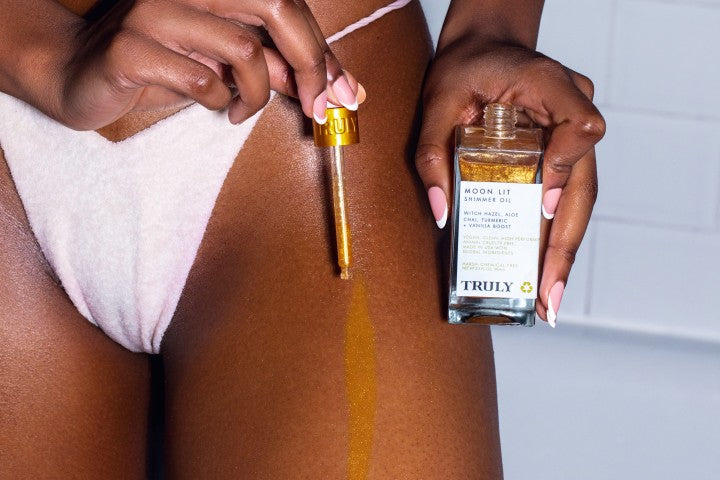 Inspired by fall evenings, our brand-new body shimmer oil is designed to get you glowy and glam for all those upcoming holiday parties! 
Like liquid gold for your skin, body shimmer oil is one of those beauty products we just can't get enough of. Besides being seriously hydrating, they'll leave you looking like a beach goddess -- even in autumn and winter. Simply massage in for an instant radiance boost!
Keep scrolling to hear how shimmer oil can change your going out game -- and keep you glowing throughout fall and winter. 
Introducing...Moon Lit Shimmer Oil
Moon Lit Shimmer Oil has just been added to our virtual shelves!
Scented with vanilla, this lightweight shimmery oil is enriched with moisturizing aloe, soothing witch hazel, and illuminating chai and turmeric for a glimmering, glossy finish. Plus, it's vegan and cruelty-free. 
SKINCARE BENEFITS OF MOON LIT SHIMMER OIL
Most body shimmers don't really come with skincare benefits. They're there purely to add shimmer to your skin. Well, that's where Moon Lit's different. Thanks to its nourishing blend of witch hazel, chai, turmeric, aloe, and vanilla, it offers multiple skincare benefits including hydration, anti-aging effects, skin soothing, and skin brightening. 
It offers relief to dry skin types, while deleting dullness in lackluster skin. Those with sensitive skin can also benefit from this calming formulation. 
WAYS TO USE IT
Wondering how to use Moon Lit Shimmer for a glowing bod (or face!)? 
When it comes to any shimmering oil, you want to focus on applying it to the areas of the body that naturally catch light, like the shoulders, collarbone, cleavage, and cupids bow. This will give dimension to your body shimmer so you avoid looking like you fell into a bathtub full of glitter. Of course, you can also apply a light coat all over for ultimate shine. However, this look is better left for big nights out when you want to go high on sparkle and shine!
Here are the best places to apply Moon Lit Body Shimmer:
Cheekbones
Cupid's bow
Shoulders
Collarbone
Cleavage
Front of thighs and calves 
Simply dab it on or massage it in for some serious glow!
HOW TO PREP SKIN FOR SHIMMERING BODY OIL
The trick to maintaining your shimmery head to toe glow starts with proper skin prep. Here are some easy steps for prepping your skin for body oil shimmer.
#1: Exfoliate
Exfoliating the skin dissolves dead skin cells and enables your oil to glide on smoothly and absorb better. Always exfoliate before using your shimmering oil. You can use either a sugar-based body scrub or a chemical exfoliant like glycolic acid or lactic acid. Usually these chemical exfoliants are found in cleansers, serums, and toners. 
Our faves include Moon Rocks Scrub and CBD Jelly Toning Solution. Stick to exfoliating once or twice a week to keep skin smooth, soft, and glowing. Avoid exfoliating every day to prevent irritation and sensitivity.
#2: Moisturize
Next, apply a thin layer of lightweight body lotion before slathering on your shimmering oil. This provides the skin with a layer of hydration to ensure that the oil goes on smoothly and gives a long-lasting glow. You can use a moisturizer or body butter of your choice, but we recommend something lightweight and hydrating like our Blueberry Kush CBD Body Lotion.
Alternatively, try something enriched with vitamin C for an additional boost of radiance like our luxe Vegan Collagen Body Cream.
#3: Hydrate Your Face too
If you plan on applying a little shimmer on your cheekbones and cupid's bow, remember to moisturize the skin on your face, too. We recommend choosing a formula infused with hyaluronic acid like our Cream Skin Face Moisturizer and GLOAT Lip Plumping Serum.
You may also want to apply eye cream, hand cream, and other hydrating skincare products if you want maximum radiance.
#4: Protect
While shimmer is best applied for evening use, if you're going to wear it during the day, always follow up with a sunscreen with an SPF of at least 30. This will protect your skin's natural glow.
HOW TO APPLY SHIMMER BODY OIL
Ready to slather on the shimmer? Here's how to apply our Moon Lit Shimmer Body Oil for the best possible results.
Use Your Hands or a Brush
Like with foundation and concealer, some people prefer to apply with a brush, others with a sponge, and some with their hands. It all depends on what you prefer. 
Beauty experts generally recommend using a brush to apply shimmering oil since the pigment will cling more to your hands than to where you are applying it. The best brush for the job? A large stippling brush. 
Always Apply Less than You Think
When using shimmering body oil, always remember to apply less than you'd think you'd need. It really does go a long way -- much longer than you'd expect. To avoid overdoing it, start with less. You can always add more if you want to!
Let it Dry Before Getting Dressed
Avoid the transference of body shimmer oil onto your clothes by giving it at least 10 minutes to soak in before getting dressed. If you'll only be applying it to your face and collarbone, you can get away with applying it after you've dressed. However, be extra careful to ensure the shimmer doesn't get on your clothes.
Getting ready for a big night out? Now that your shimmer's on, be sure to follow up with a fun makeup look. A swish of eyeshadow, a swipe of mascara, and a lick of lipstick are you all need for a fun, bold going out look. For a little extra glow without shimmer, use a few dabs of jojoba oil or coconut oil for shimmer-less dewiness.
Body shimmer oil is a gamechanger for going out! Not much of a social butterfly? Incorporate it into your self-care routine. In addition to hydrating and nourishing your skin, Moon Lit Oil can enhance skin tone, soothe irritation, and boost your overall glow.
Share
---