How to Choose the Best Post-Shower Body Butter For U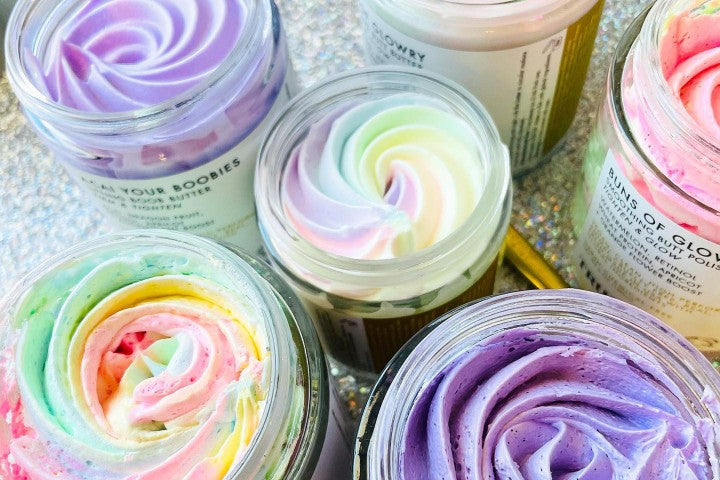 Moisturizing post-shower is essential for driving out dryness and locking in hydration.
The best time apply body lotion? On damp skin. After showering, towel dry your wet skin only slightly so it's still damp and your moisturizer will sink in nicely, delivering hydrated skin for the rest of the day.
Rich and nourishing, body butters outdo body creams when it comes to hydrating and softening the skin. That's because butter has a thicker texture and is formulated with a high percentage of oils and butters like coconut oil and cocoa butter, which lock in moisture. They're ideal for dry skin.
Body butters come with different price tags, ingredients, and scents. To help you select the best body butter for your budget, preference, and skin type, we've selected our top five favorite body butters that we know you'll love!
Unicorn Fruit Body Butter
For: Sugar-Fruit Fragrance Lovers 
This luxurious, candy-scented product has a whipped formula that's soft and lightweight enough to massage into the skin, while being rich enough to provide deep hydration.
The main ingredients in this body butter are acai, shea butter, vitamin E, matcha, rosewater, collagen, and chia seed. Together, these nourishing natural ingredients offer emollient properties to create a hydrating, protective barrier to firm, plump, and hydrate the skin.
Thanks to its collagen-boosting powers, this skincare product fades existing fine lines and delays signs of aging. It also helps repair damaged skin and strengthens the skin barrier to keep nasty intruders out. It's the skin moisturizer your body needs to glow from neck to toe.
This gentle formula is suitable for all skin types, especially dry skin, sensitive skin and aging skin. It's one of our most budget-friendly butters.
Get your Unicorn Fruit Whipped Body Butter.
Unicorn CBD 
For: CBD Enthusiasts
This CBD-formulated body butter is a little pricey, but it's also luxurious and loaded with high-performing ingredients like CBD, matcha, collagen, shea butter, coconut oil, and cocoa butter. 
It's basically the same formulation as our Unicorn Fruit Whipped Body Butter with its same sweet scent, but with a CBD upgrade to calm inflammation, quell redness, and deliver glowing, healthy skin.
CBD is a natural antioxidant packed with vitamins A, D, and E. It's also rich in omega-3 and omega-6 essential fatty acids. Cleansing, exfoliating, and moisturizing, CBD oil is the go-to post-shower ingredient your skin needs to looks its very best.
With its shea butter base, this body moisturizer butter offers intense hydration for dehydrated skin. It also includes high concentrations of CBD to soothe stressed out skin. Add it to your body care routine for day-long hydration and relief.
It's best used as the final step in your body skincare routine to seal in moisture, and particularly effective when used after a shower. Because it's very thick, you only need to use a small amount to see (and feel!) results.
While it's perfect for dry skin, this butter may be too rich for oily skin. Thanks to its anti-inflammatory properties, it's also great for soothing skin conditions like eczema. 
Get your Unicorn CBD Body Butter.
Acai Your Boobies Butter 
For: Targeting Perky Boobs
Looking for a body butter with boob-firming effects? 
This gorgeous boob butter is designed to hydrate, sculpt, and smooth your breasts, targeting cellulite, sagging, and stretch marks.
It's made with high quantities of anti-aging ingredients like acai berry and retinol, which make it extremely effective for reducing wrinkles and fading fine lines. Almond oil and jojoba oil are also in here, lending their hydrating superpowers. 
Thanks to its natural oils and butters which give it a nice, rich texture, this boob butter glides on beautifully. You'll feel like a queen applying this whipped, berry-scented butter.
These ingredients are excellent for dry skin, oily skin, aging skin, and sensitive skin. And considering its high profile ingredients like retinol, this product is very reasonably priced.
Get your Acai Your Boobies Butter.
Buns Of Glowry Butter 
For: Smoothing + Clearing Hyperpigmentation
If you want a smoother, blemish-free booty, this is the body butter to pick up.
This watermelon-scented formula relies on wheat protein, vitamin E, and watermelon, which offer deep hydration and blemish-clearing abilities. 
Wheat protein takes full credit for filling out hollowness and dimples, promoting smooth, cellulite-free skin. But you can thank watermelon for promoting hydration, cell regeneration, and exfoliation. 
Together, these ingredients smooth out the skin, banish butt blemishes, and fade discoloration. Using it daily after your shower will leave your skin healthy, happy, and glowing!
It has a natural watermelon scent which makes it perfect for the summer time. Plus, it's suitable for all skin types - particularly dry, oily, or acne-prone skin. 
Get your Buns of Glowry Butter.
Coco Rose Fudge Body Butter
For: Brightening and Hydrating
Formulated with a blend of coconut and rose, this nourishing butter promises to hydrate and brighten dull, dry skin and deliver a glowing appearance. 
With its delicate floral aroma, you'll love slathering your skin in this luxurious, whipped, pink-hued formula. 
Its other ingredients include the ultra-hydrating shea butter, crease-fading collagen, and skin-soothing algae extract. Any skin type can benefit from this beautiful body butter. Plus, it's pretty budget-friendly. 
Get your Coco Rose Fudge Body Butter.
HOW TO BEST USE BODY BUTTER?
According to dermatologists, the best time to apply body butter is straight after bathing or showering, as this is when your skin is at its driest and soaks up the most moisture.
To optimize the effects of your body butter, start by using a gentle body wash that won't strip your skin of its natural body oils. Look for ingredients like argan oil, hyaluronic acid, jojoba seed oil, and glycerin. 
After stepping out of the tub or shower cubicle, pat your skin dry ever so slightly so that it's still a little bit damp. Then apply a generous amount of body butter from neck downwards.
If you shower in the day time, remember to follow up with a sunscreen (SPF 30) to protect your skin from UV rays and prevent dryness.
For best results, use your body butter daily - after every shower. 
Share
---