Ryan Gosling's Barbie Transformation: Get the Look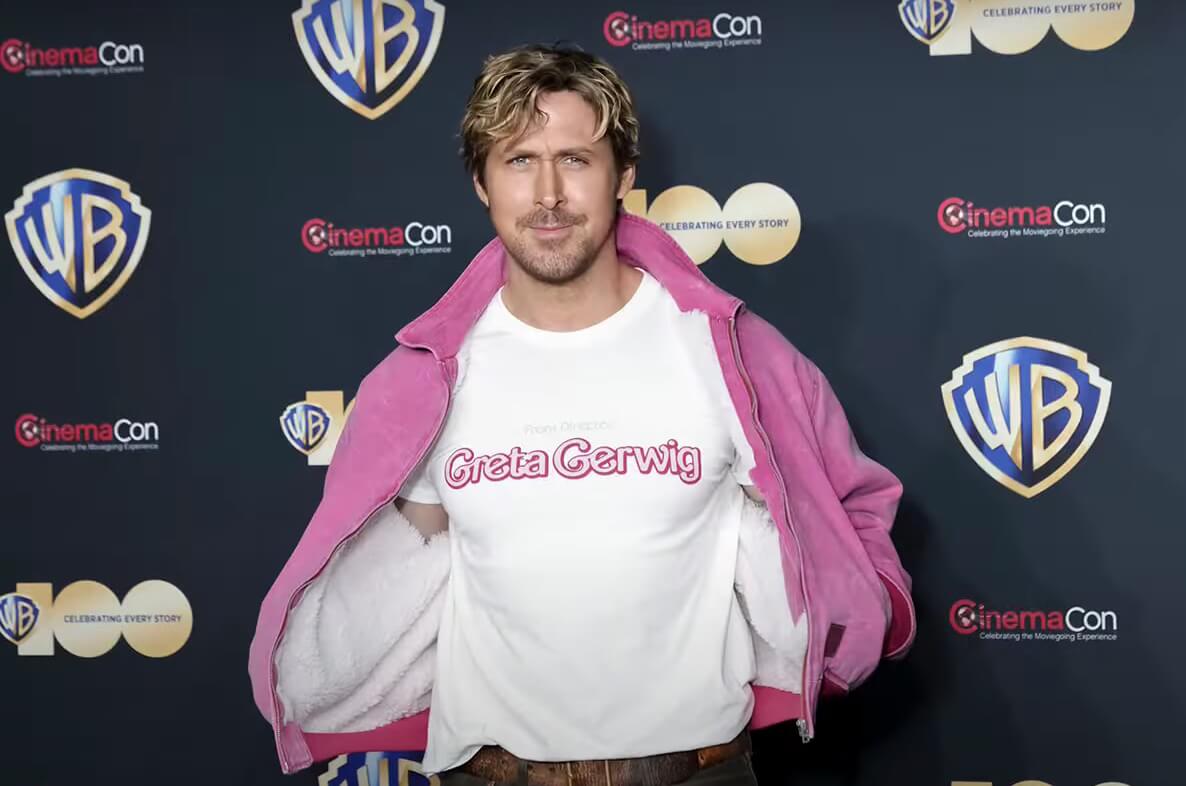 Ryan Gosling Barbie images are sweeping across the internet, captivating audiences as the actor effortlessly channels his inner Ken doll. Naturally, we're all excited to see Ryan Gosling's portrayal of Ken in the highly anticipated live-action Barbie movie. It's a delightful fusion of Hollywood charisma and the timeless allure of Barbie.
Ahead, we delve into the magical world of Ryan Gosling and Barbie, from his remarkable transformation to that iconic tan everyone's obsessed with.
Ryan Gosling Barbie: How He Found His Ken-ergy
During the recent Barbie Cinemacon panel, as part of the Warner Bros. Pictures' presentation, the Barbie actor took the stage and shared, "Prior to this project, my knowledge of Ken was limited to a distant familiarity. I hadn't truly delved into Ken's essence."
While he looks as if he was born for the role, Gosling admits that he had some doubts at first. He said that while he "knew Ken from afar," he doubted his 'Ken-ergy.' Ryan Gosling later added that it was his co-star Margot Robbie and director Greta Gerwig that helped conjure the Ken out of him.
To play Ken, Gosling underwent a drastic physical transformation with bleached-blonde hair and bronzed skin. From what we've seen on the teaser trailer and character posters, he really is the perfect Ken!
"I was living my life and the next thing I knew, I was bleaching my hair and shaving my legs and rollerblading on Venice Beach," Gosling joked.
Ryan Gosling's Transformation into Ken
To join Barbie land, Ryan Gosling underwent a complete transformation — and it was freakishly accurate. From Ken's platinum blonde hair to his ultra-sleek skin and that sunkissed glow, the actor nailed the Ken look. Throughout filming, the 41-year-old actor waxed his entire body and sprayed himself bronze to achieve the maximum plastic effect.
Even though the filming for Barbie ended months ago, Gosling continues to embrace the vibrant hues reminiscent of the iconic Mattel doll. His skin remains sunkissed and glowy, while his hair maintains its beach blond allure. Ken's influence has merged with Gosling's identity, compelling the actor to fully embrace this persona indefinitely.
What about that Ryan Gosling Tan in Barbie?
People can't seem to get enough of everything Ryan Gosling Barbie — including his golden glow. According to sources, there was a tanning expert on set for the Barbie 2023 movie. And that's how they achieved that real-life doll look.
The set's tanning expert, Kimberley Nkosi recently revealed all the secrets to achieving that Ryan Gosling Barbie glow. Although, we're sure this also applies to the other cast members — Margot Robbie, America Ferrera, Helen Mirren, Dua Lipa, Emma Mackey, etc.
According to Nkosi, she used a self-tanning water in a medium shade on Ryan Gosling to create that iconic Ken-like glow. She also admitted to adding dark tones but that was simply to add balance and under tones so that the camera picked up Gosling's tan.
"For me, applying sunless tanner isn't about spraying something and hoping for the best," says Nkosi. "It's about a feeling more than a look." She also adds that when you work on set, there are a number of things to consider. For instance, the camera picks up every little detail, so it's important to bear that in mind when creating the perfect tan.
How to Get Ryan Gosling's Barbie Look
Looking to achieve the Ryan Gosling Barbie movie look for yourself? Or maybe you'd like to give your BF a makeover? Here's a quick guide on how to get the Ryan Gosling Ken look at home.
Step 1: Exfoliate
The secret to a Ken-worthy glow? Exfoliation! It sloughs away the buildup of dead skin cells to reveal fresh, glowing skin. Plus, it's the best way to secure an even, streak-free tan!
We recommend Truly's Moon Rocks Whipped Body Scrub, a gentle sugar-based formula with a hydrating base of 100% organic coconut oil, brightening lavender, and protective vitamin E to buff and brighten dull, dry skin!
In the shower, massage a handful of scrub into skin. Let it sit for a minute or two then rinse off.
Step 3: Polish
To get just that little bit brighter (and clear away blemishes at the same time), try polishing your entire body with Truly's Berry Cheeky Clearing Butt Polish.
A fruity blend of berries, jojoba beads and allantoin work to improve the appearance of breakouts, slough off dead skin and even hyperpigmentation.
Take a small amount of polish, mix with water to get a nice lather. Rub on your body in circular motions and rinse.
Step 3: Tan
Now's the time to get sunkissed!
Since you've already prepped with an exfoliator and polish, you're more than ready to start the self tanning process.
We recommend Truly's Hotter in Person Bronze & Blur Cream. It's light, silky, and ultra nourishing — with strawberry, DHA, jojoba oil, ginseng, and gold shimmer. Hotter in Person conceals uneven texture while unlocking your skin's natural radiance for an evenly bronzed yet blurred effect.
For best results, we always recommend exfoliating before applying a self tanning product. This way, you'll avoid patches and streaks. Apply a generous amount of the bronzing cream on dry, clean skin and let it absorb completely. Apply one layer of product per tanning session.
If you're looking to steal the Ryan Gosling Barbie look, you've came to the right place. We've got exactly what you need to get that Ken-like glow in just an hour or so.
Image sources:
ET Canada YouTube
Page Six YouTube
E! News YouTube
The Social CTV YouTube
Share
---