Seeing Red? Try our NEW Soothe Red Skin Set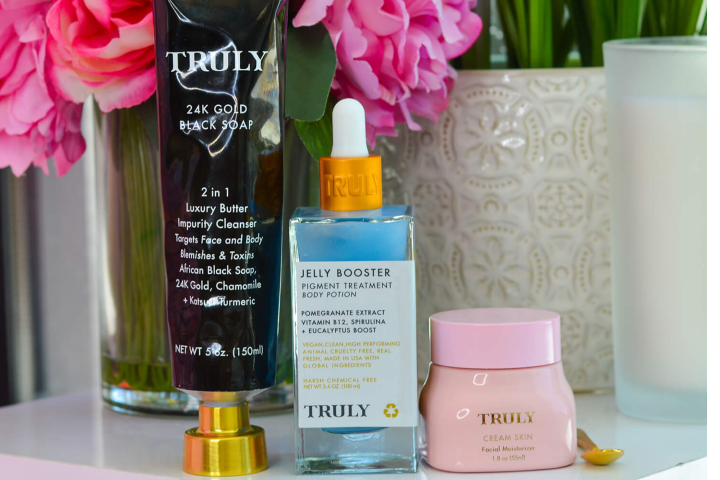 Are you experiencing red, reactive skin? We've just released a redness-reducing skincare routine designed to soothe, calm, and comfort easily inflamed skin. Even the most sensitive skin won't feel the sting with the three skincare products inside this irritation-quelling kit.
Here's everything you need to know about skin redness — and the kit that soothes all!
WHAT CAUSES FACIAL REDNESS?
According to dermatologist Dr. Dendy Engelman, "Redness or flushing occurs when there is vasodilation of the superficial blood vessels, which is a fancy way of saying when blood rushes to the surface of your skin."
Some of the most common causes of facial redness include stress, temperature changes, spicy foods, allergic reactions, and alcohol consumption. Even skincare products like irritating scrubs and cleansers can trigger a flareup. And if you have naturally dry skin or sensitive skin anyway, you're more likely to experience redness and dryness from daily lifestyle habits and products.
Facial redness is often a sign that's something not right with your skin barrier. Your skin barrier is responsible for keeping irritants and allergens out. If that protective barrier is impaired, these little intruders can enter the skin, spurring an inflammatory reaction, which often results in redness, itchiness, and skin irritation.
CAN SKIN REDNESS OCCUR ANYWHERE?
While redness typically occurs on the face, it can also appear anywhere else on the body, including your arms, chest, back, and legs. Just like with facial redness, it can be caused by everything from over-exfoliating to allergies, excessive sun exposure to certain skin conditions like eczema and rosacea.
It can even occur if you're experiencing body acne. If your breakouts are red and inflamed, it can give the skin a reddish hue.
How to tell if you're experiencing an allergy? Everything from cleansers to lotions, hair dyes to fragrances can cause a reaction called contact dermatitis. If you've recently used one of these products and you're seeing redness and rashes on your skin, that's a sign you're dealing with an allergic reaction.
TRY OUR NEW SOOTHE RED SKIN SET
So you're no doubt wondering how to treat your red, irritated skin, right? Besides removing those topical products leaving you red and itchy, and popping an anti-histamine for temporary relief, we recommend trying our NEW Soothe Red Skin Set.
What is it?
Soothe Red Skin Set is a 3-step redness-reducing skincare routine that includes an exfoliating cleanser, soothing spot treatment, and lightweight moisturizer. All three products work together to alleviate inflammation, reduce discoloration, and hydrate skin on the face and body for quick redness relief. It's suitable for all skin types, especially dry and sensitive skin.
Unlike in-office treatments, this skin-cooling kit is wallet-friendly, easy to use, and requires no downtime whatsoever, making it a perfect choice for busy babes on a budget.
While red skin is nothing to feel embarrassed about, we do understand that it can take a toll on your self-confidence. Let this bundle bring it back to you!
What's Inside?
24k Gold Black Soap Impurity Cleanser
Jelly Booster Pigment Treatment Body Potion
Cream Skin Face Moisturizer
How Does it Work?
Each product contains a slew of skin-soothing ingredients that can help relieve redness, irritation, and discoloration. Some also come with additional skin benefits such as preventing pimples, fading fine lines and wrinkles, improving skin tone, and offering firming effects. Here's what each product does.
24k Gold Black Soap Impurity Cleanser is an exfoliating formula made with ultra-soothing aloe and chamomile which boast anti-inflammatory properties to quickly quell irritation and redness. Its key ingredients — 24k gold and African soap — lend their antioxidant and anti-inflammatory properties to help minimize redness, blemishes, fine lines, and discoloration.
Jelly Booster Pigment Treatment Body Potion contains a nourishing blend of pomegranate extract and vitamin B2. Pomegranate is a gentle exfoliator that naturally brightens skin and lightens discoloration, while vitamin B2 reduces inflammation and blurs the appearance of visible red blood vessels.
Cream Skin Face Moisturizer is a daily face cream enriched with hyaluronic acid, glycerin, and sea kelp to strengthen the skin barrier, lock in moisture, and quell flushing and blushing.
How to Use
24k Gold Black Soap Impurity Cleanser: Starting with wet skin, massage the cleanser into your skin using an upward, circular motion. Don't let it sit too long on the skin before rinsing thoroughly. For best results, use 1-2 times per week. Avoid using it more than twice a week to prevent aggravating your skin.
Jelly Booster Pigment Treatment Body Potion: After cleansing, apply a few drops of potion to red areas and gently press onto the skin. For best results, use daily after showering or cleansing.
Cream Skin Face Moisturizer: Apply a thin layer onto clean skin, and massage it in well using circular motions. For best results, use both morning and night, and always follow up with sunscreen (SPF 30 or above) when using in the am. This will protect you from skin-harming UV rays that contribute to redness — and prevent sunburn, which also leaves skin red and painful.
WHAT ELSE CAN YOU DO TO RELIEVE SKIN REDNESS?
While you're waiting for your Soothe Red Skin Set to arrive, here are some quick tricks for reducing redness on your face or body.
Apply a cold compress.
Wear a cooling face mask.
Pop an anti-histamine (if it's an allergy, that is).
Stay out of the sun until your redness subsides.
Wear sunscreen every day.
Strengthen your immune system.
Stay hydrated!
Truly's Soothe Red Skin Set is an affordable, convenient, and pain-free way to calming easily irritated skin. This super gentle skincare routine can be used either on the face or body (or both) to treat active inflammation, as well as deeply hydrate and minimize the appearance of discoloration. To get the most out of this bundle, we recommend making it all products except 24k Gold Cleanser part of your daily routine.
If you suspect you have a skin condition such as atopic dermatitis or psoriasis, consult your dermatologist before starting a new routine.
Share
---