5 Shaving Myths, Busted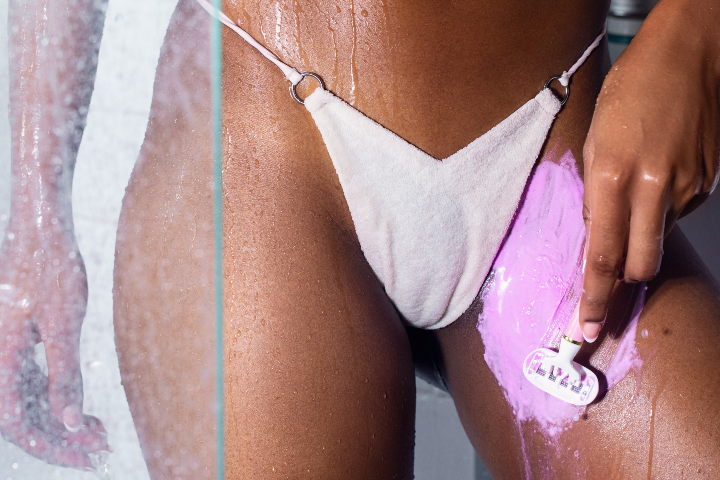 We're debunking five of the most common shaving myths so you can separate the fact from fiction.
Some of us are still confused over whether shaving makes hair grow back thicker, or even what areas can be shaved. We're here to remove the guesswork, and ensure you enjoy your smoothest shave ever.
Scroll down to hear which shave myths we've debunked.
Myth #1: Hair Grows Back Darker After Shaving
This is one of those shaving myths most people fall for, but according to the pros, shaving has zero effect on hair regrowth pigment/color.
"Shaving only removes hair from the surface of the skin, so it doesn't affect the colour or the thickness of the hair, which is determined deep down in the skin, in the hair follicle", says Briar Keen, Co-Founder of Friction Free Shaving. "If you allow your leg hair to grow out, it would be exactly the same as it was originally." 
In other words, the notion that shaving causes hair to grow back darker is merely a misconception. You can now shave with the peace of mind knowing that your hair will grow back exactly the same color. That's a fact!
Myth #2: Hair Grows Back Thicker After Shaving 
Another shaving myth to debunk! Like we mentioned before, shaving doesn't impact hair thickness or color. Genetics and hormones impact body hair color, thickness and growth. Although it may sometimes look thicker, that's only because your razor blade cuts hair at the skin's surface, which makes hairs appear blunt and thicker. 
How fast hair grows back also depends on the individual. Armpit hair, for instance, grows about 50 percent faster than leg hair. Then again, different people's hair grows at different speeds, so it's not the same for everyone. 
Myth #3: You *Shouldn't* Shave Certain Areas 
You can quite literally shave anywhere -- your legs, underarms, bikini line, and even your face. So this is yet another shaving myth to get busted.
It's a popular shaving myth that shaving your facial hair will cause hair to grow back faster and darker. Facial shaving is actually is a huge trend in the beauty industry. YouTubers like Huda Kattan and Chloe Morello swear by shaving their face for a smooth, flawless makeup canvas.
Besides leaving you smooth, shaving is a form of exfoliation which can help remove dead skin cells, leaving you softer, and allowing skincare products to work harder. Double win!
Myth #4: Shaving Causes Breakouts
Shaving does not cause acne, but it can cause razor burn and bumps which look a lot like acne. But it's really only skin irritation.
Razor burn happens when you use a dirty razor, do dry shaving, or use poor shaving techniques like shaving against the grain or skipping the shaving cream.
The best way to prevent razor burn is to follow a proper shaving routine. Start by exfoliating the skin, applying a generous coating of shaving cream, and using a a new razor to shave with the grain. This will also help prevent nicks and ingrown hairs. 
Myth #5: Long Body Hair is Unhygienic 
The final shaving myth you should completely ignore! Regardless of what anyone says, you don't need to shave or wax. Long body hair isn't unhygienic nor is it something to be ashamed about. Celebrities from Bella Thorne to Cardi B encourage their fans to rethink society's stigmas and do what they want to do.
It's all down to your own personal preference, and what makes you feel comfortable. You don't need to feel bad about keeping or removing your fluff!
According to a study by Mintel, around 25% of women have stopped shaving their underarm hair. And a consumer survey showed 48% of women revealed that they groom body hair only for themselves.
Shop the Best Shaving Products 
Now we've debunked these shaving myths, treat yourself to a luxurious shave set to get the silkiest shave of your life. You're gonna love these sumptuous shaving goodies!
Glazed Donut Shave Set
Our NEWEST shaving kit that'll make shave days way more indulgent and luxurious. Inside, you'll find an exfoliating cleanser, shave butter, razor, after shave cream and oil, plus an adorable gold scoop. Get ready to get supermodel-smooth!
Special Features
Peptides and niacinamide boast powerful anti-inflammatory properties. They can soothe even the most sensitive of skin while combating razor burn and painful bumps. 
Hyaluronic acid and vitamin E intensely hydrate, soften, and condition the skin for a smoother shave.
Ultimate Smooth Legend Shave Set
Our bestselling shave kit features our cult-favorite products: Smooth Legend Pre Shave Scrub, Happy Hairless Shave Butter, Glazed Donut After Shave Oil, plus our first signature magnetic razor + fuzzy pouch. These products guarantee a smoother, closer shave minus ingrowns, nicks, or razor burn. 
Special Features
Hydrating coconut, strengthening vitamin E, and antibacterial lavender ensure a smooth, ingrown-free shave.
Our razor comes with a detachable magnetic top + replaceable extra heads for a sustainable, reliable shave.
Our fuzzy pouch is spacious enough to transport everything you need for a smooth shave on the go.
Ultimate Coco Cloud Shave Set
If you love smelling like a tropical dream while looking 100% beach-ready, you'll adore the Ultimate Coco Cloud Shave Set. It features our iconic shave butter plus an aftershave serum, moisturizer, razor, and bag. Everything you need for a dreamy smooth shave with a coconut and sweet vanilla fragrance. 
Special Features
Calming coconut milk and hydrating argan oil work in tandem to soften the skin and hair follicles for an easy razor glide.

Our award-winning razor features five ultra-sharp blades and a pivoting magnetic head to smooth every angle.

Vanilla and vitamin E not only condition and strengthen skin, but cleanse the skin of bacteria and eliminate ingrowns.
Silky Smooth Shave Set
A 3-step shave kit designed to buff, smooth, and soften skin while driving out dullness, roughness, and flaky skin. It features three of our bestsellers: Moon Rocks Scrub, Coco Cloud Shave Butter, and Unicorn Fruit Body Butter for your silkiest shave ever.
Special Features
Moon Rocks Scrub is a sugary scrub infused with jojoba oil and lavender to buff away excess dirt, oil, and dead skin cells pre-shave while hydrating the skin.
Softening coconut in our Coco Cloud Shave Butter softens skin and hair for an effortless, irritation-free glide.
Unicorn Fruit Body Butter is made with a base of moisturizing shea butter to soothe razor burn and deeply hydrate the skin.
Whether or not you're a shaver, there are so many shaving myths out there that can leave you feeling confused. We decided to do the research for you so you can finally get answers to your burning questions about shaving.
Speak to your dermatologist if you have any concerns regarding shaving or side effects from shaving. You may have an underlying skin condition that needs to be treated.
Now you've learned the truth about these shaving myths you can go ahead and shave your way to smooth perfection!
Share
---