Shining a Light on Shea Butter's Slew of Skincare Benefits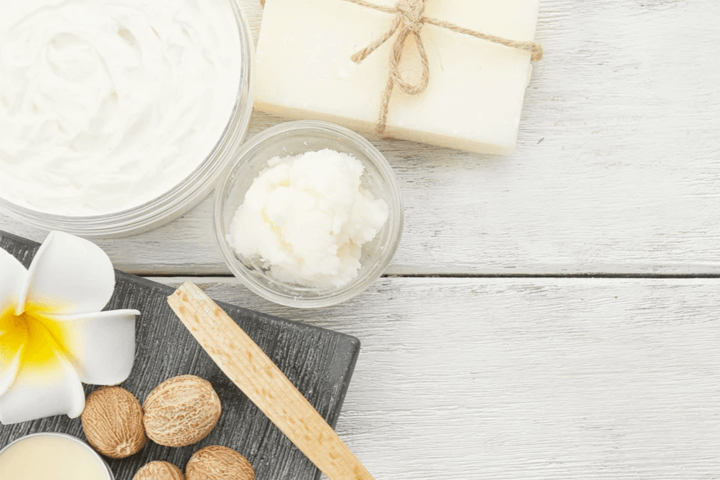 Shea butter is derived from the fat extracted from the nuts of the shea tree, which is native to Central Africa. Off-white and ivory colored, shea butter has a creamy consistency that's easy to spread on the skin.
According to Dr. Josh Axe, DNM, "The outer shells of the nuts are removed. Then they're crushed and slowly roasted into butter. Finally, the butter is commonly kneaded by hand in a basin of water to separate the fatty acids. These fatty acids, or oils, are removed from the butter, cooled, and hardened to make what we know to be shea butter."
Owing to its high concentrations of fatty acids and vitamins, shea butter is an excellent skincare product known for its anti-inflammatory, healing, and hydrating properties.
You can use shea butter on your face, hands, body and even your hair. Scroll on to find out all the wonderful beauty benefits of shea butter.
What are the Benefits of Shea Butter for Skin?
It's Dry Skin's Best Friend
Shea butter has powerful emollient effects. Rich in fatty acids, this nut oil creates a smooth and soft barrier on your skin that seals in moisture. In fact, its moisturizing effect can last for hours.
"Shea butter works as a skin-conditioning agent," says Dr. Axe. "It helps retain moisture by forming a protective barrier on the skin's surface, which reduces the loss of water and keeps your skin hydrated."
Dermatologists even say that shea better is more hydrating for the skin than coconut oil — and a lot less clogging. Seed oils, as opposed to oils from the flesh of a fruit will always respond better because they mimic oils naturally found in the skin.
Chapped Lips — Chao, Chao!
Precisely because shea butter possesses such powerful hydrating properties, it means it can also prevent and soothe chapped lips.
"It is great for dry skin and can create softer, hydrated, plumper skin, especially during the dry winter months," says Dr. Chang, board-certified cosmetic dermatologist at Union Square Laser Dermatology in Manhattan. "Shea butter is also found in many lip balms to help with chapped lips as well as moisturizers that help prevent stretch marks."
It Soothes and it Heals
Shea butter helps fade scars, soothe sunburn, and heal cracked and peeling skin. It can also soothe skin allergies like insect bites and poison ivy, as well as skin conditions such as psoriasis and contact dermatitis.
Due to its vitamin E and vitamin A content, shea butter can also ease irritated or sensitive skin. And thanks to its fatty acids, it decreases inflammation.
Shea butter penetrates the skin quickly, so you'll soon feel relief upon applying. One study showed that this nut butter is equally as effective at treating eczema as medicated creams. That's how powerful this stuff is!
It's a Youth Elixir
Shea butter's benefits go beyond skin softening. This vitamin-packed nut butter can also make you look younger.
"Shea butter also helps promote cell regeneration, which can reduce the appearance of fine lines and wrinkles," says Dr. Sonia Batra, MD, co-host of daytime show The Doctors.
It also has antioxidant properties that help neutralize free radical damage from sun exposure. And on top of all that, it is also said to help boost collagen production, which gives the skin its plump appearance.
How Shea Butter Can Be Used in Skincare
The great thing about shea butter is that it's versatile — so versatile. You can use it on your face, body, lips, and at the ends of your hair.
You can also use it on its own or within products. Shea butter is a common ingredient in many cosmetics, so you shouldn't have any trouble finding it.
However, a little word of advice from Dr. Michelle Wong, Science Educator and Content Creator behind LabMuffin: "Shea butter is best incorporated into a moisturizer with other ingredients so it's easier to spread, since it's usually a thick solid at room temperature."
Are There Any Side Effects of Using Shea Butter on Your Skin?
Let's get the first major question out of the way: will it clog your pores? Contrary to rumors, shea butter is not known to clog pores thanks to the fatty acids that mimic the skin's sebum. Thus, it reduces the production of sebum and helps to maintain clear and healthy skin.
Overall, shea butter is safe for most people except those with a nut allergy. If you have tree nut allergies, you may experience adverse reactions to shea butter, so it is best avoided.
According to Dr. Batra, there are actually no documented cases of topical shea butter allergies. So if you don't want to miss out on its goodness, try applying a very small amount to a tiny area of skin to see if there's a reaction. Of course, if there is a reaction, discontinue use immediately.
Coco Rose Fudge Jumbo, $35
Cruelty-free, vegan, and deliciously dewy-fying, this luxurious floral whipped body cream will brighten the skin and leave you looking (and feeling!) youthful, while smelling like a giant flower bed.
Formulated with shea butter and rose, Coco Rose Fudge Jumbo feeds the skin with all the essential vitamins and emollients needed to deliver that dewy glow. It's also boosted with antioxidant-loaded algae extract to hydrate and condition the body.
You know that feeling when you step out of the bathtub, freshly shaved and smooth, but craving that extra smoothness only a good body lotion can offer?
Coco Rose delivers.
Whipped to perfection, this ultra smooth consistency glides onto the skin without leaving behind an oily residue. So you can slip right into your PJ's, smelling of daisies.
How to Use
Apply the whipped body butter to your entire body after showering or bathing. It's best to apply it to slightly damp skin, as it soaks it up better and locks the moisture in. Pay particular attention to dry skin on the feet, elbows, knees and cuticles.
You only need a little, to get a lot of results.
Order your Coco Rose Fudge Jumbo, only $35.
Share
---