Skincare Stocking Fillers: Our New Mini Holiday Kits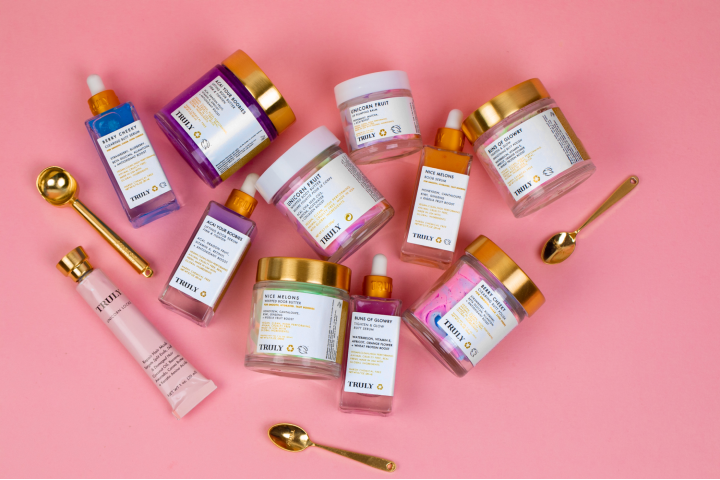 Pondering over what to get your best gal this Christmas? Or perhaps you want to treat yourself to some well-deserved holiday gifts?
For guaranteed happiness this holiday, discover Truly's new collection of skincare stocking stuffers -- our Mini Holiday Kits. From brightening butt scrubs to moisturizing boob butters, and plumping lip balms, these beauty minis are great for trying out new products and supercharging your skincare routine.
Scroll through our three limited edition mini holiday kits that really are the perfect stocking fillers. This is the only holiday gift guide you need in your life. 
ACAI + BUNS MINI KIT
This butt and boob skincare set features everything you need to get smooth and glowing -- all over. It's the perfect gift for ladies who luuuurve skincare.
What's Inside:
Buns of Glowry Butt Polish
A formula designed to slough away dead skin cells, exfoliate away blemishes, and minimize the appearance of cellulite. It's made with a nourishing blend of plumping wheat protein, hydrating watermelon, and exfoliating jojoba seeds for a brightened, tightened booty. Get ready for a booty as bright as your baubles!
Buns of Glowry Butt Serum
This post-shower booty serum uses the circulation-boosting powers of bitter orange and the hyperpigmentation-healing powers of vitamin E to make your peach smoother, tighter, and clearer than ever.
Acai Your Boobies Boob Butter
One of our bestsellers - Acai Your Boobies Butter -- is a hydrating, resurfacing blend of acai, retinol, dragon fruit, and apricot to tighten and firm your twins. This luxe body butter feels great on the skin and works for all skin types. Use as the last step of your routine, after your cleanser and serum. 
Acai Your Boobies Boob Serum
Same ingredients, different product. This silky, flash-absorbing boob serum moisturizes skin and assists in cell regeneration to visibly perk up your breasts. It's a fun beauty stocking stuffer that's guaranteed to get you some bestie points!
This adorable applicator scoops just the right amount of product without transferring germs into your pot. Plus, it looks adorable on your vanity!
MELONS + BERRY MINI KIT
Reign in the holiday season with this adorable gift set. It's another butt and boob set, only with different formulas and different scents.
What's Inside:
A buttery blend of kiwi, melon, and ginseng to deeply condition, reduce discoloration, and tighten the complexion on the chest and neck. Since kiwis are naturally collagen stimulating thanks to their high content of vitamin C, this boob butter is an excellent anti-aging formula for restoring youthful boobs.
Beautiful boobs have got to be the best gift ever, right? Show your BFF just how much you adore her by dropping this decadently fruity, melon-scented body serum into her stocking this Christmas. It conditions, tightens, and prevents fine lines. Plus, it's way more interesting than essential oils and eyeshadow palettes.
A lightweight, clearing polish made specifically for your bum. With a fruity blend of berries, jojoba beads, and allantoin, it actively clears butt breakouts while removing dead skin and fading discoloration. Plus, it smells as good as dessert! 
Hydrating, treating, and soothing, this booty clearing potion is the perfect beauty gift for babes with butt blemishes. Why fill their stocking with nail polishes, makeup brushes, and eye masks when you could get them a gift that really transforms their skin? 
Scoop out just as much product as you need without transferring germs into your product. It's a super fun way to serve up your skincare swirls! We hope you enjoy it just as much as we do!
UNICORN MINI KIT
Add this adorable Unicorn Mini Kit to your wishlist this year so Santa can bring you the gift of gorgeous skin! Featuring our bestselling beauty products, the Unicorn Fruit collection offers everything from lotions to lip treatments and hair care products. Seriously, she's gonna love it! For you? Trust us, you'll love it too!
What's Inside:
Pucker up! Unicorn Lip Balm is a hydrating, plumping, on-the go trio that glides on like silk and leaves lips luscious. Peppermint oil stimulates blood flow, making your pout appear fuller. Shea butter hydrates away any chapping, peeling -- or basically anything that gets between a super smooth smooch.
Unicorn Fruit Whipped Body Butter
Considered one of our best beauty products, Unicorn Fruit Butter is a buttery, deeply conditioning swirl of rainbow packed with natural, skin-repairing ingredients like rose, acai, vegan collagen, and matcha. Thanks to elasticity-restoring vegan collagen, this body moisturizer also works to firm, smooth, and plump out the top layer of skin.
Hair masks are always a great gift idea -- next to face masks, hand creams, mascaras, and mini lipsticks. Unicorn Locks Hair Mask doesn't just condition locks. It transforms them. Formulated with coconut oil, keratin amino acids, and avocado, this mask will leave hair silky, healthy, and bouncy like a unicorn's mane. Keratin amino acids really are the magic ingredient in this formula with their scalp strengthening, hair growth prompting powers.  
Whenever you're on the road or just feel like staying super clean and hygienic, use this spoon to scoop out product. It's travel-size, fun to carry around, and soooo cute!
Looking for the perfect stocking fillers? Make our brand new limited edition mini holiday kits your first choice! Each kit features its own selection of products and their separate formulas designed to smooth, firm, and brighten your skin. On your face, on your butt, on your boobs -- or anywhere!
These kits are available for purchase on our official site, Ulta, Sephora, and Target. Please note: the products featured above are miniatures. You will find the full size products on our site. 
Share
---