What Body Polish to Choose, Based on Your Skin Type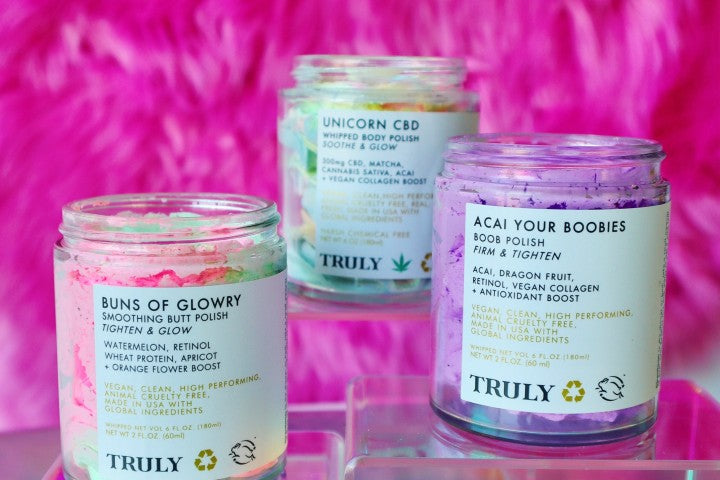 The easiest way to achieve healthy, smooth skin is with regular exfoliation.
And the skincare product to do that with? A good old antioxidant-packed body polish.
A body polish is an exfoliating product that works similar to a body scrub or face scrub. The main difference is that body polishes are made of a natural exfoliant and essential oils to remove dead skin cells, promote the production of new ones, and hydrate the skin for overall improved skin condition. It also helps other products penetrate better.
Following the exfoliation, it's best to apply a rich body oil or lotion to your skin to seal in the moisture so that the positive effects of the body polish last as long as possible. 
If you don't already use one, it's time to make it part of your skincare routine.
Not sure where to get started or which one to choose? 
At Truly, we have a body polish for every skin type -- and every skin concern! Take your pick...
Buns of Glowry Polish
Best for: Bumne
Getting zits on your backside?
We've all been there. Some of us still are! 
A key step to banishing those pesky breakouts is unclogging your pores, and a body polish can help with that.
"Exfoliating helps to unclog pores, therefore reducing acne," says Michelle Henry MD, dermatologist and clinical instructor of Dermatology at Weill Cornell Medical College.
She recommends using a physical exfoliant (something that contains beads) once or twice a week to keep blemishes at bay.
Truly's Buns of Glowry Polish uses jojoba beads for gentle exfoliation and watermelon, vitamin E, and wheat protein for brightening, tightening, and moisturizing effects. These ingredients all work in sweet, sweet harmony to fade any discoloration on the butt caused by breakouts. The end results? Smoother, sweeter booty skin.
Use it on your butt, back -- or basically anywhere you have acne. 
If you've got acne-prone skin, try using this scrub 1-2 times each week to keep your booty blemish-free!
Acai Your Boobies Polish
Best for: Lifting
Are your boobs looking and feeling a little blue?
Perk them up with regular polishing sessions to stimulate collagen synthesis and keep the skin looking plump, tight, and perky.
Exfoliation also boosts circulation and lymphatic draining to promote a brighter, tighter complexion.
"Exfoliation has many benefits, including stimulation of lymphatic drainage for internal cleansing and stimulation of oxygen-rich blood to feed and nourish the skin's surface," says skincare expert Jocelyn Petroni.
Truly's Acai Your Boobies Lifting Boob Polish works from a base of hydrating shea butter blended with skin-tightening retinol and antioxidant-loaded acai berry to firm, tighten, and hydrate the skin on your boobs.
According to dermatologist Dr. Dendy Engelman, "Retinol is the most potent ingredient that helps build collagen and elastin, which leads to tighter, smoother skin." 
Apply in the shower, rubbing a generous amount over your chest in circular motions. Then rinse. You can also use it a mask, leaving it on the skin for 10-15 minutes before washing off.
Vegan Collagen Body Polish
Best for: Fine Lines & Dullness
If you're noticing creases creeping up on you, it might be a sign that your skin needs a little more love.
Polishing your body can make a huge difference in keeping your skin smooth, radiant, and youthful. It also allows active anti-aging ingredients to penetrate deeper into your skin. With regular exfoliation, healthier skin cells will surface and help you age more gracefully, warding off fine lines and wrinkles.
It's best to look for a body polish with antioxidants and plant-based butters to ease dry skin and deliver intense hydration to blur those fine lines. 
Truly's Vegan Collagen Body Polish has retinol, shea butter, and vegan collagen to thank for its anti-aging abilities. It also contains vitamin C for a little pop of brightness in dull skin.
Our plant-based protein triggers the natural production of collagen, aiding in skin strength and elasticity. The polish is also packed with antioxidants to soothe redness, rid the skin of impurities, and regenerate skin tissue.
And the best part? Any skin type can benefit from it -- dry skin, combination skin, sensitive skin, and aging skin.
For best results, use frequently in conjunction with a hydrating body cleanser and moisturizer to help the skin retain moisture and promote healthy skin.
Unicorn CBD Whipped Body Polish
Best for: Stressed-out Skin
Healthy, normal skin should look clear, even toned, and bright. If you're skin doesn't tick any of those boxes, you could be dealing with what is known as stressed out skin.
Luckily, you can bring some zen to your complexion with an anti-inflammatory, skin-soothing body polish.
Truly's Unicorn CBD Whipped Body Polish is formulated with CBD, matcha, acai, collagen, and aloe vera to promote tranquillity to stressed out skin and deliver a gorgeous glow from head to toe.
We recommend using it in the bath. Set the mood by running a warm bath, sprinkling in some aromatic salts, switching on some calming tunes, and massaging this polish onto your skin for a squeaky clean finish.
WHEN TO USE A SCRUB INSTEAD OF POLISH?
While body polishes and body scrubs are very similar (they're both exfoliators), they do differ somewhat.
Whereas body polishes primarily remove dead skin cells and hydrate, body scrubs cleanse the skin.
Sugar scrubs are best used if you're looking to cleanse the skin of dirt, product buildup, and excess oil. They're also often formulated with nourishing ingredients like olive oil, coconut oil, and apricot oil to hydrate the skin. In some cases, you'll find the alpha and beta hydroxy acids salicylic acid, lactic acid, and glycolic acid in them to address issues like acne.
However, if you're simply looking to brighten, firm, and tighten the skin on your body, go for a body polish. It's the go-to product for prepped and polished skin! And lucky for you, we've got loads of them for you to choose from!
Share
---