What Does Shaving Cream Do? (and Do You Really Need it?)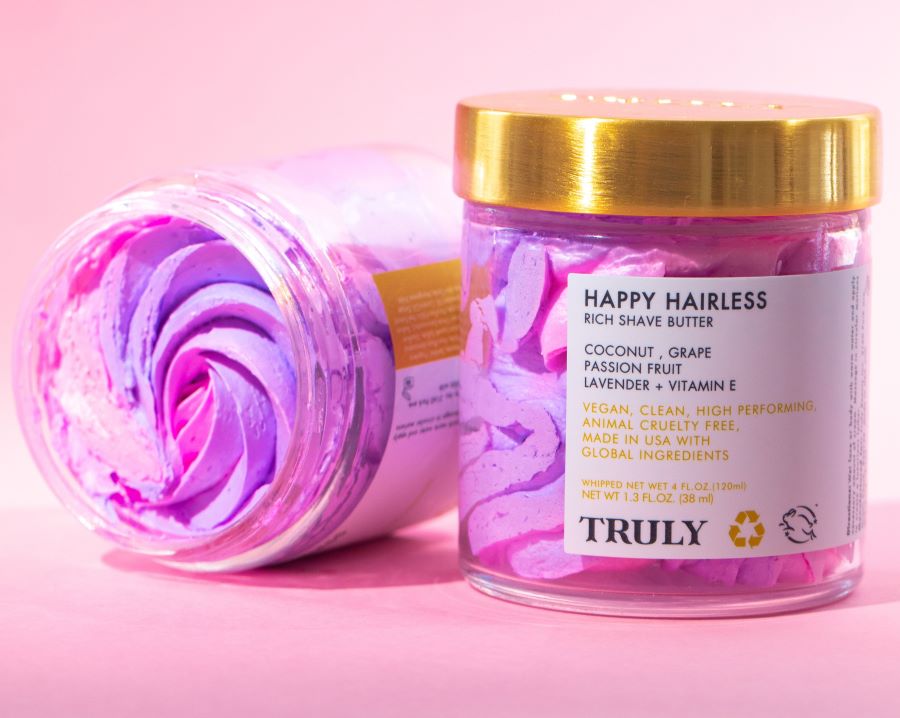 If you're a regular shaver, you might be wondering what does shaving cream do and do you even need it? When it comes to shaving, it's important to take the right steps and precautions to avoid unpleasant side effects like nicks, razor burn, ingrown hairs, and general skin irritation.
Here's what you should know...
Is it Necessary to Use a Shaving Cream?
Shaving cream serves as a lubricant for your razor to help it glide over the surface of your skin. Whether you're using shaving gel, shaving foam, butter, or cream, they all have the same purpose: to protect your skin against your razor and ultimately prevent ingrowns and razor burn. When you don't use shaving cream, you are left with dry, red, itchy skin and painful bumps.
What does shaving cream do? It acts as a buffer between your razor and your skin. It also allows you to get a close shave without ending up red and sore.
Think of it this way: when you shave, you are forcefully removing the hair from the follicle. The lathery foam or butter helps to cushion skin against razor blades, resulting in a smooth, close, and comfortable shave.
Do you need to use shaving cream? Absolutely! According to dermatologists, you should always lather up with shaving cream before you start shaving. Dry shaving is a no-no.
What Does Shaving Cream Do?
Shaving cream functions as a protective layer between your razor and skin. If you want a smoother, closer shave without ingrowns, shaving cream is essential. Since most shaving creams contain hydrating ingredients, they make your razor glide a whole lot easier while alleviating dry skin.
Here's what shaving cream does:
Softens Hair
Especially on the bikini line and underarms, hair is particularly coarse. Shaving creams contain hydrating ingredients like coconut oil and vitamin E which help to soften the skin and hair, making it easier for the razor to cut through hair. Without shaving cream, you'll need to apply more pressure to remove the coarse hair, which often leads to cuts and irritation.
Protects the Skin
Lubrication provides just the right amount of slipperiness between your skin and the razor blades which makes your shaving routine much more comfortable. Shaving cream works as a buffer of protection, allowing you to glide through coarse hair while minimizing damage to your skin.
Prevents Razor Burn and Ingrowns
To answer your question, what does shaving cream do? One of the important roles it has is preventing post-shave irritation. Because shaving cream acts like a lubricant, it reduces friction between the blade and your skin, meaning you're less likely to experience bumps and burns.
Alongside this, shaving cream allows you to see and track where your razor has and hasn't been. This saves you from going over the same area twice which can also contribute to post-shave nasties. If you have sensitive skin, you'll save yourself a whole lot of discomfort by tracking the areas you've already shaved.
Ensures a Close, Smooth Shave
Thanks to its skin and hair softening abilities, and hydrating properties, shaving cream promotes a silky smooth shave. The wet shaving process makes it possible to get a close shave, unlike dry shaving.
Is it Better to Shave with Shaving Cream?
It's always a good idea to shave with shaving cream. With regards to what does shaving cream do, it works as a cushion against your razor to allow for an easier glide and smoother result.
There are many shaving products you can choose from, including creams, gels, foams, and butters. Be sure to always choose a high quality shaving cream or butter. Shaving butters are especially good if you have sensitive or dry skin as they intensely hydrate and protect the skin. Avoid shaving soaps if you have dry skin as these tend to be overly harsh and stripping.
Best Shaving Creams
Now you know what does shaving cream do, we've rounded up the best shaving creams to leave your skin feeling sensational.
Coco Cloud Whipped Shave Butter
A whipped, fluffy, and coconut-scented shave butter that lathers up nicely for a dreamy smooth shave. Enriched with coconut milk and argan oil, this luxurious shave butter instantly softens skin and hair for an effortless razor glide and zero irritation. With a base of shea and mango butter, it provides plenty of lubrication and protection to make your shave days silkier.
Soft Serve Whipped Shave Butter
Treat yourself to an indulgent, decadent, and playful shave! This gorgeous white and pink swirl of peptides, hyaluronic acid and vanilla cushions skin against razor burn while soothing any active inflammation for a velvety finish. It smells delicious — like strawberry sundae. Plus, it comes with an adorable Gold Ice Cream Scoop so you can serve up your smoothest shave.
Happy Hairless Shave Butter
A fruity-scented swirl of hydrating coconut and bacteria-busting lavender for an ultra-close razor glide and sumptuously smooth skin. What does shaving cream do? One use of this fluffy whipped formula is all that's needed to answer your question. With its nourishing ingredients and uplifting summer scent, you'll enjoy every moment of using Happy Hairless Shave Butter.
Unicorn Fruit Whipped Body Polish
This rainbow-swirled polish gently buffs and brightens skin while providing a layer of protection against your razor. With the soothing skincare benefits of matcha, chia, acai and rose, it makes for a self care moment and extremely satisfying shave. It also harnesses the power of shea butter to retain moisture and leave skin oh so soft. As for the scent, it smells sweet and sugary — like cotton candy.
Ultimately, when it comes to what does shaving cream do, it does A LOT. Whether you're shaving your legs, underarms, face, or bikini line, shaving cream is always necessary. Look for a shaving cream that contains hydrating and soothing natural ingredients like coconut, aloe vera, lavender, and shea butter that work to soften skin and hair. It's also important to follow up with a cooling aftershave serum or lotion to combat and prevent irritation.
What does shaving cream do? Give you silky smooth skin. WATCH NOW:
Share
---