Why You Need To Nourish Your Body Hair Between Shaves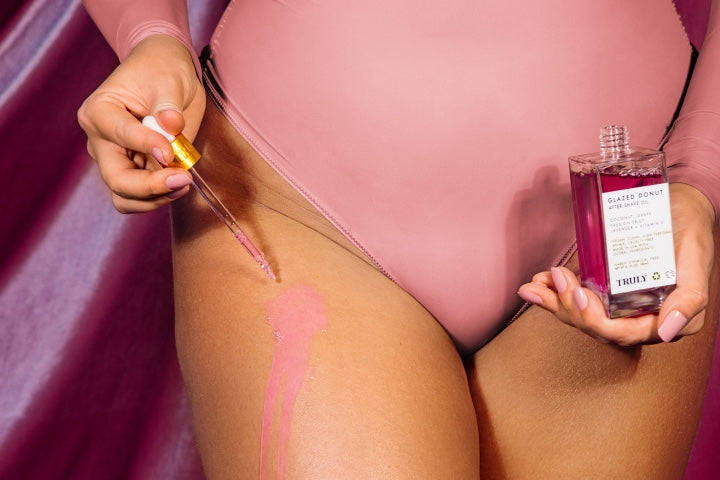 If you're an avid shaver, you should know of the importance of nourishing your body hair between shaves. 
To keep your skin healthy, smooth, and free from irritation, moisturizing is essential. It's only when you don't moisturize that you face the risk of skin issues like dryness, redness, blemishes, and ingrowns.
Read on to find out exactly why you need to start moisturizing your body hair between shaves. And the best skincare products to do it with!
It Rehydrates Skin
Shaving is a form of physical exfoliation, which means you're not just removing hairs -- you're also removing the dead skin cells on the surface of your skin. To avoid disrupting the skin barrier function and ultimately triggering dry skin, dermatologists recommend hydrating your skin with a nourishing body lotion. 
To keep skin healthy and hydrated, make moisturizing part of your daily skincare routine. It doesn't matter whether you shave your bikini area, your underarms, your legs, or everywhere, hydrating the hair and skin between shaves can be the difference between dry, flaky skin and soft, smooth skin. 
By failing to moisturize, you're setting your skin up for unhappiness.
It Heals Razor Burn, Nicks, and Bumps
If you accidently nicked yourself when shaving or forgot to use shave cream and now you're plagued with razor bumps and burns, consider bringing out the lotion.
Shaved skin needs extra TLC. That means it's important to apply a soothing, hydrating moisturizer to keep skin calm and comfortable. Look for formulas that contain anti-inflammatory, skin-healing ingredients like aloe vera, green tea, and tea tree oil. 
Body lotion also provides a layer of protection on the skin to prevent those burns and bumps from getting worse. 
It Softens Coarse Body Hair
Especially in areas like the bikini line and armpits, hair gets particularly coarse with hair regrowth. In some cases, this coarse hair can end up getting trapped under the skin, leading to ingrown hairs. 
Of course, preventing ingrowns in the first place begins with a good shaving routine -- cleansing with warm water, applying shaving gel, and then using a sharp razor to remove unwanted hairs. 
However, if it's too late, and you want to protect yourself from ingrowns, start applying a nourishing body oil or moisturizer that softens coarse hairs and ultimately, combats ingrowns.
It Gives You Glow
Few can deny that regular moisturizing contributes to healthy, glowing skin. Between hair removal sessions, using an antioxidant-enriched body lotion can add glimmer and luminosity to your skin tone. 
Another great ingredient to look out for if you're seeking brightening effects is vitamin C. You'll find it in body washes, body oils, and lotions. Make it a key player in your beauty routine if you want all-over radiant skin. 
How to Find the Right Moisturizer For Your Body Hair
According to the experts, thickness of hair generally determines how you moisturize. To put it another way, those with thick, curly hair will require a different type of moisturizer to those with thin hair. Determine what body hair and skin type you have before selecting your lotion.
If you have thick, coarse, or curly hair, stick to moisturizing body oils that hydrate the hair and skin. Avoid using rich, heavy creams that act as a barrier and prevent topical moisturizers from penetrating the skin. 
If you have acne-prone skin, you'll also want to avoid using anything too heavy which may clog the pores and lead to breakouts. Stick to a hydrating serum or oil formulated with acne-fighting ingredients, like salicylic acid or benzoyl peroxide. 
If you have thin body hair, make sure you're moisturizing with a thin cream or lotion to swerve product buildup on the skin and hair.
Best Moisturizers For Body Hair
We've rounded up our favorite body hair lotions, butters, and oils to keep your hair and skin thriving between shaves.
Cooka Kit
Featuring our Cooka Oil and Concentrate, these two pubic hair pampering products rely on a blend of softening jojoba oil, antiseptic tea tree oil, and moisturizing primrose oil to soothe irritation, clear pores, combat ingrowns, and soften the skin.
Use them in tandem with our flex-grip razor before shaving to soften up sensitive skin and deliver an ultra-close shave minus redness, bumps, or ingrowns. While they're designed for the bikini area, you can also use them on your facial hair, underarm hair, or basically anywhere there's fuzz!
Vegan Collagen Booster Anti-Aging Body Cream
Nourish your hair follicles and skin with our Vegan Collagen Body Cream.
This formula intensely hydrates your skin and body hair while infusing it with powerful active ingredients like vegan collagen, vitamin C, and retinol. It also contains coconut oil to give you smooth, plump, baby soft skin.
Apply this whenever you remove hair and between shaves to ensure healthy hair growth and super smooth skin. Besides keeping you smooth, this formula also promises skin firming effects to turn back the clock for aging skin.
Glazed Donut After Shave Oil
Stay soft, hair-free, and ingrown-free with this summer-scented, post-shave conditioner. 
Glazed Donut Oil is a soothing daily shave serum that replenishes lost moisture while healing active inflammation, and combatting ingrowns. 
It's formulated with passion fruit to retain moisture and prevent fine line formation; coconut for its antiseptic and anti-inflammatory properties; and vitamin E to treat and prevent razor bumps and burns.
Use this between wet and dry shaving sessions, and you can expect 24/7 smooth skin. Feel free to use it after waxing too. It works just as well!
A good body oil or lotion can make all the difference to the feel and appearance of your skin and body hair. Keep your skin healthy, soft, and glowing by making moisturization part of your daily routine, whether or not you shave. 
If you can't seem to avoid ingrowns from occurring, visit your dermatologist for professional advice. They may recommend laser hair removal for permanently dissolving your issue. 
Share
---