The CBD-Infused Skincare You Need this Summer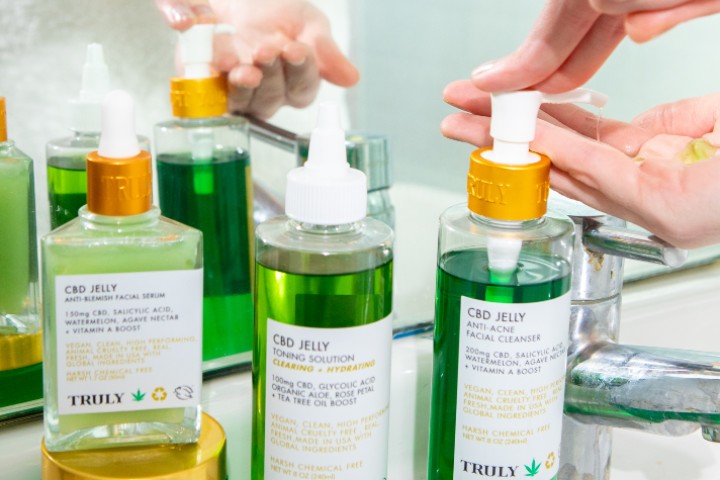 In case you haven't heard, CBD is summer's hottest skincare ingredient. But, what exactly is it and what can it do for your skin?
Cannabidiol (CBD) is one of two main active ingredients in the cannabis plant — the other one being tetrahydrocannabinol (THC), the chemical that causes the high. Although science says more than 100 cannabinoids are present in the plant.
According to research, CBD is a potent antioxidant with powerful anti-inflammatory properties that can help ease a slew of skin concerns ranging from acne to irritation and even skin conditions like eczema. It's especially useful for acne-prone skin thanks to its ability to prevent overproduction of sebum, which is the leading cause of breakout formation.
You'll find CBD oil in a range of skincare products, including serums, creams, masks, and lotions. Just don't confuse CBD with hemp seed oil, or hemp extract. They're not the same thing, though it can help with hydration, inflammation, and controlling oil production.
Looking to inject some CBD into your skincare routine this summer? Here are the best CBD skincare products to try...
Hemp Jelly Facial Serum
A clearing facial serum of salicylic acid, vitamin A, and Cannabis Sativa seed oil to help with redness and inflammation and treat existing breakouts. While CBD soothes and balances oil production, salicylic and retinol speed cell turnover and unclog pores for clear, blemish-free skin. CBD also lends its hydrating properties to help heal your acne without drying out your skin.
Blueberry Kush Hemp Body Lotion
An antioxidant-rich daily body lotion enriched with 300mg cannabidiol, vegan collagen, and 1,000 blueberries per bottle to hydrate, brighten, and protect skin from free radicals.
CBD lends its antioxidant and anti-inflammatory benefits. Blueberry has a high fatty acid composition which bolsters the skin barrier and protects against outside aggressors. And vegan collagen works to restore elasticity and thicken the dermis, improving the appearance of fine lines and wrinkles. This formula is safe for all skin types, and especially useful for dry skin and sensitive skin.
Mary Jane Bubble Bath
CBD is famed for its anti-inflammatory properties. If you're experiencing muscle aches and pains or skin irritation, douse your bath water with this CBD-soothing bubble bath for quick and easy relief.
Formulated with 300 mg of CBD and a boost of glycolic acid, caffeine, and vitamin A, this bubbly pink formula helps you wind down after a hard day while rejuvenating your skin and soothing irritation.
Hemp Jelly Anti-Blemish Facial Cleanser
One of the best benefits of CBD is its ability to alleviate acne. Truly's Anti-Blemish Cleanser is a fast-acting, non-irritating cleanser made with salicylic acid, aloe, and CBD isolate to buff away dead skin cells and blackhead-causing buildup for smooth, acne-free skin. 
If you're looking for a way to control your acne, this formulation can help. Plus, you won't have to worry about it drying out your skin, as vitamin E and jojoba oil lend their hydrating properties.
Blueberry Kush Hemp Body Oil
A daily body serum made up of 300 mg organic CBD oil, vegan collagen, and blueberry extract to plump, deeply nourish, and protect skin from photoaging. A blend of AHA + BHA helps to exfoliate away dull, dry skin while generating new, evenly pigmented skin cells. It's an anti-aging powerhouse! Apply this illuminating oil under your daily sunscreen for added UV protection.
Pineapple Haze Hemp Hand and Foot Cream
Diminish dryness and cracking on your paws with Pineapple Extreme Repair Hand and Foot Cream. Powered by hydrating coconut oil, soothing CBD, and exfoliating pineapple, this formula helps to slough off dead skin while promoting new cell growth for super soft hands and feet. You can also use it to quell sunburn and severe irritation. It's a summer skincare must-have!
Flower Child Hemp Face Cream
A daily topical anti-aging solution made formulated with nourishing natural ingredients like CBD, hyaluronic acid, and jojoba oil. While CBD lends its soothing powers, hyaluronic acid and jojoba deeply moisturize skin for day-long hydration. These ingredients also work together to smooth out creases and give skin back its bounce. Remember to pair this beauty product with a broad-spectrum SPF to protect skin from age-accelerating UV rays. Sun protection is a daily essential!
Mary Jane Glow Face Mask
A glow-boosting treatment infused with irritation-reducing CBD and resurfacing glycolic acid to instantly brighten and soothe your skin. Retinol and caffeine lend their firming abilities to address sagging skin, and reduce the appearance of fine lines and wrinkles. It's your go-to mask for glowing summer skin.
Blueberry Kush Body Scrub
An invigorating and inflammation-quelling body exfoliator for smoother, brighter skin. An omega-rich collab between CBD and blueberry helps to hydrate skin, reduce redness, and leave skin looking dewy. Meanwhile, alpha and beta hydroxy acids buff away dead cells to detoxify and illuminate. This body scrub is best used twice a week, and before self-tanning to produce an even, streak-free summer bronze.
Pineapple Haze Hemp Lip Butter
A buttery, deeply conditioning lip balm packed with CBD, mango, and pineapple to hydrate, protect, and smooth skin on the lips. With a base of shea butter, this formula helps to diminish cracked, sore lips while providing a smooth base for makeup application.
In the summer, your lips are frequently exposed to environmental aggressors. Take good care of this delicate skin by regularly applying this nourishing lip butter.
Golden Leaf Resurface + Brighten Face Mask
A brightening CBD face mask powered by a winning combination of CBD, 24k gold, and glycolic acid to resurface skin, clear away discoloration, and brighten a dull complexion. This face mask is ideal for oily and acne-prone skin types.
CBD oil offers multiple skincare benefits. It can help everything from acne to irritation to fine lines and wrinkles, and discoloration. Plus, it can up your skin's hydration. If you're not already using CBD products in your routine, there's no better time to start than now — so you can step into summer, GLEAMING.
Share
---