Glow on the Go: The Products You Need in Your Bag Always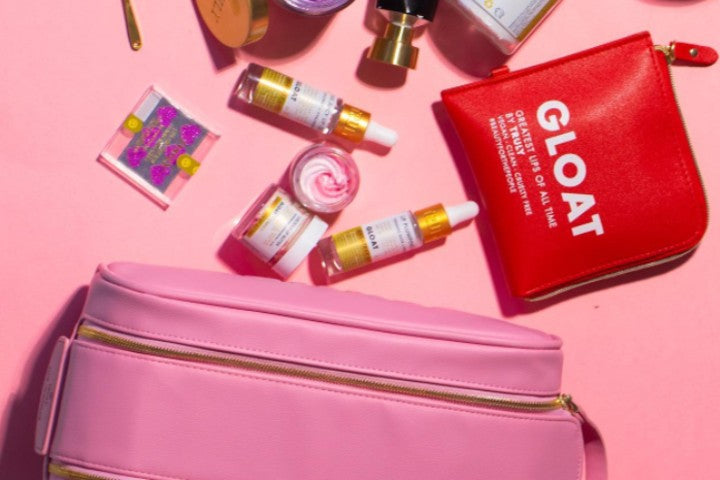 When you're out and about, it's not always easy to apply different beauty products when you don't have access to a sink.
The solution? Use products that secure all-day dewiness without you needing to apply with water or rinse.
Luckily for you, Truly offers multiple products that are easy to apply and deliver hours of moisture. Take a scroll through to see which ones they are!
Hand Sanitizer Germ Killin' Gel
Most important of all – Truly's Hand Sanitizer.
Lockdowns may be lifting across the world, but that doesn't mean you should loosen up on your hygiene priorities. Keep a bottle of this in your bag at all times so that you can keep your hands germ-free all day long until you return home (and have access to a sink). Especially when you're applying beauty products with your hands, make sure they are clean to prevent the spread of bacteria.
Truly's on-the-go hand sanitizer is effective in killing germs and bacteria and fits in any bag – no matter the size. Made with 70% alcohol, this fresh and reliable vegan sanitizer destroys dirt and bacteria, while offering soothing, hydrating effects thanks to its aloe vera blend.
Put 3-4 drops on your hands and rub together until the gel is spread evenly. Follow up with any of the below products. 
The Gloat Lineup
To keep your lips soft and smooth while you're out, be sure to fill your purse with Truly's Gloat Kit products. GLOAT, the Greatest Lips of All Time, delivers long-lasting moisture for a plumper, juicier set of lips.
Inside the kit, you will find four lip products: Sexy Soft Lip Scrub, Lip Plumping Serum, Big Juicy Lip Oil, and Luscious Lip Butter. This 4-step daily lip savior kit gives you kissable lips all day long. You can keep them in your handbag and apply them whenever you feel dryness coming on.
All of these products are formulated with hyaluronic acid, peppermint, and coconut oil. Together, hyaluronic acid and coconut oil provide deep hydration to the lips, while peppermint creates a swelling effect to make your pout appear fuller.
Start by applying the lip scrub, followed by the serum, oil, and then the butter.
Pineapple Haze Hand & Foot Cream
Are you prone to dry hands when you're out of the house? Or maybe it's your feet that feel really dehydrated in your sandals? Keep them silky smooth by throwing a tube of Pineapple Haze Hand & Foot Cream in your handbag.
This formula contains CBD, pineapple, and organic mango to deliver intense hydration to severely dry, cracked skin, while improving the overall texture of your skin. Best of all, you don't only need to use it on your hands and feet. This product works just as well at easing dryness on your elbows or knees.
Pineapple extract contains a powerful enzyme called bromelain, which diminishes dead skin cells for softer paws. It's also loaded with potent antioxidants to relax stressed-out skin and protect it from skin-damaging free radicals.
Whenever you're out and your hands or feet start feeling dry, slather this formula all over the affected areas. The dewiness should last all day. But of course, if you have severely dry skin, you may need to re-apply once or twice.
Get Pineapple Haze Hand & Foot Cream here.
Cream Skin Face Moisturizer
Especially in the cooler months, you may notice your complexion looking a little parched. Protect your skin from the cold weather by stocking your bag with Truly's Cream Skin Face Moisturizer for day-long hydration.
Made with a blend of hyaluronic acid and sea kelp, this formula is amazing at moisturizing the skin, plumping out fine lines, and sealing in moisture. Best of all, it can be multipurposed as a cuticle oil, too.
So if you see your cuticles getting dry and flaky, be sure to apply a thin layer of this cream directly to the area. You can use it anytime you see flakiness. And you don't need to rinse it off. In fact, the longer it stays on, the better.
Besides being highly convenient in the winter months, it can also be handy for the summer months when your toes are on display. If your nails or cuticles are looking parched, slather on this cream for day-long moisture. Feel free to use it on other dry areas, like your hands, feet, or legs if you don't have anything else in your bag.
Get Cream Skin Face Moisturizer here.
Vegan Collagen Facial Serum
Truly's Vegan Collagen Serum blends plant-based collagen with retinol and vitamin C to deliver a radiant, youthful appearance. In addition to its anti-aging benefits, it's also super hydrating and can double up as a lip serum. Keep a pot in your bag whenever your face or lips needs a burst of moisture.
Apply 1-2 drops to your lips and gently pat for optimal absorption. Apply anytime you feel your lips getting dry. If you're applying it on your face while you're out, make sure you bring a sunscreen with you to follow up with for UV protection.
You don't need to use a product formulated for the lips to hydrate your pout. Truly's Vegan Collagen Serum works just as well at delivering intense moisture. So you don't need to load your bag down with dozens of products.
Get Vegan Collagen Booster Facial Serum here.
If you like your skin to feel nourished while you're away from home, make these your go-to on-the-go products for lasting dewiness. You can apply them any time of the time and you don't need water to use them. In other words, they're excellent handbag staples that you can keep on you whenever you need a skin hydration boost.
Best of all, many of these products can multitask – meaning a facial serum can double up as a lip balm, and a face cream can function just as well as a cuticle oil.
Keep these Truly products in your bag to maintain glowing skin, no matter where you are.
Share
---