5 Best Hair Products for Beach Bombshell Locks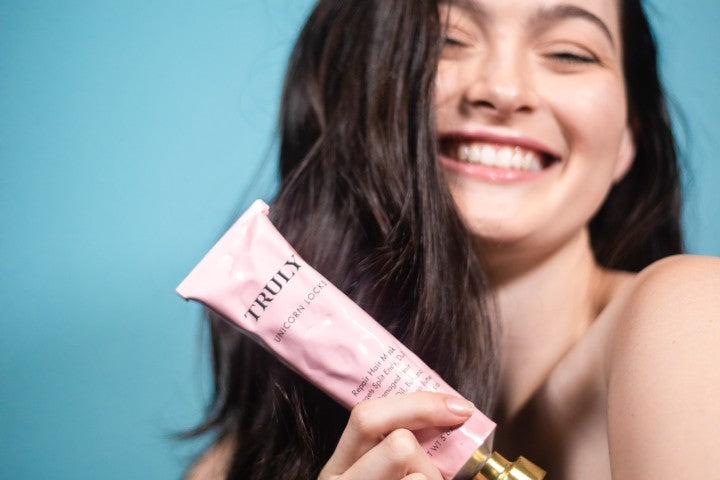 Who doesn't love a day at the beach? Everyone does...except for your hair (and unprotected skin!).
To protect strands from damaging UV rays and the drying salty ocean water, we've created a list of essential beach hair products to keep locks strong, healthy, and utterly bombshell-esque.
Here, five best hair care products to protect your strands and optimize your texture for beautiful beach waves, from nourishing mists to leave-in conditioning treatments.
#1: Unicorn Locks Hair Repair Mask
This keratin-packed hair mask is a great product for beach aftercare and suitable for all hair types, especially dry hair. Since summer elements can be so drying and damaging on the hair, it's always a good idea to complete your beach day with an intensive treatment like Unicorn Locks.
Made with scalp-stimulating keratin amino acids and moisturizing avocado, this formula repairs hair from the sun, heat, and saltwater. It can also help to reverse styling damage, and restore hair's shine and strength. Coconut oil and cocoa butter also deeply hydrate the tresses, preventing dryness, frizz, and split ends.
For best results, apply after shampooing, and let it sit on the strands for at least 5-10 minutes before rinsing out. You can also use this formula as a leave-in treatment for severely dry and damaged strands.
#2: Coco Rose Milk Leave-in Conditioner
Leave-in conditioners are invaluable for keeping strands strong, shiny, and split end-free. According to the hairstylists, you can also pair your leave-in formula with a hair dryer to create effortless beachy waves. Simply smooth through this hydrating treatment, and use a diffuser with high heat to tousle your tresses. Those with fine hair should only use a small amount of product to prevent weighing down their hair. But even for this hair type, it's a great hack for creating a fun and voluminous beach hairstyle.
If you're looking for a heatless hairstyle, try letting your hair air dry to 70%, then add a mousse and scrunch your strands to enhance your natural hair texture.
Coco Rose Milk Mask helps maintain moisture, fight frizziness, and detangle the hair. It can also be used for braids and buns, and help to style hair in spite of summer elements like the wind, sea, and sand.
Its key ingredients include coconut oil and rose, which work in tandem to intensely hydrate hair while repairing hair's damaged porosity. Meanwhile, aloe lends its anti-inflammatory properties to keep scalp soothed.
#3: Fuzzy Bucket Hat
Hats are a great way to protect your hair and face from the sun. They're especially useful if you've got bleached or chemically treated tresses, which can easily become damaged with regular sun exposure. You can maximize your protection from UV rays by pairing it with sunglasses and protective clothing.
Step out in style with this ultra cute Bucket Hat. It's white, fuzzy, and perfect for chilled out days at the beach. Just make sure you wear with sunscreen SPF 30 to keep your skin protected.
Another cool thing about hats is that it really doesn't matter if you're having a bad day, or don't feel up to styling your strands. Simply pop on this adorable, and you're good to go!
#4: Volcanic Rosewater All-Over Hydrating Mist
Spritz your strands in this hydrating rose mist to ensure hair looks and feels its best at — and after — the beach. It's not exactly a hair mist, but an all-over body mist that works just as effectively when applied to strands.
Volcanic Rosewater Mist hydrates, defines, and is super lightweight. Made with nourishing ingredients like rosewater, aloe, and vitamin C, this formula revitalizes texture while giving strands a hydration boost. Pack it with you on your beach trip, and spritz it on whenever your hair feels a little dry.
For best results, mist the hair in an upside down position, shake, and then go! And since it's a skincare product, you can also spritz it on your face and body for a speedy moisture boost.
#5: Rainbows in Mirrors Split End Treatment
Another excellent treatment for nourishing parched strands — and preventing them from occurring in the first place.
Rainbows in Mirrors Split End Treatment mends and seals brittle ends while preventing splits from forming. Powered by avocado, argan oil, and vitamin E, this formula restores the color and vibrancy of fragile hair while strengthening ends.
For best results, apply a thin layer to the mid-lengths and ends of your hair before and after going to the beach.
Make Your Own DIY Sea Salt Spray
While we generally recommend salt-free formulas when it comes to beach day hair care, salt spray is an excellent way to add natural texture to your tresses.
You can create your own salt texture spray by boiling up a small pot of water (1 cup), removing it from the heat once it boils, and adding in 1 Tbsp. sea salt. Stir until dissolved, then leave the mixture to cool and add in 1/2 TSP. argan or jojoba oil, and 1 Tbsp aloe vera juice or gel. Once it's all combined, pour the mixture into a spray bottle and store in a cool, dry place. Easy!
After spritzing on your salt hairspray, counteract its drying effects by smoothing through your favorite hair oil, like Moroccanoil. Whether you've got fine hair, curly hair, or wavy hair, your strands will look sensational with this surf spray, oil blend! It's a fun and fast hair styler for perfect beach waves.
Beach bombshell locks are definitely achievable with the right hair products and protection. Try at least one or two of the above products to attain shiny summer strands this season! Just remember to follow up with sunscreen, and avoid using products that dry out the hair and scalp, like dry shampoo and hairspray. You might also want to invest in a UV-shielding hair spray to protect strands from drying out and potentially breaking.
Shop all the Truly products on Amazon, Ulta, Sephora EU, and our official store.
Share
---