DIY Hair Mask: 5 Fast Fixes For Every Hair Dilemma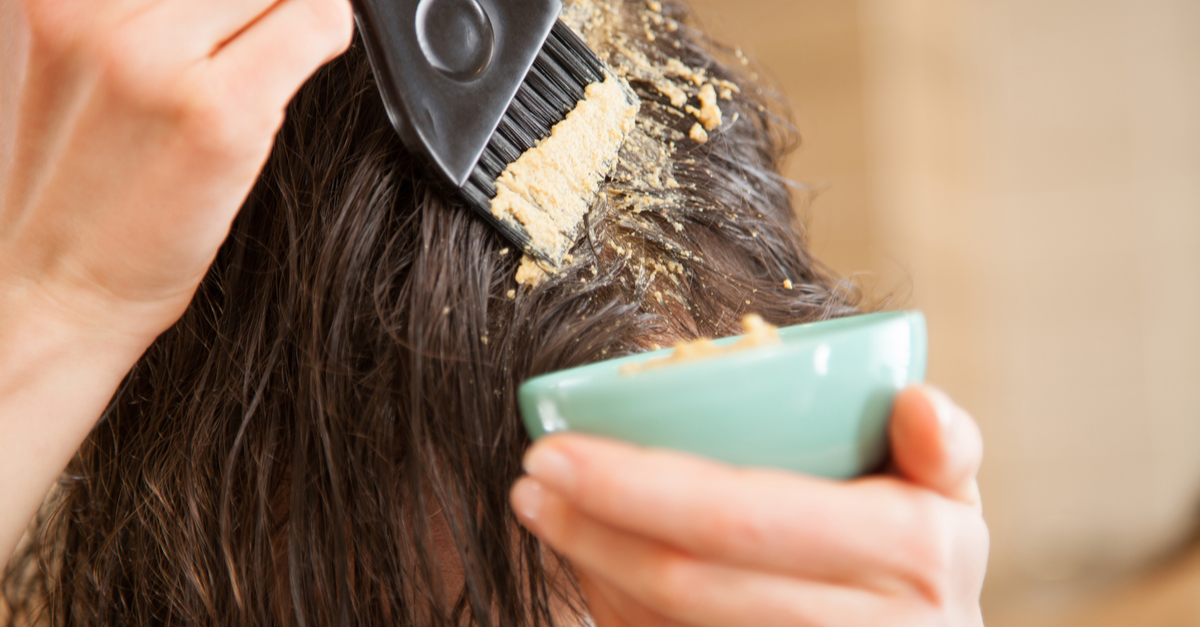 From overusing your hair straighteners to dealing with the aftermath of frosty winter air, your tresses need some TLC every now and then to keep them looking glossy and healthy.
From chronic frizz to pesky split ends, everyone has some hair dilemma to complain about. Even people with healthy hair suffer mane down days. 
As far as injecting some oomph back into your locks, the best way is with an enriching diy hair mask. Forget store bought hair products for now. Think pantry products instead. 
There's just something about using natural ingredients that feels so much cleaner and so much more nourishing, don't you think? 
Whether you're trying to diminish dry hair or tame frizzy hair, we've found the best diy hair masks you can make from home. And each homemade hair mask recipe can solve every solemn strand situation.
DILEMMA: DRY HAIR
Fix: Mayonnaise mask 
What you'll need: 
1 tablespoon of mayonnaise

1 teaspoon of extra virgin olive oil 

1 egg yolk 
How to: Mix all of the above ingredients together, apply to your hair, and leave it on for 20 minutes before washing out. 
Why it works: Together, the mayonnaise, egg yolk and olive oil work work together to nourish the hair and infuse moisture back into your mane. These three natural products are also excellent sources of external protein for the hair to help it recover and regain much needed moisture. It's a highly moisturizing hair treatment that really works. From straight to curly hair, it's the most hydrating hair mask that will leave your hair feeling ultra smooth and soft.
DILEMMA: DAMAGED HAIR
Fix: Blended oils mask
What you'll need:
1 tablespoon of coconut oil

1 teaspoon of argan oil

1 teaspoon of shea butter

1 teaspoon of almond oil

Several drops of essential oils such as lavender and rosemary 
How to: Melt the coconut oil, shea butter and almond oil together in a microwave for a few seconds until it is warm. Leave the mixture to cool. When it solidifies, add in the argan oil and essential oils. Mix it together and apply to your hair - preferably to damp hair. Leave it on for 30 minutes before washing off. 
Why it works: These natural oils - especially coconut oil - contain beneficial fatty acids that penetrate the hair shaft, helping to strengthen, hydrate and reduce breakage. While the coconut oil won't swipe out split ends altogether, it can hide frayed ends by temporarily smoothing them out. Shea butter is particularly effective in moisturizing the hair and argan oil adds shine. It's an excellent diy hair mask for hair that's seen the flat iron way too many times or gone a little overboard with the dye jobs. Don't worry. These oils will rescue in-need-of-repair strands. 
DILEMMA:

 FRIZZY HAIR
Fix: Honey hair mask
What you'll need:
2 tablespoons of raw honey

1 avocado
How to: Blend together the honey and avocado. Coat your hair with the mixture and cover with a shower cap to prevent any mess. Leave it on for 20 minutes and wash out. 
Why it works: Avocados are loaded with antioxidants and fatty acids that boost scalp health and condition the hair. As for honey, it's a humectant which means it both attracts and retains moisture in your locks. It's also an emollient, effective at smoothing your strands and preventing frizz. Additionally, both honey and avocado are packed with vitamins, so they're quite literally food for the hair.
DILEMMA: DULL HAIR
Fix: Ylang ylang mask
What you'll need:
5 drops of ylang ylang oil

3 drops of jasmine oil

1 teaspoon argan oil 
How to: Mix together the argan oil with the essential oils and apply to dry hair and dry scalp. Leave it on for 30 minutes, then wash it out with shampoo and finish off with conditioner. 
Why it works: Ylang ylang oil helps detangle hair and promote shine. Mixed together with the jasmine and argan, the effects are twice as powerful. It works for every hair type and is an excellent addition to your hair care routine. This mask not only diminishes dullness and boosts shine, it also helps to deeply moisturize your mane. If you have long hair that's losing its glow factor, start making this mask a regular hair care habit so you can get your best hair every day.
DILEMMA:
 HAIR THAT TAKES FOREVER TO GROW
Fix: Apple cider vinegar mask
What you'll need:
2 tablespoons of apple cider vinegar

1 tablespoon of coconut oil
How to: Mix the ingredients together and massage into your hair and scalp. Leave it to sit for 15 minutes before rinsing with shampoo and applying hair conditioner. 
Why it works: Apple cider vinegar contains ascorbic acid, also known as vitamin C, which cleanses and moisturizes dry scalp and ultimately, helps hair grow faster. The vinegar also contains b-vitamins which stimulates blood circulation in your hair follicles to prevent hair loss and promote hair growth.  Combined with coconut oil's high content of fatty acids, this mask can also ease itchy scalp, excess oil and dandruff. It's extremely healing for the scalp and hair shaft. 
HOW OFTEN TO USE THESE DIY HAIR MASKS? 
These homemade hair masks are easy to make and extremely effective in easing aggravating hair complaints. 
With regular styling, frequent hair dying sessions and environmental effects, your hair can take a real battering at times. Just like your skin, your tresses require regular TLC and just as you would apply your weekly face mask, so you should for your hair too. 
Even if you never color your hair and swear by air drying, your natural hair still needs to be well maintained in order to stay looking healthy. The best way to do that is by applying a regular diy hair mask that contains all the vitamins and nutrients needed to moisturize, enrich and tame your tresses.
All of the above diy recipes should be applied at least 3-4 times per month in order to reap the most benefits. However, don't overdo hair pampering sessions, as it can weigh down some hair types.
Battling frizz? Dealing with dryness? Or can't seem to get your once-loved bob past your shoulders? Grab your groceries, invite your friends over, and indulge in some major hair care therapy. You'll have fun and your hair will look fabulous. Regardless of your hair dilemma, there's a diy hair mask to fix every issue. 
Share
---