Glycolic Acid for Hair: Yay or Nay?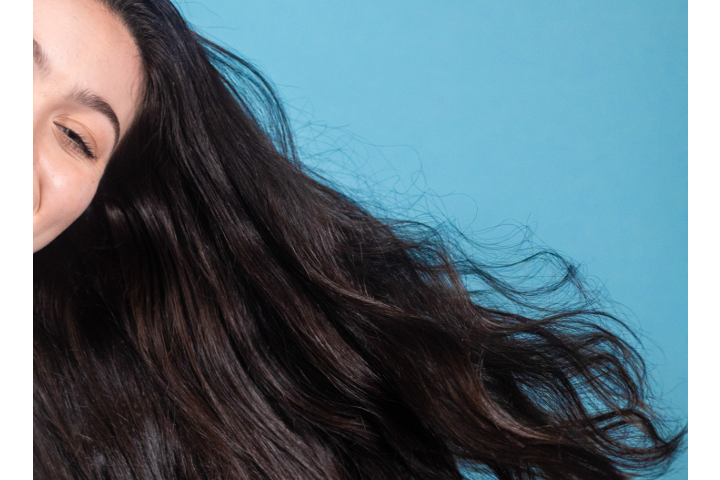 Glycolic acid is a popular skincare ingredient found in a variety of skincare products, including cleansers, serums, toners, and creams, as well as in-office treatments such as peels. It can help treat everything from uneven skin tone to discoloration and breakouts.
An alpha hydroxy acid (AHA), or chemical exfoliant, glycolic acid has been having a moment on TikTok, with users claiming it works wonders as a scalp exfoliation treatment to alleviate issues like dryness and dandruff. The question is, just how beneficial is glycolic acid for scalp health?
Ahead, we delve into the pros and cons of putting glycolic acid on your scalp and hair.
BENEFITS OF GLYCOLIC ACID FOR HAIR
According to dermatologists, glycolic acid may have some benefits for your scalp and strands. Here are the top benefits of applying glycolic acid on your scalp.
It Helps Keep Your Strands Fresh
Since glycolic acid exfoliates, it sloughs away dead skin cells, excess oil, and product buildup on the scalp, which translates to less greasy hair and less flaking. While your shampoo is designed to cleanse away dirt and oil, it can only do so much. From time to time, it can be beneficial to perform scalp exfoliation just to buff away any buildup on the scalp. By removing this buildup, it not only promotes a healthy scalp, but stops hair from getting greasy.
Over time, between hair masks, conditioners, and styling products, hair can end up getting weighed down, which leaves it looking limp and greasy. Glycolic acid scalp exfoliation can help prevent this and keep your strands looking fresh.
It Can Relieve Dryness
Glycolic acid is both a humectant and an exfoliant, meaning it attracts hydration while removing buildup to prevent dryness and flaking. It may be an effective way to incorporate gentle exfoliation into your scalp care routine, and keep your scalp and hair moisturized.
It May Promote Hair Growth
By gently removing dead skin cells and dirt, glycolic acid used a scalp scrub may help promote healthy hair growth. Of course, if you have a condition such as alopecia, it shouldn't be used as a hair growth treatment. Speak to a healthcare professional if you're experiencing hair loss. However, since exfoliation promotes a healthy scalp, it can also promote healthy hair growth. 
It May Alleviate Dandruff
TikTokers swear by glycolic acid for diminishing dandruff — specially The Ordinary's Glycolic Acid Treatment. Since dandruff is typically caused by a buildup of dead skin on the scalp, sloughing it away with a gentle exfoliant may be able to help.
DISADVANTAGES OF GLYCOLIC ACID FOR HAIR
While glycolic acid does offer many benefits for the scalp, there are some less desirable effects of using it as a hair treatment.
It May Irritate the Scalp
Applying a glycolic-acid based product to the scalp should be safe as long as the product is designed for the scalp. However, dermatologist warn against using glycolic acid skincare products on the scalp, as they may end up causing irritation. 
It May Cause Hair Loss
As per the derms, long-term use of glycolic acid can actually weaken the hair and lead to hair loss. It's best to limit use to once a week and after that only once every month to enjoy the benefits and none of the side effects. Or to be on the safe side, use a product with a very low concentration of glycolic acid.
It May Cause Breakage
Glycolic acid may also dry out the hair and lead to breakage — especially if you use it regularly. If you have dry hair or are prone to frizz, glycolic acid can make things worse. For that reason, it's best to limit use of the active ingredient or use a completely different product altogether.
GLYCOLIC ACID FOR HAIR: YAY OR NAY?
There are both advantages and disadvantages of using glycolic as a scalp exfoliator. If you would like to give it a try, make sure you use a product designed especially for the hair and scalp to avoid any unwanted side effects. Those with skin conditions like eczema and psoriasis should consult a dermatologist before using any acids on their scalp, as they may worsen your symptoms.
BEST HAIRCARE PRODUCTS FOR HAIR + SCALP CARE
When choosing a scalp exfoliator, look for products especially designed for the scalp. In addition to glycolic acid, other good exfoliating ingredients include salicylic acid (BHA) and natural sugar cane. In the meantime, keep your hair and scalp healthy with these top hair care products.
Super Fruit Repair and Restore Shampoo + Conditioner
A hydrating and repairing duo for restoring your smoothest locks. Super Fruit Bundle features nourishing ingredients like organic coconut, argan oil, tea tree, and jojoba oil to hydrate your scalp and strands while reversing damage. It's the perfect combo for dry, damaged, or bleached hair. That said, all hair types can benefit from this hydrating duo.
Coco Rose Milk Hair Mask
A cleansing, balancing, and ultra moisturizing mask to smooth and fortify hair while nourishing the scalp. You can use it as a hair mask or leave-in treatment to restore your smoothest, silkiest strands. Alternatively, use it as a detangling treatment, and comb it through to strengthen your locks and get rid of tangles.
Unicorn Hair Repair Mask
A formula powered by keratin amino acids and avocado to deliver your smoothest, shiniest, and strongest strands. This treatment is ideal for those experiencing dryness or breakage. Use it as a hair mask or leave-in treatment to diminish dryness and flaking from your hair and scalp.
If you're on TikTok, you've no doubt seen everyone ranting and raving about glycolic acid as a dandruff treatment. Like with all TikTok trends, always do your research before trying it at home to avoid any undesirable side effects.
When it comes to using glycolic acid on your scalp, make sure you purchase a gentle formula that's made for the scalp rather than applying a glycolic acid-based skincare product. And if you have any questions or concerns, always consult a professional.
Share
---