How Often You Should *Really* Rotate Your Hair Care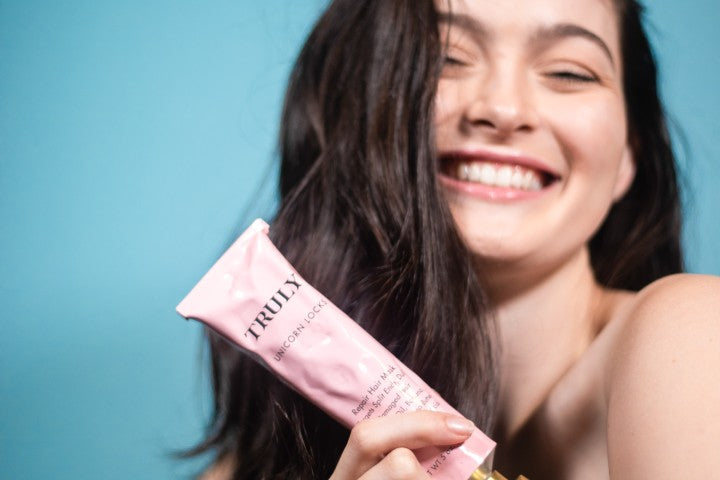 Everything you apply to your hair plays a role in its overall appearance, condition, and texture. That's why it's worth following a hair care routine that works specifically for your hair type. 
To prevent buildup, breakage, and possibly even hair loss, you need to know what hair care products to use and how often to keep your tresses in great shape.
Here, we show you how!
Hair Washing 
Dry hair? Curly hair? Every hair type requires a different routine for looking its very best. Let's take a look at how often you should wash your hair depending on your hair type.
Fine Hair
The most frustrating thing about fine, thin hair? Grease and oil show up more than any other hair type. Even if you wash your hair every day, your locks are still prone to looking greasy. So you can understand the frustration! 
To keep your hair looking clean and fresh, wash your hair every other day with a gentle, volume-boosting shampoo and conditioner. Feel free to blast your roots with dry shampoo to drive out next day grease.
Curly Hair
Because of its texture, curly hair doesn't need to be washed that regularly to keep it looking good. To maintain voluminous, defined curls, wash your mane every two days with a sulfate-free cleanser and avoid choosing heavy butters and oils that will weigh down your hair.
Oily Hair
It may be tempting to wash your hair every single day if your mane is naturally oily - but don't! Overcleansing your hair will actually dry out the scalp causing it to produce more sebum to compensate for the dryness. 
Wash your hair every other day using a clarifying shampoo that'll take control of those natural oils without stripping your hair.
Thick Hair
Thick hair types tend to have denser hair follicles, which means you only need to wash your hair once or twice a week to maintain its fresh and glossy appearance. 
Lather up using a nourishing, moisturizing shampoo to fulfil all of your hair needs and improve hair texture.
Damaged Hair
Coloring, chemical treatments, and overusing stylist products and heat tools can wreak havoc on your hair, leaving you with dry, dull, coarse strands. You can counteract the damage by treating your hair to a hydrating, split end repairing shampoo to restore moisture while cleansing it of any product buildup. 
Daily hair washing is extremely damaging for coarse hair, so stick to cleansing it only 2-3 times per week and follow up with a repairing conditioner.
WHY YOU SHOULDN'T OVERWASH OR UNDERWASH?
Thought more meant better? Nope. Overwashing your hair can actually cause the hair to compensate by creating more oil, making your mane appear greasier. It can also irritate the scalp and bring on dandruff. Those with drier or damaged hair types will benefit the least from overwashing, as it will just make your strands more parched and more prone to breakage.
Equally as important: don't underwash, either. You may have heard of fads like the no-poo method, but avoid trying this yourself. By skipping your shampooing sessions, you're setting yourself up for excess buildup, unhealthy hair, and unpleasant odors. 
It's perfectly fine to cut down on how often you shampoo, but don't let excess oils turn your mane into a smelly, greasy pile of strands.
Hair Masking 
"Everyone should use a hair mask," says London-based trichologist Lisa Caddy. "Even if your hair is not coloured or heat styled, it can still lose moisture from daily wear and tear and masks can dramatically enhance shine and improve bounce and condition whilst protecting from future damage."
How often you wash depends on the current state of your hair and its type. For instance, if you have severely damaged hair, you may want to consider using a hair mask after every wash to nourish and repair the hair shaft and follicles.
Those with thick or curly hair textures will also notice their hair needs more moisture and will benefit greatly from using a hair mask twice a week. 
People with fine hair should avoid overusing hair masks as they can quickly weigh down the hair and make it look greasy. Once every three to four weeks should be enough to maintain healthy hair without stealing its volume.
Oily hair types should also limit their use of hair masks to once every few weeks to prevent buildup and keep the strands looking fresh, clean, and bouncy.
And here's why nobody, regardless of their hair type, should overuse hair masks...
"When using a hair mask that has protein, be careful not to overuse it," says Kentucky-based celebrity hair expert Jamie Wiley. "The hair will actually become brittle and break off."
RECOMMENDED HAIR CARE PRODUCTS FOR YOU TO TRY
Super Plant Bundle - Shampoo and Conditioner
This revitalizing shampoo and conditioner is loaded with shine-inducing ingredients like neroli, red seaweed, and provitamin B5 to purify an oily scalp, tame frizz, and deliver healthy, shiny, super-hydrated strands. It's also effective at thickening thinning hair.
Unicorn Hair Repair Mask
This magical, cruelty-free formula feeds the scalp and strands with keratin amino acids, avocado, and coconut oil to diminish dryness, prompt hair growth, and seal split ends. So if you're someone who loves using styling products and now your hair's paying the price, restore your natural hair's shine, strength, and softness by slathering it with this nutrient-loaded hair mask.
Just like your daily skincare routine, your hair needs to be treated according to your specific hair type. Whether dry or oily, curly or damaged, it's important to establish your hair type so you can effectively treat it and nourish it so that it looks its best.
You should also avoid overwashing, underwashing, or overusing hair masks to prevent negative side effects like greasiness, dryness, dandruff, irritation, and hair shedding. 
The best way to take care of your hair is to understand its needs, deliver them, and tailor your hair care routine to your hair type. Then you've got yourself a happy, bouncy, baby-soft mane. 
Share
---