How to Get Rid of Body Hair in 3 Different Ways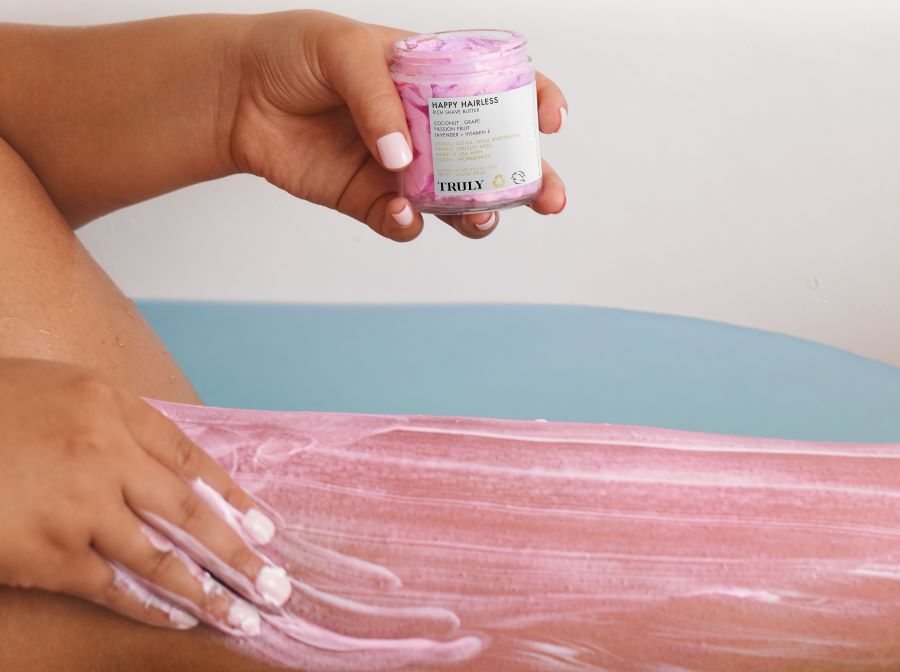 Wondering how to get rid of body hair and what hair removal method would be best for you? It all depends on your priorities. Whether you're looking to save time or enjoy long-lasting results, the best way to get rid of body hair comes down to your personal preferences. 
To make things easier, we've created a full guide on the different hair removal methods so you can decide which one ticks all your boxes. Ahead, learn how to remove body hair through shaving, waxing, and epilating. 
3 Best Body Hair Removal Methods
Removing body hair is a personal choice. Whether you're new to hair removal, looking for a faster alternative, searching for longer-lasting results, or wanting to switch to a less painful procedure, we've got all the options below. And there's a method to suit everyone!
Shaving
Shaving is a popular choice for how to get rid of body hair. It's fast, convenient, and painless. Plus, you don't have to put up with any regrowth. You can shave as regularly as you like. Although it's generally better to avoid shaving more than once every two days to prevent irritation. Here's the best way to do it. 
Step 1: Exfoliate
Always start with a good exfoliator. A sugar-based scrub is ideal for buffing away the buildup of dead skin cells that can clog (and dull) your razor blades. What's more, dead cells can clog the hair follicles and trap hair beneath the skin, resulting in ingrown hairs. These are all good reasons to exfoliate prior to shaving. Besides preventing bumps and ingrowns, it will ensure a smoother, closer shave for silkier results. 
Step 2: Apply Shaving Cream
Next up: lubrication. Shaving cream, gel, or butter provides a nice, slippery base for your razor to glide over. It also helps to soften the skin and hair, making for an easier razor glide. Without it, you increase your risk of razor burn and ingrowns. 
Step 3: Shave in the Direction of Hair Growth
Shave with the grain to ensure a smooth, irritation-free shave. While shaving against the grain will provide a closer shave, it'll also leave you susceptible to bumps and burns. Always use a clean, sharp razor to do this and avoid going over the same area twice. 
Step 4: Moisturize 
The final step for how to get rid of body hair with shaving: moisturize. Exfoliating and shaving can both dry out the skin, which is why it's important to replenish moisture with a nourishing body lotion. Besides bolstering skin barrier function, it'll keep skin smooth and supple. Look out for ingredients like hyaluronic acid, shea butter, and cocoa butter which will attract moisture and seal it in for long-lasting hydration. 
Shop Your Best Shave 
We've handpicked some ultra-indulgent shave sets if you feel like treating yourself. Shaving feels way more satisfying with sumptuous scents, yummy textures, and most importantly: irresistibly smooth results.
Ultimate Smooth Legend Shave Set
Iconic. Indulgent. Extremely luxurious. Ultimate Smooth Legend Shave Set secures a satin-smooth shave every single time. Featuring a sugary pre-shave scrub, whipped shave butter, and after shave oil, plus a magnetic razor and vegan fur bag. Formulated with hydrating coconut, soothing lavender, and skin softening vitamin E. 
Glazed Donut Shave Set
A shave fit for supermodels! Glazed Donut Shave Set preps with a 24k gold exfoliating cleanser, softens with a peptide-powered shave butter, and leaves skin glistening with an after shave oil and cream. It also comes with a 5-blade razor for effortless gliding and mini gold spoon for hygienic application. Everything you need for supermodel-smooth skin. 
Ultimate Coco Cloud Shave Set
Experience cloud-like smoothness with a splash of creamy coconut scent. Ultimate Coco Cloud Shave Set intensely hydrates and soothes with coconut milk, argan oil, shea butter, and vanilla. Featuring a whipped shave butter, after shave serum, and moisturizer plus an aloe-infused razor and blue cloud bag. It targets razor burn, ingrowns, redness, and dryness for your best shave ever.
Waxing
Another way for how to get rid of body hair is waxing. Waxing is a popular hair removal method that's great for long-lasting results. With waxing, you can expect to stay smooth for up to three weeks. However, waxing can be painful and a more expensive option if you're getting it done at the salon. And while you can enjoy weeks of smoothness, the pros recommend waiting six weeks before your next wax. Here's how to do it at home. 
Step 1: Trim Hair
If your hair is longer than three quarters of an inch, it's best to trim hair before waxing. Just make sure you don't trim it to any less than a quarter inch otherwise the waxing process will be more difficult.
Step 2: Exfoliate
A day prior to waxing, gently exfoliate your skin with a mild scrub or loofah to remove dead skin cells. This will help loosen existing ingrown hairs and improve your waxing results. 
Step 3: Apply Wax
Whether you're using pure wax or wax with strips, always spread the wax in the direction of hair growth. For best results, apply to small sections. 
Step 4: Pull in the Opposite Direction 
Hold your skin taut with one hand, and use your other hand to pull in the opposite direction of hair growth in one fast motion. You can soothe the skin with ice packs and finish with a lightweight moisturizer. 
Epilating 
When it comes to how to get rid of body hair you might have considered epilating. Epilating is long-lasting and can be used all over the body. That being said, it tends to be a lot less comfortable than shaving. On the plus side, skin stays smooth for around two weeks. Here's how to epilate at home. 
Step 1: Exfoliate
Gently exfoliate using a sugar scrub or exfoliating cleanser. This will remove dead skin cells to prevent ingrowns and prep skin for easy hair removal. It'll also help to instantly smooth your skin. 
Step 2: Pull Skin Taut and Go Slow
To make the process less painful, pull skin taut, hold the epilator at a 90 degree angle, and epilate against the direction of hair growth. Try not to rush as this can break the hairs and make them more difficult to remove.
Step 3: Moisturize
Once you're done, apply a soothing gel or moisturizer to soften the skin and alleviate irritation. Some of the best ingredients to look for include aloe, tea tree, shea butter, or peptides. 
How to Get Rid of Body Hair Permanently 
Looking for a way to permanently remove body hair? Laser treatment is your best option. Laser slows the rate of hair regrowth by damaging the hair follicles. However, smooth skin can only be achieved after several sessions or more. It won't completely remove hair permanently but it will make it thinner and less apparent. Both laser and IPL can be effective for removing hair long term but it's best to speak to your dermatologist or esthetician before proceeding with one of these procedures.
How to get rid of body hair? As you can see, you have a few different options when it comes to getting smooth. The method you choose depends entirely on your personal preferences. Waxing and epilating are great choices if you're seeking long-lasting smoothness but they can be painful and expensive. Shaving is fast, affordable, and painless but skin only stays smooth for a day or two. When it comes to how to get rid of body hair, it's down to what suits you and your needs best.

Watch our how to get rid of body hair tutorial:


Photos by Sora Shimazaki, Pexels and Tima Miroshnichenko, Pexels
Share
---