Rejuvenate your Mane with Truly's Super Plant Shampoo and Conditioner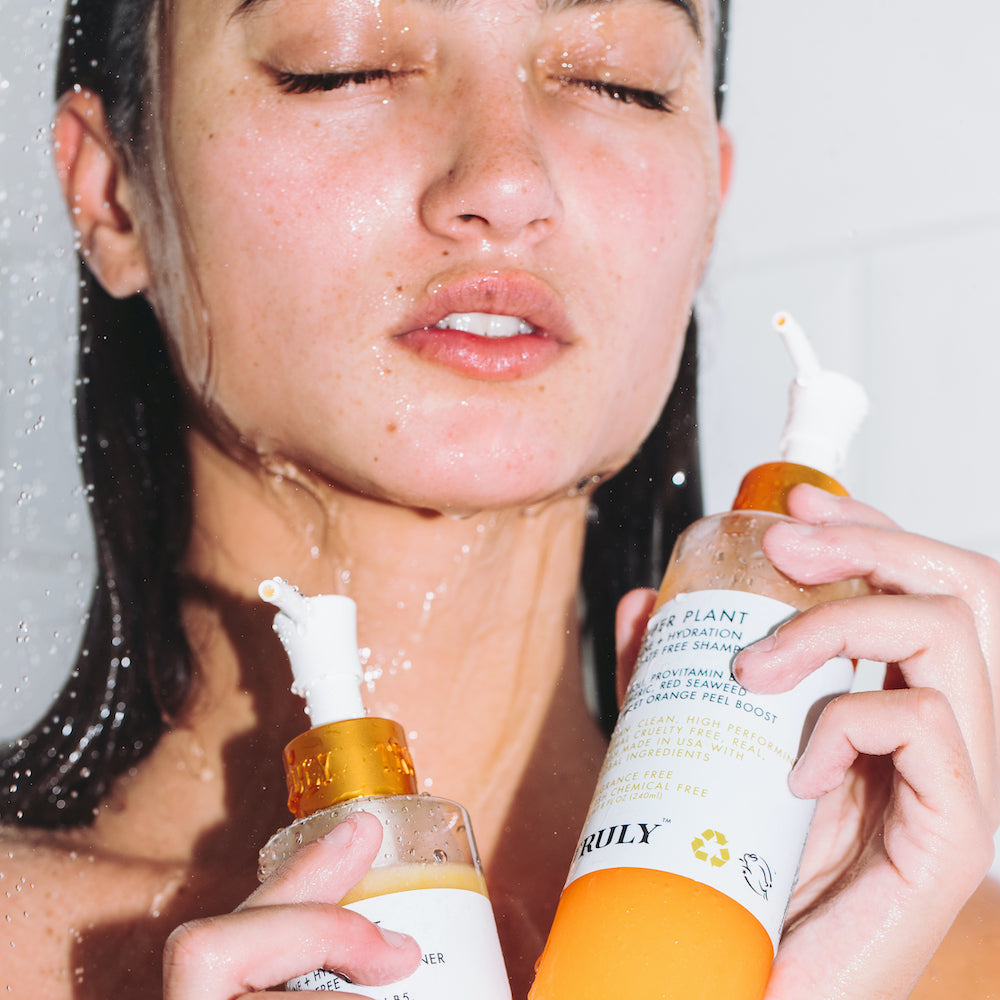 Every mane-proud female wants a smooth and shiny head of hair. But there could be a range of factors preventing that from happening. If you've noticed your locks feeling a little more brittle than normal, you could be over-washing your hair, using too many heated tools, exposing your hair to too much sun, or over-applying chemical products.
To rejuvenate your strands and get them back to their bouncy, glossy selves, you'll need to incorporate a few key ingredients into your haircare regimen. Because good hair care can make all the difference.
Truly's Super Plant Shampoo and Conditioner are exactly what you need to diminish dryness and produce sleek and silky strands. Plus, they're 100% vegan, cruelty-free and clean!
SUPER PLANT SHAMPOO
Formulated with neroli and provitamin B5, Truly's Super Plant Shampoo is the food your hair needs to look its best.
Provitamin B5, also known as panthenol, offers binding properties that coat and seal the hair follicles, lubricating the shaft and giving the appearance of beautiful, healthy, and voluminous hair. Best of all, it adds pliability without leaving it looking greasy. Nobody wants oily hair!
Neroli is equally as beneficial for the hair, encouraging cell growth and boosting dull-looking hair, all thanks to its antioxidant properties.
Truly's plant-based hydrating shampoo is also sulfate-free and enriched with red seaweed and sweet orange peel that cleanse the hair without drying it out.
HOW TO USE
Apply Super Plant Shampoo to wet hair and massage it in from root to tip. For best results, use alongside Truly's Super Plant Conditioner.
SUPER PLANT CONDITIONER
If you're regularly missing out on the conditioning step in your hair-washing routine, it's time to stop now. Healthy hair is all about healthy habits and skipping the conditioner isn't one of them.
Truly's Super Plant conditioner is formulated with high-performing vegan ingredients such as provitamin B5, neroli, red seaweed, and sweet orange peel. These hair-heroes provide your tresses with the nutrients and nourishment needed to hydrate and banish dryness.
Neroli and red seaweed are packed with antioxidants that reverse damage and revitalize hair. The latter also mimics hormones that stimulate hair growth. In other words, regular use of Truly's Super Plant bundle will promote longer, healthier hair.
As for its provitamin B5 content, this helps to seal in moisture within the hair follicles, warding off dry hair and scalp. What's more, it creates a thin layer of moisture along the surface of the hair to add softness and shine.
HOW TO USE
After shampooing, apply Super Plant Conditioner to the mid-lengths and ends of your hair. Leave in for 3-5 minutes, then rinse. For best results, use this conditioner every time you wash your hair.
GET SUPER PLANT BUNDLE
It's hard to hide dry hair. The only real way to handle dryness is by incorporating good haircare habits like using heat tools less frequently, avoiding overwashing, and washing with high quality products with high performing ingredients like Truly's Super plant products.
Get the Super Plant Shampoo & Conditioner bundle for only $46.00.
Share
---