What Happens If I Go *This Long* Without Washing My Hair?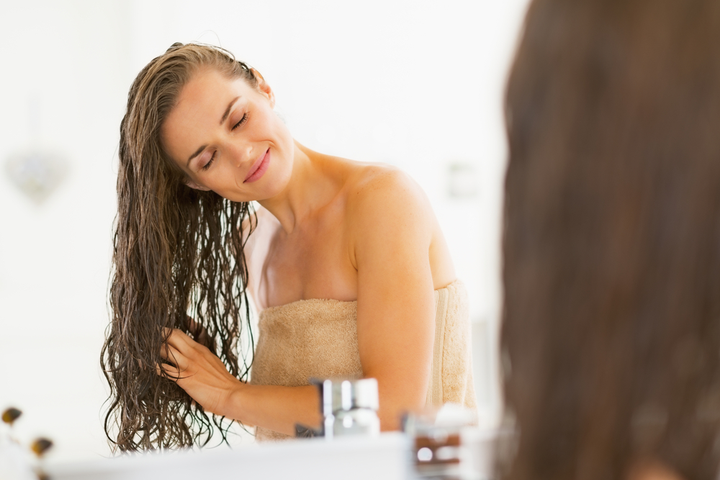 We've all heard the rumors: going several days without washing your hair builds up resistance against getting greasy fast and maintains the hair's natural oils. But is it true? 
Faced with busy mornings and sleepy evenings, we've all skipped washing our hair for a day or two. According to the pros, washing your hair every day isn't actually healthy for your mane, as it strips it of its natural oils, causing it to dry out.
But what happens when you string a shampoo fast out for days or weeks at a time? Would your hair eventually adjust so that you don't need to go back to frequent hair washing? Or would it just look greasy and gross?
It's time to understand the practice better. 
IS HAIR WASHING A WASTE?
You know the story. You're too busy in the morning but too tired in the evening and so you find yourself depending on your dry shampoo for a hair refresh. The question is, will all that oil, grease, and residue cause a build up on your scalp? Or will your tresses adapt to less lather?
According to Angela Lamb, M.D., a board-certified dermatologist with Mount Sinai Hospital in New York, it depends on different factors, including your hair type. 
"Certainly people probably could get away without washing their hair as much," she says. "But it depends on your genes. It depends on your hair texture. It depends on how much you exercise."
Sure, the scalp's oil glands do naturally coat the hair, but everyone's scalp is different. In other words, some people will see positive results, while others will end up will smelly, greasy strands that don't benefit at all from less frequent washing. 
Hormones, medications, and your lifestyle affect it. Some can go up to nine weeks without shampooing. Others can't go any longer than every two days - even with the help of dry shampoo.
WHAT HAPPENS WHEN YOU STOP WASHING YOUR HAIR
Your Hair May Become Thicker
If you're one of the lucky few, you may experience a breakthrough from not washing your hair for several weeks.
If you overdry any skin surface by shampooing, it will produce more oil to try to compensate. As a result, it leaves your mane more oily and grimy. It can even result in dandruff, dry hair, and oily hair. 
While little research backs up the theory, hair experts say people with thin or fine hair generally experience greater success with prolonged non-washing.
Your Hair May Smell Nasty
Like with anything, you stop washing you start smelling. Your hair is no different. All that build up of sebum, dust, and dirt could cause your hair to start smelling, well, not so great.
People who workout are particularly prone to getting a smelly scalp if they're not washing regularly. As are those with thicker hair, as it's easier for odors to build up there. 
You May Experience Hair Loss
Prolonged periods of not washing can lead to a buildup on the scalp, potentially impeding its ability to grow. So if your goal is to get long hair, you might want to re-consider skipping your regular hair wash sessions.
You are more susceptible to suffering hair loss if you're frequently using styling tools and products like texturizing spray and dry shampoo, as these create additional buildup. 
Those with coarse, frizzy, or curly hair can buy a bit more time - as many as 8-10 days.
WHAT IS THE NO POO METHOD?
The no poo method involves ditching your shampoo completely in favor of product-free rinsing. Instead of using traditional shampoo, you're essentially washing your hair in water to get rid of an oily scalp without drying it out. 
The theory being that most haircare products like shampoo strip your hair of natural oils, making your scalp dry and causing your oil glands to overcompensate. 
There are many different ways of washing your hair for the no poo method. The most popular one is a mix of baking soda and apple vinegar. While showering, scrub your head with the baking soda so that it absorbs oil. Then rinse with the vinegar. Think of it as your no-suds shampooing session!
This natural hair washing method breathes life into thin hair while making hair look and feel healthier. 
HOW LONG SHOULD YOU REALLY GO WITHOUT WASHING YOUR HAIR?
Like with your skincare routine, it's all about balance and catering to your specific needs. 
"If you wash too frequently you strip your hair's natural oils, leaving your strands dry, brittle, and subject to breaking," says Linsey Barbuto, founder of Perlei Salon. "If you don't wash enough, you don't remove that gunk that builds up, which leads to a scratchy scalp."
Cutting down on washing if you have oily hair can train your scalp to produce less oil overtime. But you should still be washing it every few days to banish buildup and nurture a healthy scalp. 
HOW TO COMBAT OILY HAIR
Ready to approach a deep clean for extra greasy hair, but not sure where to get started? We've got some amazing hair products you can use to get your hair clean and clarified - without dehydrating it.
Super Plant Bundle
This shampoo & conditioner set combines neroli and red seaweed to nourish the hair follicles and revitalize your tresses. It cleanses away oil and grime, while providing hydration to your scalp and hair for ultra soft, silky strands.
Super Flower Bundle
Target frizz and split ends with this hemp-packed shampoo and conditioner kit. It'll make your hair feel clean and smooth with no oil in sight. Plus, it contains ingredients like lavender and provitamin B5 to treat hair loss and thicken strands.
Super Fruit Repair Bundle
Another repairing shampoo and conditioner bundle, these products utilize coconut, argan, jojoba oil, and tea tree for stronger, smoother strands. This duo is your in-shower hairstylist for making all hairstyles look great - and super shiny!
Different hair types react differently to the prolonged no-washing method. All in all, we recommend sticking to a balance of not washing too often or too less to keep your hair healthy, shiny, and voluminous. 
Share
---