3 Holiday-Ready DIY Skincare Mask Recipes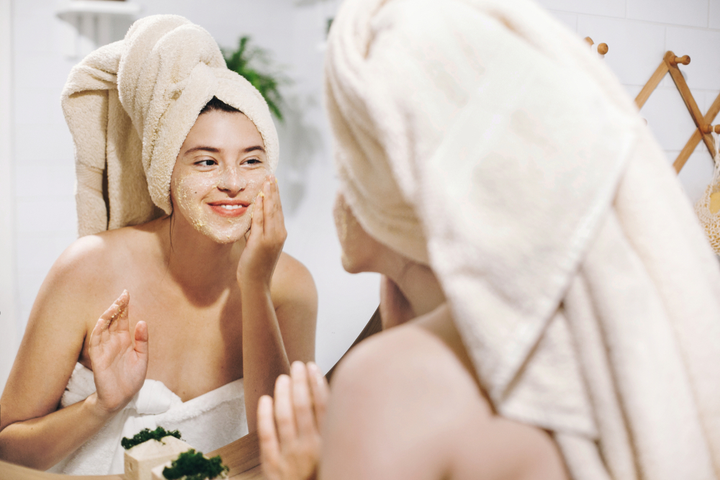 Are you seeking some skincare therapy this holiday season? 
With the temperatures getting lower and your stress levels getting higher, winter slash holiday time can wreak havoc on your skin. Luckily, you don't have to dig into your savings any more than you'll already have to this holiday season thanks to our delightful DIY face mask recipes.
Inspired by the ingredients of Thanksgiving, Christmas, and New Year, these homemade face masks are designed to leave your skin feeling and looking sensational! We've got a clarifying mask, a brightening mask, and a moisturizing mask. Scroll through, and give them a try!
Pimple-Zapping Peppermint Face Mask 
What with all the cookies and eggnog you'll be downing over the next couple of months, your skin is bound to need a detox after all that overindulging. A great way to start is with this peppermint detox mask. 
Here's how to make it: Start with your base, coconut oil, which simultaneously moisturizes and kills bacteria on the skin. Next, add 3-4 drops of tea tree oil, a well-known blemish-banisher thanks to its antibacterial, antimicrobial, and anti-inflammatory effects. Finally, add several drops of peppermint oil -- another antibacterial ingredient with skin-clearing benefits. 
Apply the mixture to your face with a cotton pad, leave on for 5-10 minutes, and rinse with lukewarm water. For best results, use this mask 1-2 times per week. Your pimples should clear up in no time!
This DIY face mask is perfect for acne-prone skin types thanks to its antibacterial properties. Avoid this mask if you have sensitive skin or skin conditions like rosacea or eczema since the peppermint and tea tree oil can be irritating. 
Glow-Getting Gingerbread Face Mask
Dull skin is usually caused by under-exfoliated skin. If you don't exfoliate regularly, dead skin cells build up on the skin's surface, leaving you with a dull, lacklustre complexion. It can also be caused by lack of blood flow. Fortunately, this gingerbread mask is your quickest path to glowing skin.
Here's how to make it: start with your base, half a cup of oats, which will serve as the mask's main exfoliating ingredient. Next, add one tablespoon of cinnamon, turmeric, honey, and ginger powder, all of which contain antiseptic and anti-aging properties. Then drop in a tablespoon of plain yogurt. 
Combine all ingredients and mix well until a thick paste has formed. Spread a thin layer of the mixture over your face and neck using your fingertips. Leave on for 10-20 minutes, then rinse thoroughly with warm water. For best results, use this mask 1-2 times per week. Your skin will soon look more radiant than ever!
This face mask is perfect for dry skin, dull skin, or oily skin types thanks to its hydrating, clarifying, and brightening effects.
Hydrating Honey Nutmeg Facial Mask
Is the winter weather drying out your skin? Restore essential hydration with this hydrating honey mask.
Here's how to make it: start with your base, 1 tablespoon of honey, which offers antioxidant and antimicrobial properties as well as hydration. Next, add in one tablespoon of nutmeg and cinnamon, which offer exfoliating and anti-inflammatory benefits. 
Combine all ingredients and apply to skin. For extra exfoliation, apply the mask in circular motions. Leave the mixture on for 30 minutes, then wash away thoroughly with warm water. You can also remove with a washcloth for added exfoliation. For best results, use this mask 1-2 times per week. Your skin will soon look and feel super soft and dewy!
This face mask is generally suited to all skin types. However, if you have sensitive skin, you might want to test the mixture out on your wrist before applying it directly to your face. 
TIPS FOR MAKING YOUR DIY FACE MASK WORK HARDER
Want only the best from your homemade holiday-ready mask? Here are some tips for maximizing the effects.
#1: Always Cleanse First
To ensure your mask and its high-performing ingredients penetrate effectively, always start with a freshly cleansed face. If you're acne-prone, opt for a skincare product like Truly's Anti-Blemish Facial Cleanser. Looking for an anti-aging cleanser? Try Truly's Vegan Collagen Facial Cleanser. And if you just want a general, all-around good cleanser, make our Super Matcha Facial Cleanser your first choice. These products are pumped with hardworking ingredients like salicylic acid, vitamin A, vitamin C, and green tea to clear, hydrate, and help your skin.
#2: Opt For Raw Ingredients
When you can, choose ingredients like raw honey when making DIY formulations. These ingredients work the best for your skin since they're 100% natural. 
#3: Avoid Harsh Ingredients
While none of the above contain harsh ingredients, you need to watch out for face mask recipes that contain ingredients like lemon juice and essential oils as these can be extremely irritating and drying on the skin.
Always stick to nourishing, soothing ingredients like olive oil, chamomile, ripe avocado, and aloe vera, which work for all skin types.
#4: Apply them Regularly
If you want to see results from your DIY face mask, make sure you make it a consistent part of your skincare regimen. Aim to apply it at least once a week. Any less and you won't achieve the results you seek. When it comes to skincare, consistency really is key!
#5: Finish with Moisturizer
Once you've washed off your face mask and patted your skin semi-dry, apply a lightweight moisturizer like Truly's Cream Skin Face Cream to seal in moisture. Alternatively, finish things off with a nourishing oil like our Blueberry Kush CBD Face Oil for a plump, rejuvenated complexion. 
Face masks are always fun to make! Best of all, you don't need a ton of fancy ingredients to whip up something skin-friendly. Take the three masks above. Most of the ingredients can be found around the home! 
If you're hoping to reign in the holiday season with gorgeous, glowing skin, start celebrating the festivities with one or all of these holiday-ready homemade face masks. Invite a friend or two over to make them together and enjoy a well-deserved spa day!
Share
---