5 Truly Accessories to Pack for Your Spring Vacay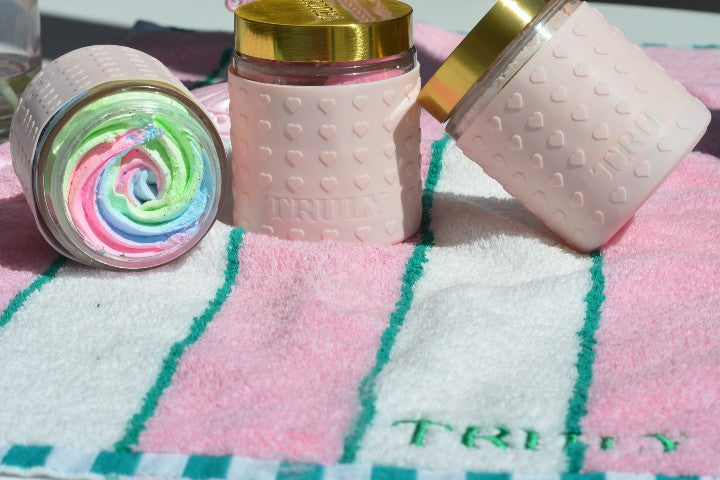 Alongside the obvious — toothbrush, toothpaste, sunscreen, and all the other necessary toiletries — we've put together a list of the top 5 Truly accessories to pack for your upcoming spring getaway.
Whether it's a road trip or flight, you can easily transport these beauty treats in your tote, carry-on bag, or suitcase. And they're here to make your life (well, trip) so much easier!
A few Truly accessories to add to your packing list for an extra sweet n' secure spring break trip....
#1: Truly's Multipurpose Blanket
A 2-in-1 blanket that functions both as a regular blanket and as a beach towel. Soft and stylish — in a shade of precious pink — this multipurpose blanket has got you covered! Take her to bed, the beach or even the shower...this versatile blanket is a must-have travel essential for saving space in your travel bags or carry ons. Plus, she makes sunbathing and sleeping a super chic and comfortable experience.
Be sure to throw it in with your swimsuit, sunhat, and flip flops. That's if you're going to the beach, of course. Mountain vacay? You can still take her with you for cozy slumbers and snuggly reads by the fire. Just obviously leave out the beach bag essentials since you obviously won't be using them!
If you're flying, make sure you keep it in your carry-on if you have enough space. That way, you can pull it out if your legs get a little chilly mid-flight.
#2: For Luscious Locks Hair Brush
Since hair brushes aren't included in Airbnb facilities, you'll want to pack something that'll smooth, manage, and de-frizz your strands without taking up too much space — like Truly's For Luscious Locks Hair Brush.
Our vegan boar bristle brush features multi-layered bristles to detangle hair without breakage, while gently stimulating the scalp. You can rely on this detangling brush for stimulating, de-frizzing, and massaging while evenly distributing conditioners and hair masks. Did we mention it also gives hair natural bounce?
According to some Truly reviewers, this hair brush can both straighten and volumize your mane — so maybe you don't need your hot tools, after all. And you know what that means? EXTRA SPACE!
Plus, it's super lightweight so you won't have to worry about this brush weighing down your bag or stealing precious space. In fact, you'll hardly notice she's there.
#3: Luxury Pink Bathrobe
It's not exactly travel-sized, but it will make you feel at home with its fuzzy, cushy fabric.
Truly's Luxury Pink Bathrobe is a one size fits all, premium quality robe featuring pockets and a hood. Use it to cover up, keep warm, or do your skincare routine in — this plush pink robe is fit for a queen.
It might not seem like an essential, especially if you're comparing it to actual essentials like your credit card, charger, t-shirts, and water bottle, this robe is a gamechanger for your breakaway experience. Don't usually have time to moisturize or put on a mask? Make time! And do it snuggled under the softness of this luxe full-length robe.
It's also super convenient if you're sharing accommodation with friends or family, as you'll easily be able to slip this on when heading into or out of the bathroom. Alternatively, use spring vacay as a chance to catch up on your fave Netflix series, while feeling extra snug in this pretty pink bathrobe.
#4: Truly Pink Silicone Sleeve
Dress up your Truly collection while keeping them safe on their travels with this heart-embossed silicone beauty koozie in plush light pink. Simply slide onto your Truly jars, and enjoy peace of mind that they'll get there in one piece. Besides protecting your glass cosmetics jars from travel-related breakage, this silicone sleeve also shields your jars from slippery shower edges while offering a super secure grip so nothing gets dropped (and broken) in the tub.
FYI: it fits our larger jars best (i.e. Acai, Buns, Unicorn, Coco Cloud, Collagen, Dulce, Cake, No Troubles Bubbles, Berry Cheeky, Nice Melons, etc.).
Another benefit to this silicone skincare koozie is that it may help protect your products from the warm weather if you're planning on carrying them around with you.
#5: Skincare Travel Pouch
A pink toiletry bag made from water resistant vegan leather and featuring a double zipper enclosure to keep all your grooming essentials in one safe place. Fill it with your cleanser, lip balm, moisturizer, SPF, and hand sanitizer to stay fresh, smooth, and protected on the go.
You can also put some of your valuables in this skincare travel pouch to keep items like your jewelry safe. Just make sure all the lids are screwed tightly shut to prevent any leakages! There's also space for a small first aid kit if you want easy access to items like plasters and bandages — just in case there's a minor emergency.
Alternatively, buy two of these bags and use of them for personal care products and the other to pack essentials like power banks, adapters, and chargers, etc. Think of it as your super stylish electrical bag!
GOT SPACE FOR TWO MORE?
Make it these two...
White Fuzzy Bucket Hat
Truly Babes can now step out in style (while staying protected!) with our ultra cute Bucket Hat. Wear with some SPF and one of our fave vitamin C serums to keep your skin free of fine lines, wrinkles, and dark spots.
Truly Blue Razor
Enjoy an effortless, irritation-free razor glide every time with this aloe and shea butter-infused razor. It features extra cushy gel bars and a 360 degree comfort system for a close and comfortable shave sans razor bumps, burns, and ingrowns.
Spring vacay is on its way! Make it extra chic, comfortable, and memorable by packing your bag with the above Truly accessories. If you feel like these aren't quite the right fit for your holiday plans, check out our Accessories Page for plenty more options, including towels, bags, spoons, and perfume.
Share
---