Bae's Here in 10 Mins Text: Get Date Night-Ready in a Wink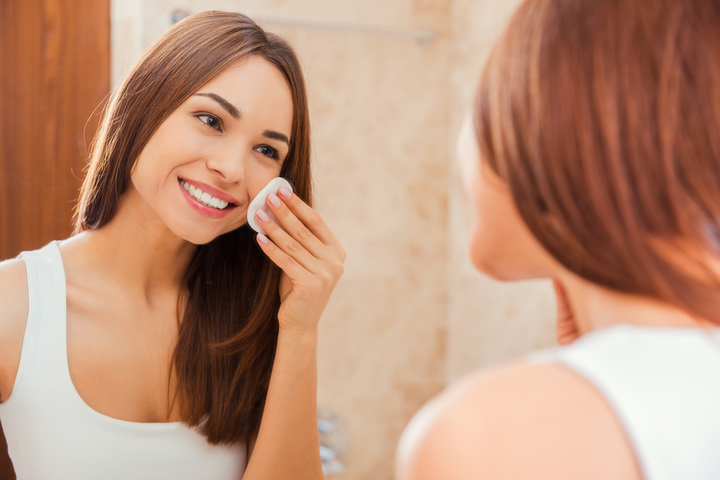 Your chillin' in front of the TV, pot of ice-cream in one hand, remote in the other. Then your phone bleeps: bae's coming over. In 10 minutes!
A flash of prickly legs and whiff of funky pits sends you into panic mode! You need to get ready. And quick!
Relax. We've all been there. Before you bail on bae, try our super-fast date night beauty tips to get smooth and sweet-smelling by the time your significant other arrives. 
Spoiler alert: you only need ten minutes and four products!
WHAT YOU'LL NEED:
Truly's 24k Gold Black Soap Impurity Cleanser
Truly's Coco Cloud Whipped Luxury Shave Butter
Truly's Anti-Cellulite Serum
Truly's Pineapple Haze Body Balm
If it helps speed up the process, try switching on some mood-boosting tunes. It'll make the beauty process waaay more fun and faster.
Detoxify 
First things first, hop in the shower, rinse your body, and massage in Truly's 24k Gold Black Soap Impurity Cleanser.
This 2-in-1 face and body scrub is formulated with 24k gold, African black soap, and charcoal to draw out impurities and slough away dead skin without stripping it of moisture. It's also effective for banishing blemishes. So if you've got acne on your chest, back, or butt, this formula can help clear your complexion.
Besides giving you smoother, softer skin, exfoliation helps other skincare products penetrate deeper. 
"Dead skin basically becomes a barrier between your skin and serums. By removing it you allow everything to work much better," explains celebrity esthetician and skin expert, Sonya Dakar.
Oh, and let's not forget, it's the quickest trick for a glowing complexion. That's because exfoliation stimulates lymphatic draining, a form of skin detoxification. As a result, it removes toxins and nourishes the skin's surface with oxygen-rich blood to reveal beautiful, radiant skin.
Shave
Whether it's your first date or third, you're no doubt still in that phase of not being able to keep your hands off each other, right?
It's up to you whether you remove your body hair or embrace it -- your hair, your choice. However, if you want to get a super-smooth, soft-to-the-touch bod, shaving is the method to get there. And what better way to say I love you than with silky soft legs, huh?
Grab a razor, slather on Truly's Coco Cloud Whipped Luxury Shave Butter, and get shaving. The clock is ticking, so you'll need to be quick. But be careful that you don't nip yourself. This is the step to devote the most time to!
Besides smelling like the Bahamas, this coconut and vanilla-formulated shaving butter will help soften the hairs so that they're easy to remove. It also provides a nice, fluffy slip for your razor to glide over. This formula is also perfect for first time shavers -- it makes things way easier! Plus, it's budget-friendly.
Only two steps left until you're ready for your home date!
Smooth 
Exfoliating and shaving can be extremely drying. Hydrate your skin with Truly's Anti-Cellulite Serum. This potent toning moisturizer uses vitamin E, bitter orange, and retinol to smooth out dimples and enhance skin radiance.
Apply it anywhere on your body where you want to target cellulite and promote smoothness. It could be your legs, arms, butt -- wherever! Let it absorb before applying the next product (or clothing!). 
Now, let's just get something straight. You don't need to follow all of these steps for a fun date or fancy dinner with bae. Not to be too mushy, but they should love you for who you are, prickly or not prickly. 
But we get why you'd be panicky in the early stages of the relationship. Those ten minute text messages are soooo stressful. It's because they always seem to arrive when you least expect it -- like when you're enjoying some time out watching Netflix TV shows and movies. 
But seriously, you don't need to be too worried how you look when bae comes over. Cuddle, scroll through funny gifs, or plan a road trip -- we're sure you'll both have a greaaaat time, with or without hair legs. Sometimes, guys just don't notice these things. In other words, you're probably freaking out for no reason.
Replenish 
Now's the time to lock in all that moisture with Truly's Pineapple Haze Body Balm. 
This rich and repairing formula is a head-to-toe moisturizer that provides instant relief for dry, distressed skin. Made with hemp, pineapple, mango, and jojoba oil, slather this body balm all over to enjoy its amazing anti-inflammatory, moisturizing, and healing benefits!
Applying a thick, moisturizing product at the end of the routine will seal in all that nourishing goodness from the products applied before. 
It also smells divine -- think tropical evening sunrise! He won't be able to resist.
When it comes to beauty, it's the little things that make a big difference to bae. You don't need to be caked in makeup to look fabulous. But smelling nice and feeling nice? Well, that's a pick up line in itself (no words needed!).
Forget heading to the spa. This DIY 4-step routine for date-ready skin will deliver results much faster. Plus, you'll be in the comfort of your own home!
Wait...was that the doorbell?
Enjoy!
Now that Bae's arrived, he's probably all over you. You look, feel, and smell amazing, girl!
How about snapping some selfies, playing some board games, and planning your next date night? The date ideas are endless!
Another fun suggestion: have a spa night together using some of Truly's essentials for a truly cool, chilled out, and majorly romantic evening. 
If you don't do it tonight, be sure to gather the goodies for your next date!
Most importantly, now you know what to do when you get that next text from Bae - the "here in 10 mins" text.
Share
---