Best Truly Beauty Easter Gifts 2022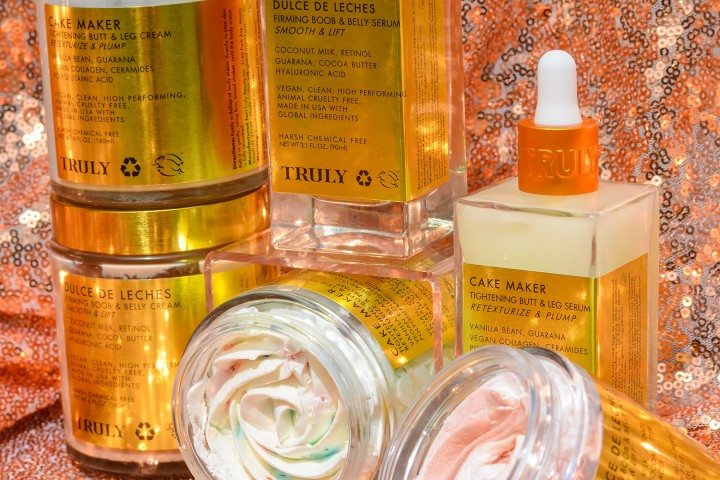 Easter baskets are typically filled with Easter eggs, chocolate bunnies, or other gifts depending on your culture.
Do things differently this year, and fill your basket with beauty goodies you know she'll appreciate way more than a chocolate egg. You can still make your gift Easter-themed by sticking a pair of bunny ears over your basket or one of your beauty products. Alternatively, fill your Easter gift basket with a blend of face masks, creams, and Easter candy — something your grown up friends and loved ones will truly enjoy.
Fellow Easter bunny beauty babes: here are some adorable little basket stuffers + bundles to brighten your bestie's day. Or yours!
VIP Collection 2.0
Our limited edition XXL bestseller bundle is the best Easter gift for gals who are more sweet-tooth in the skincare department. What's in the egg? Okay, so it's not exactly an egg, but it does come in a gift box so she has something to open on the day.
Inside, you'll find 11 full-sized bestsellers and 2 gold spoons so you can mix and match your skincare routines to treat everything from body acne to ingrown hairs and more!
Featured in this beauty box: Acai Your Boobies Polish, Vegan Collagen Body Polish, Vegan Collagen Facial Serum, Unicorn Fruit Whipped Body Moisturizer, Smooth Legend Pre-Shave Scrub, Anti-Cellulite Serum, Glazed Donut Shave Oil, 24k Gold Black Soap Impurity Cleanser, Heart Pimple Patches 36 Ct, Purple Rain Facial Oil, GLOAT Luscious Lip Balm, Mini Gold Spoon, and Gold Ice Cream Scoop.
For a limited time only...get our complimentary vegan leather lilac Trunk w/ snap-button clasped pocket & adjustable straps so she can tote around her Easter treats in style.
Starface Jelly Sleep Mask
Reign in springtime with this AHA-powered sleep mask. It's made with retinol, passion fruit, vitamin C, and alpha hydroxy acids to loosen dead skin while boosting collagen production for a revived and youthful complexion.
Add it to her basket and throw in some bath bombs, truffles, and Easter sweet treats for a self-care focused Easter gift.
Ultimate Coco Cloud Shave Kit
An awesome Easter gift idea for ladies who love luxurious body care products. This gift set features a fluffy rich Shave Cream, soothing Post-Shave Serum, and ultra-hydrating Body Butter complete with an aloe-infused Truly Blue Razor for the creamiest, dreamiest shave ever. All bundled in a Fuzzy Blue Bag.
If you don't have time to look for Easter basket ideas (we've all been there!), this beautiful bundle is your best choice. It's ready to be gifted to your lucky loved one or bestie!
Mary Jane Bubble Bath
She's going to love this soothing CBD-infused bubble bath. It's formulated with 300mg of CBD along with retinol, glycolic acid, and caffeine to soak away stress, soothe muscle pain, and relieve skin irritation while boosting your skin's natural glow.
Upgraded baths are trending right now. What better way to show your bestie how much you care than by giving her the tools to enjoy some well-deserved downtime! Throw in some sponges, jelly beans, and pastel-colored creams for a playful yet heart-felt Easter gift. It'll be a gift she won't forget anytime soon!
Mini Unicorn Kit
Our bestselling Unicorn Fruit Line, fun-sized! Inside this pretty pink box, you'll find our UF Whipped Body Butter, Unicorn Lip Balm, Hair Mask, and a luxury mini golden spoon here to let you take Truly on a test-drive.
Fancy doing an Easter egg hunt with a twist? Try planting these beauty treats all over the house — so those that find, keep. It's the perfect activity to follow a light Easter brunch with the fam!
Truly Pink Silicone Sleeve
Got a beauty babe bestie who loves to travel? Fill your basket with several Truly Pink Silicone Sleeves, which are designed to keep glass jars safe while traveling. Alternatively, slide them over our jars so that they're ready to go!
You don't only have to be a travel enthusiast to enjoy these reusable protective product covers. Offering a super secure grip, this plush pink Koozie also prevents bath time mishaps, enabling you to use these glass jars safely in the shower or bath without any breakage!
Full Body Tightening TREATment
Tempting, tightening, and smoothing, this 6-step body sculpting routine is here to whip your boobs, belly, legs + cake into shape. Crafted with gold-tier active ingredients, this luxuriously rich and deliciously-scented treatment lets you indulge while eliminating skincare woes like sagging, stretch marks, and discoloration. Your fave peeps are gonna eat this up!
And since it's dessert-themed, it'd pair perfectly with a big bar of milk chocolate, marshmallows, and whatever other sweet treats you can get your paws on.
Moon Rocks Whipped Body Scrub
Brighten up her day — and her skin — with this illuminating, blue-tinted body scrub.
A lightly whipped sugar scrub infused with a blend of nourishing ingredients such as 100% organic coconut oil, brightening lavender, and protective vitamin E to buff and brighten dull skin.
Truly Blanket
A soft and snuggly multipurpose blanket she can use for the beach, bed, or as a decorative throw. Measuring 180x130 cm, this super-soft, pretty pink blanket is made from a mix of cashmere, polyester, and acrylic fiber to secure the sweetest sleep or sunbathing session!
Moon Bath Essentials
A Calming Body Cleanser + Spa Mist to soothe skin and mind, reduce redness and promote relaxation, she'll love these ashwagandha-based bath products. If your BFF or family member appreciates self-care products, treat her to this calming bundle instead of conventional Easter eggs and foods this Easter! She won't be disappointed!
We hope this gift guide has helped you select one or a few beauty goodies to treat your loved ones to this Easter! You can also shop Truly products on Amazon, Ulta, Walmart, and Target.
Share
---