How Celebs Get Ready for the Red Carpet, According to A-List Facialists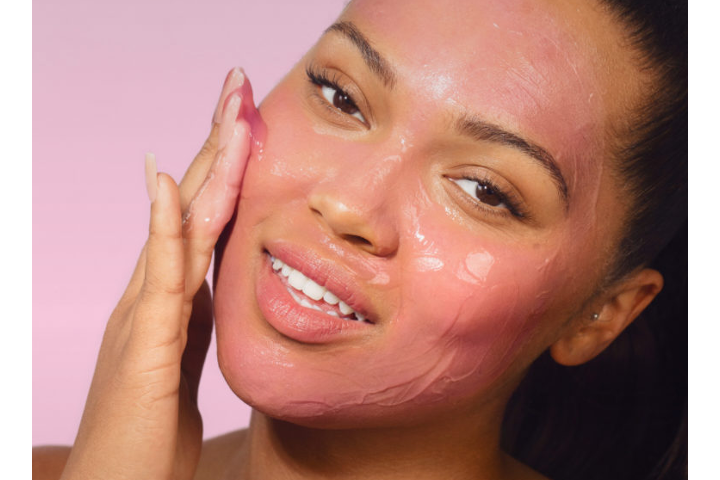 The celebs might make it look effortless, but there are many steps leading up to a star's red carpet appearance, whether it's at the Oscars, Golden Globes, Emmys, or any other big event. Prepping the skin alone can take months in advance — because according to the derms, red carpet ready glowing skin isn't achievable overnight.
If you're curious about what goes into prepping a Hollywood star's skin for awards season, you might want to hear what these A-lister facialists have to say.
Here are the skincare products, treatments, and rituals the stars swear by for their enviable Oscars red carpet radiance.
Exfoliation + Hydration
According to celebrity facialist Joanna Vargas, makeup sits best on a fresh palette — aka, your skin. "Exfoliation and hydration are the key to glowing skin that you don't have to cover too much with makeup," she explains.
Opt for a chemical exfoliant like glycolic acid, which helps loosen dead skin cells, revealing fresh, glowing skin underneath and enabling other products to penetrate deeper into the skin. Our fave is Truly's Jelly Toning Solution.
Weekly exfoliation offers clearing, brightening, and smoothing effects, in turn ensuring a flawless makeup look on the big day.
Hydration is just as important in maintaining clear, dewy skin — and securing smooth makeup application without dry patches or unevenness. Invest in a lightweight, non-comedogenic moisturizer formulated with hyaluronic acid like Truly's Flower Child Face Cream, and use it in your daily skincare routine to keep skin healthy, smooth, and nourished.
Face Yoga
Sandra Oh, Gwyneth Paltrow, and Naomi Watts all incorporate facial yoga into their beauty routine. While some of them simply use their hands or their own facial muscles to create the movements, others rely on electrical muscle stimulation for some pre-awards sculpting.
"For tonight's red carpet look I used FaceGym skincare and tools to help me create a gorgeous base to work with," says Mai Quynh, Sandra's makeup artist. "The skin is always the starting point with any makeup look so making sure it's prepped and primed to perfection is key."
These devices are super effective because they provide lymphatic drainage, which provides lift, increases firmness, and can even ward off breakouts. It's an excellent last-minute treatment for boosting skin tone and tightness. No wonders the celebs can't get enough of it!
Specialized Treatments
To get her client's skin looking its best for a big event, facialist Shani Darden (who works with Shay Mitchell and Jessica Alba btw!) places extra emphasis on specialized treatments that tone and tighten. In her Beverly Hills Studio, Darden does everything from microcurrent to oxygen therapy, chemicals peels and LED light therapy, to name a few.
These treatments can help address any current skin conditions without any downtime or frustrating side effects.
To get glowing and glam on the day, Darden reaches for a cleansing serum to restore moisture in the skin followed by a chemical exfoliant, hydrating serum, and a lightweight moisturizer to create that highly-desired dewy effect.
Before undergoing a specialized treatment, it's best to speak to your dermatologist or aesthetician to help determine which treatment would be best for your skin type and concerns. Other popular effective treatments include laser, radio frequency, microneedling, and microdermabrasion. But again, speak to an expert rather than self-evaluating.
At-Home Face Masks
If you watched last night's Academy Awards, hosted at the Dolby Theatre in Los Angeles, you probably noticed how shimmery everyone looked. And we're not just talking about the dresses!
The Oscars 2022 lineup included everyone from Kristen Stewart to Zendaya, Mila Kunis, and many more! Did you notice how flawless they looked? As effortless as it might look, it takes a lot of skincare prep to get a complexion that clear.
According to the derms, celebs are asked to wear at-home face masks regularly for a period of six or seven weeks to get their skin ready carpet ready. Whether it's a sheet mask or jelly mask, choose a formula that targets your skin type and concerns.
If it's acne, try Truly's Hemp Jelly Anti-Blemish Face Mask. Fine lines and wrinkles? Reach for Truly's Starface Jelly Sleep Mask. Dry, dull skin? Look no further than Truly's Mary Jane Glow Mask.
A Three-Pronged Approach to Skincare
In between specialized treatments and regular exfoliation, celebrity facialists recommend taking a three-pronged approach to skincare — and sticking to it. A three-pronged approach involves treating immediate issues, maintaining your skin's health, and protecting it from future damage.
In other words, use a daily cleanser that actively addresses your skin issues, whether it be dryness, acne, or signs of aging. Then maintain skin health by regularly moisturizing with a nourishing serum or cream. And finally, always wear sunscreen with SPF 30 to shield your skin from damaging UV rays which can lead to visible signs of skin aging.
It's especially important for stars to follow a stripped back routine that last week or two before appearing on the red carpet. This reduces their risk of overburdening their skin and experiencing a negative reaction such as breakouts, redness, or irritation.
A Healthy Lifestyle
You can slather your skin in all the best collagen-boosting creams and serums, but if you're not living a healthy lifestyle, your full glow won't shine through.
"Beautiful skin is one of the outcomes resulting from a balanced lifestyle—treating it with natural formulas, eating well, incorporating movement into the day, and getting great sleep," says Tammy Fender, a holistic and wellness practitioner.
She believes prepping your skin for a red carpet event ideally starts six weeks ahead. In addition to proper rest and a low-stress schedule, Fender recommends nourishing the skin with soothing, hydrating formulas to keep skin happy, healthy, and radiant on the day.
Clearly, a lot goes into getting a star's skin ready for the red carpet. If you're looking to mimic an Oscars-worthy glow, star by incorporating gently cleansing, exfoliation, and hydration into your routine followed by facial yoga and weekly masks. If you're seeing little improvement, consider speaking to your dermatologist or facialist about an in-office treatments to improve your skin.
Share
---