How Skincare Can Spice Up Your Love Life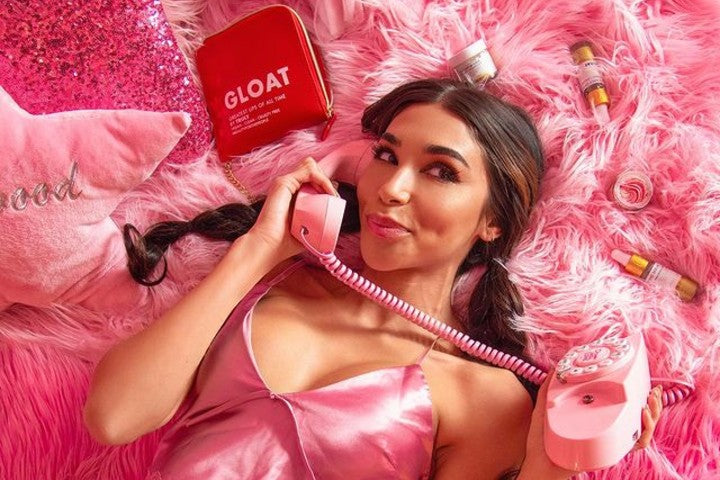 Sure, skincare is good at keeping your complexion young, smooth, and glowing. But did you know it's also great for spicing up your love life?
We're all attracted to nice smells, smooth skin, and kissable lips – and certain skincare products can help you achieve all of those things.
In fact, fragrance is a known tool for channelling desire. There are even special aphrodisiac scents that trigger arousal in both men and women.
"To me, there are two types of aphrodisiac scents: animalic and spice," says Los Feliz Botanics Founder Kristen Quinn Castro. "We are animals at our core, and with the modern sterilization of our environments, the one area we can really connect to our instincts, our intuition, and our limbic system is within sex and sensuality."
That doesn't mean you need to look for animal-derived musks. Castro points out that there's more demand nowadays for botanical musts and many florals are considered animalic.
Let's take a look at all the ways you can heat up your love life with skincare.
Soft, Silky Skin
Pillow-soft skin is always going to be a beautiful thing. When you and your partner touch, it's nice to feel softness rather than roughness, and the way to achieve super soft skin? Good habits and good products.
"Apply moisturizer when you're barely dry from the shower so you trap water in the surface layers of the skin," says New York dermatologist Melissa Kanchanapoomi Levin. "Put your moisturizer where you're going to actually use it."
Look for humectants that bring moisture to the top layer of your skin, like hyaluronic acid, lanolin, and glycerin. Truly's Coco Rose Body Butter contains glycerin.
Then follow up with a body oil to lock in moisture and maintain baby-soft skin all day long, like Truly's Blueberry Kush CBD Body Oil.
Arousing Scents
Going back to what we said about scent and attraction, there are many natural fragrances that are proven aphrodisiacs.
Lavender is one of them. According to a 2014 study, lavender increases blood flow in males, confirming that it contains arousing properties. Another is sweet vanilla. With its light, sugary scent, it's a highly effective aphrodisiac. Then there's rose, a natural relaxant and scent proven to be a powerful stimulant for men. Other wonderful aphrodisiac fragrances include peppermint, sandalwood, jasmine, citrus, and cinnamon. Look out for these ingredients when looking for a body cream or oil, as they're sure to make things extra hot in the bedroom.
The next time you take a shower, cleanse your skin in Truly's Lavender-Infused Moon Jelly Body Cleanser to heighten his senses and get things super spicy.
Castro recommends applying fragrance to your inner thighs and cleavage, as well as to your palms and your hair.
"No matter where you apply your fragrance, take a few moments to breathe deeply and connect with the aroma and yourself," she adds.
Smelling good is always going to be a quick and easy way to heat things up in the bedroom, so invest in some sweet-smelling skincare products and douse your skin in them from head to toe. Your guy won't be able to get enough!
The Power of Touch
A big part of intimacy involves touch. Physical touch is one of the five love languages and can be expressed through hugging, holding hands, and kissing.
"If someone's love language is physical touch, they may or may not know it, but they enjoy the release of the 'feel-good hormones' our body secretes like serotonin, dopamine, and oxytocin," says licensed marriage and family therapist Kiaundra Jackson, LMFT, of KW Couples Therapy.
She elaborates, "Oxytocin is known as the bonding hormone. That hormone is the same hormone released between a newborn baby and its mother, which is why skin-to-skin contact is highly recommended for bonding after childbirth."
You can even enjoy the power of touch by giving each other massages. It's a great way to enhance that physical contact between you and your partner for deeper levels of intimacy.
To deliver a soothing, sensual massage to your partner, use Truly's Vegan Collagen Serum followed by Unicorn Fruit Whipped Body Butter. Using a serum followed by a body butter won't just feel great – it'll also keep your skin ultra-smooth for hours.
Kissable Lips
We all want to kiss someone with soft, luscious lips. So show your pout some TLC by using products that up their kissability ranking.
For velvety smooth lips, start by regularly exfoliating them.
"Exfoliators help any balms or treatments that you apply next to penetrate more effectively," says facialist Sarah Chapman. "The lactic-, phytic- and fruit-based AHAs encourage cell renewal and soften peeling skin." 
After that, give them moisture: lots of moisture! Whether it's a balm, oil, or serum, the most important part of taking care of your lips is giving them plenty of hydration. Otherwise, they could end up dry, flaky, and possibly even cracked. IOW: not very kissable!
With Truly's 4-Step GLOAT Lip Plumping Kit, you can achieve a juicier pout in less than 30 minutes. Inside the kit, you'll find a lip scrub, butter, oil, and serum – everything you need to get those extra kissable lips you've been craving.
Chapman also adds, "If you're really struggling with dry lips, avoid alcohol, caffeine and salty processed foods as these will increase dehydration." And of course, up your h20 intake!
Surprisingly, skincare can have a huge impact on your love life. So if you're looking to spice things up in the bedroom and you're not sure where to start, begin with amping up your skincare routine to achieve soft, sweet-smelling skin and kissable lips. Even just the act of touching each other more is a quick way to increase intimacy. Besides body massages, you could even try giving each other hand massages and pedicures.
Thankfully, here at Truly we have a myriad of relationship-enhancing beauty products for you to choose from that don't only need to be reserved for date nights. We say make every night a date night!
Share
---