I Cracked The Formula For Long-wearing Summer Lipwear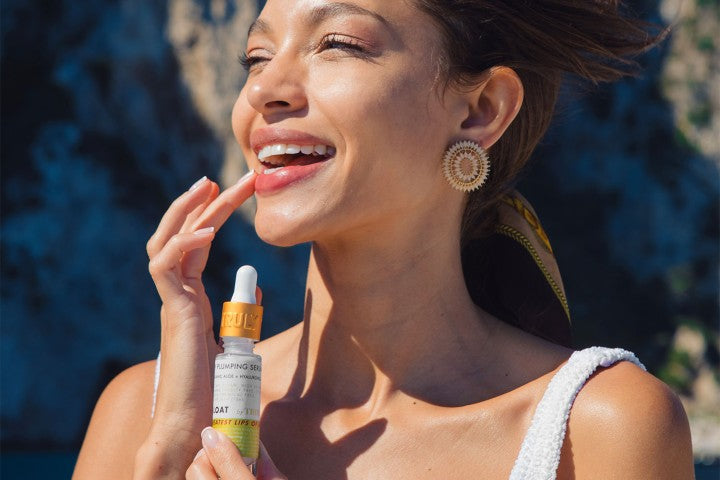 Want your lipsticks, balms, and glosses to last longer and look better this summer? Desperate for dryness and discoloration to disappear? We've cracked the formula to do exactly that!
All you need are a few lip care essentials to get the luscious pout of your dreams. 
Think of it as a skincare routine for your lips. And just like a skincare routine, you need exfoliation, hydration, and sunscreen to keep them healthy, plump, soft, and protected. 
Below we show you the best summer lip care routine with recommended beauty products to achieve a beautiful, juicy pout.
TRULY'S GLOAT SEXY SOFT LIP SCRUB...
Made with sugar, peppermint, and hyaluronic acid, this lip scrub replaces dry, flaky lips with smooth, nourished, rosy pink lips. 
Boosts Your Natural Lip Color 
Your lips can look naturally rosy pink with the right lip product. 
Exfoliation is an excellent way to boost your lip color as it removes dry skin and dead skin cells, and boosts circulation to give a natural pink hue to your pout.
Of course, you can still use your fave berry lipstick or gloss, but if you're looking for a natural color boost, try exfoliating your lips with a gentle, nourishing product. It'll also enhance your lip line color.
Makes Lipstick Glide on More Evenly
Want your lipstick to go on more evenly and last longer so you don't need to constantly re-apply it? 
"Exfoliating the lips reveals fresh, smooth skin beneath," says board-certified dermatologist Ife J Rodney. "An added benefit is that lipstick can then be applied evenly, and the lips immediately look plumper."
She also claims exfoliating the lips can help improve discoloration. 
"The discolored surface cells slough off, and are replaced by new, even-toned skin," says Rodney.
TRULY'S GLOAT LIP PLUMPING SERUM...
Made with coconut oil, peppermint, aloe, and vitamin E, this lip treatment delivers a seriously soft, plumped up pout.
Plumps Your Lips
If you want to give your thin lips some oomph, try peppermint oil. It's a natural lip plumper that makes lips appear larger due to its temporary swelling effects. You'll often find this ingredient in lip plumping formulas as it's highly effective at adding volume to the pout.
Treats Dryness
Lip serums are like moisturizers, only they treat issues that go well beyond dryness. Besides giving dry lips moisture, they also treat issues like fine lines around the mouth and lack of volume. So if you're trying to tackle specific issues, it's worth incorporating a lip serum into your lip care routine.
TRULY'S GLOAT BIG JUICY LIP OIL...
Formulated with a hydrating blend of hyaluronic acid and coconut oil, this lip oil delivers moisturization and natural gloss.
Hydrates Your Lips
Maybe you use a lip balm like Aquaphor on a daily basis to keep your pout smooth and soft? While it's important to wear chapstick daily to protect and soften your lips, missing out on lip oil could be where your routine's going wrong. You could use the best lip balm ever, but without the oil base, you'll be wasting your time - and money.
This lip oil locks in lip hydration all day long for an ultra-velvety pout.
Doubles Up As a Lip Gloss
Thanks to its natural shine, you can use this lip oil as a lip gloss over your lipstick or alone. In addition to giving your pout a beautiful shine, it also actively works to deliver moisture and nutrients to the lips. That's something your average lip gloss can't do!
This formula helps replenish your lips moisture levels for hours-long juiciness. 
Creates the Perfect Primer for Lipstick
The GLOAT Lip Oil preps, smooths, and pampers lips for flawless lipstick application, while lending stunning shine. It creates the perfect canvas for any type of lipstick. Plus, it improves the overall texture of your lips for easy and even application. 
TRULY'S GLOAT LUSCIOUS LIP BUTTER...
Made with shea butter and loaded with antioxidants, this moisturizing lip butter promises to hydrate, plump, and wake up dry lips.
Juices Up Your Lips All Day Long
Now that you've completed the three steps in the lip care routine, you'll need to seal in all that moisture from before with a thick, rich lip butter to maintain day-long hydration and volume. The GLOAT Butter can help you do it.
Infused with shea butter, hyaluronic acid and coconut oil, it'll soften lip lines and lock in moisture for hours to come. Enriched with lip-plumping peppermint oil, it'll add instant oomph to thin lips and define lip contours. Plus, it's packed with antioxidants to keep your pout looking pretty and youthful.
Forget beeswax - shea butter is the secret ingredient in this formula for boosting lip hydration and softness.
You can also use this as an intense lip mask treatment by applying it as the last step of your skincare routine in the evening. It'll act as an overnight conditioner to deeply hydrate your pout.
The Final Step...
SPF! Because yes, you should be applying sunscreen to your lips.
"People forget to protect their lips," says Elizabeth Tanzi, founder and director of Capital Laser & Skin Care. "Skin cancer in this area can be particularly dangerous, which is why everyone needs lip balm with SPF."
Look for a lightweight sunscreen with spf 15 or spf 30. Wearing sun protection on your lips will prevent discoloration, dryness, and most importantly, sun damage. 
Alternatively, opt for a lip balm formulated with SPF to keep your lips healthy and happy.
Every night after brushing your teeth, you probably apply your skincare products one by one so you can let them sink in as you snooze. Well, how about throwing some lip care products in there too? Just like your face, your lips require TLC to keep them soft, smooth, plump, and youthful. 
Grab yourself the GLOAT 4-Step Lip Plumping Kit to enjoy...the seriously greatest lips of all time! Loved by celebs and adored by the Truly community, you have a keeper in GLOAT. 
Share
---