Ms. Yana's Favorite Truly Products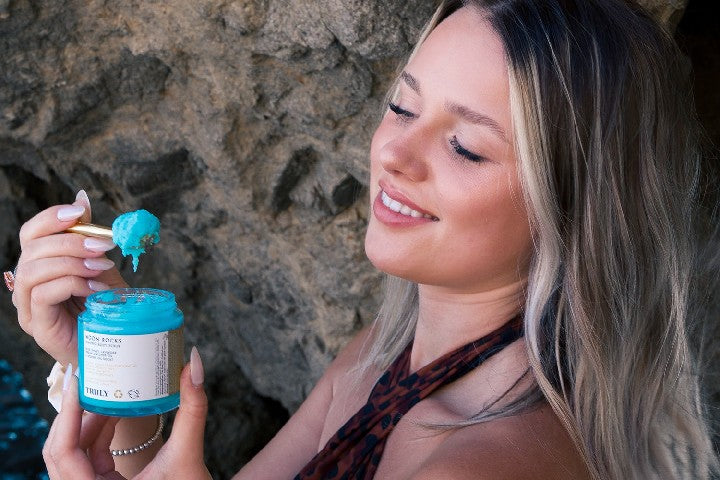 GUESS WHAT?!?! We just teamed up with your FAVE TikTok makeup influencer, Ms. Yana (aka, Yannalinnaa)! Yup, turns out the TikTok star hearts Truly just as much as we heart her. That's why we decided to collab and create a bundle featuring Ms. Yana's handpicked favorites.
Based in Los Angeles (like the Truly crew), Yana is a self-taught makeup artist with over a million followers on TikTok. And honestly...we can't get enough of her makeup tutorials! Whether she's rocking a low-key daily look or a more intricate makeup design, Ms. Yana never fails to impress with her dazzling array of makeup looks.
Being the HUGE Yannalinnaa fans that we are, we were so happy to hear that the influencer is a Truly Beauty fan. Naturally, we had to team up!
Here's everything you need to know about our NEW Ms. Yana-curated beauty bundle...
MS. YANA'S FAVORITES
Here are all the Truly skincare products Ms. Yana swears by for maintaining all over glow. Oh yeah, and the beauty products we've transformed into a bundle that you can drop into your cart any time!
Coco Cloud Shave Butter
One of our bestsellers, Coco Cloud Shave Butter is a whipped, fluffy swirl of coconut milk, argan oil, and vitamin E that softens skin and hair for a super smooth shave. It hydrates, soothes, and smooths for irresistibly soft skin sans ingrown hairs and irritation.
Moon Rocks Scrub
A resurfacing, sugar-based body scrub, Moon Rocks Scrub provides gentle exfoliation and hydration through the power of sugar, blue tansy, and jojoba oil. By buffing away dead skin cells and encouraging cell turnover, this retexturizing treatment offers brightening and smoothing benefits for soft to the touch, glowing skin.
Coco Cloud After Shave Serum
Coco Cloud After Shave Serum is an ultra soothing formula enriched with hydrating coconut and antioxidant-rich vanilla to smooth and calm red, irritated skin. It's an excellent addition to your self-care routine for keeping skin silky smooth. Plus, it smells like paradise.
Black Jelly Blemish Body Serum
A hydrating, breakout-busting treatment, Black Jelly Blemish Body Serum clears up body acne without drying out the skin. This quick-to-absorb body serum harnesses the antimicrobial powers of witch hazel, tea tree oil, and black charcoal to clarify skin and improve the appearance of acne scars and discoloration. Include it in your daily skincare routine to banish body breakouts for good!
Unicorn Fruit Whipped Body Butter
This TikTok-viral moisturizer is a luscious, cotton candy scented swirl of high-performing vegan ingredients such as acai, matcha, vegan collagen, and shea butter to intensely hydrate and alleviate dry skin while plumping out fine lines. Unicorn Fruit Body Butter boasts moisturizing, anti-aging, and soothing properties while remaining 100% vegan and cruelty-free — like all our products! It's the social media fave everybody's been talking about!
Moon Jelly Body Cleanser
A calming, de-stressing daily essential, Moon Jelly Body Cleanser utilizes the power of ashwagandha, chamomile, and lavender to calm the senses, cleanse the skin, and reduce environmental stressors such as UV rays and pollution.
Gold Scoop
To sweeten the deal, we've added an adorable Gold Scoop into this Ms. Yana Bundle. You can use it to scoop out all your fave swirls — including Coco Cloud + Unicorn Fruit Butter — without the transference of germs. Of course, you can also use it to scoop out all your other Truly essentials like Acai Your Boobies Polish, Buns of Glowry Smoothing Butt Polish, and our Anti-Cellulite Polish.
HOW TO USE MS YANA'S FAVORITES IN YOUR BEAUTY ROUTINE
Moon Jelly Body

Cleanser

: In the shower or bath,

lather

up with this body

cleanser

. Give yourself a moment to inhale the calming scent of adaptogenic herbs. Rinse off.
Moon Rocks Scrub: While your skin's still damp, scoop out a palmful of scrub and massage it into the skin using circular motions. Pay extra attention to those dry, flaky areas. Rinse off.

Coco Cloud

Shave Butter

: Mix a small amount of shaving cream with water to get a nice

lather

, and apply to your fuzzy areas before putting razor to skin. Let it sit for 30-60 before shaving. Shave in the direction of hair growth, and rinse your blades between swipes. Rinse off the shaving cream residue. 

Coco Cloud

After Shave Serum: After showering or bathing, apply several drops of serum to freshly shaved areas to soothe irritated skin and treat ingrowns.
Black Jelly

Blemish

Body Serum: When skin is dry and clean, dab the serum onto active

breakouts

and scars. Repeat until your body

blemishes

go away.
Unicorn Whipped Body Butter: After showering, as the final step of your routine, apply a small amount of butter to your entire body and massage in well. You can also use it as a lip balm, hair mask, or shaving cream.
SHOP THE MS. YANA BUNDLE
We teamed up with the TikTok-famous makeup artist to create a Ms. Yana-curated bundle featuring all her favorite body care products. For a limited time only, you'll be able to swipe this influencer-loved bundle at an awesome discount! You can also subscribe and get all the Ms Yana essentials delivered straight to your door each month — and save 10% on every order!
Stay tuned on Yours Truly for all the hot new beauty trends and product releases! At Truly, we use only the most high performing ingredients in our formulas, such as retinol, hyaluronic acid, vitamin C, and aloe to deliver the best possible results. We also offer everything from boob to butt products, so that every inch of your silhouette can be given the TLC it deserves!
If you're a Ms. Yana fan like us, grab your Ms. Yana's Favorites Bundle now! It's packed with only the best Truly products available — and made with extra love!
Share
---