Nail Slugging is Now a Thing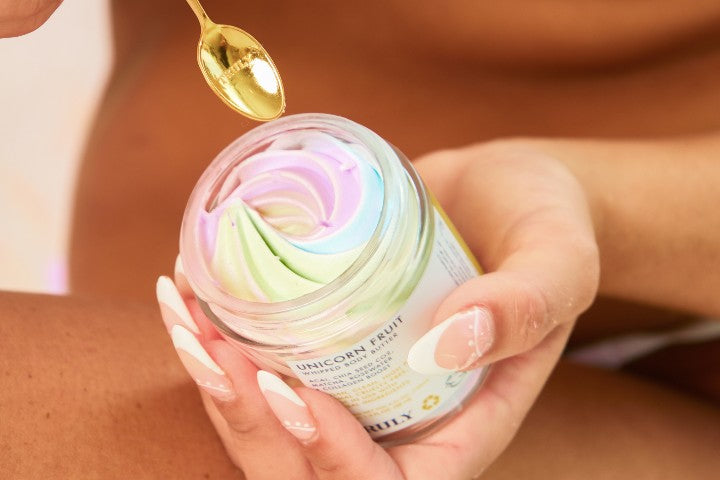 Nail slugging is the hottest new beauty trend to remedy your thirsty nails. You may already be familiar with the term "slugging" in skincare. It's the process of coating your skin in petroleum jelly (Vaseline) over your skincare products as the last step of your nighttime skincare routine. The purpose of it is to add an extra layer of hydration and to seal in all the actives from your products.
Now, nail slugging is in the spotlight thanks to TikTok. It recently found popularity on the social media platform, with users claiming it helps to grow stronger, healthier nails. In TikTok videos, users apply a cuticle oil to their nail beds and massage it in before applying a thicker lotion or balm on top.
Here's everything you need to know about nail slugging, and why you might want to include it in your beauty routine.
WHAT IS NAIL SLUGGING?
Nail slugging is the same as skincare slugging, only for the nails. It involves coating your nail bed in cuticle oil and applying a thicker product on top — like Vaseline, Aquaphor, or another hydrating product.
In a world where we put our nails through a lot — acrylics, press ons, nail polish, nail art etc. — nail slugging is an effective way to reverse brittle nails and keep them healthy. It can also alleviate dry skin around your nails and on your fingers.
As for what dermatologists and nail artists think, they're on board.
"We all know acrylates (nail product ingredients) can damage nails. Slugging the nail cuticle can strengthen nails and protect them from water damage," says skincare expert Dr. Charles Puza. He recommends doing it every night before bed, explaining that within a few weeks, your nails will become stronger.
Board-certified dermatologist Mona Gohara also recommends incorporating nail slugging into your nail care routine.
"We use occlusives like Vaseline to help heal, to moisturize, to glisten, to plump. It does it all — a panacea to our skin barrier in many ways," she says.
WHAT ARE THE BENEFITS OF NAIL SLUGGING
Even just on a daily basis, your hands endure a lot. From water to chemical and sun exposure, your skin and nails are vulnerable to dryness, irritation, and damage. Add in all the things we do to our nails — acrylics, press ons, gel manicures etc. — and you've got yourself a pretty weak set of nails. The best way to reverse this damage and keep your nails healthy is to keep them moisturized.
Slugging intensely moisturizes the nails and cuticles, allowing them to grow stronger, healthier, and less brittle. Even the derms recommend it!
If you've already tried the slugging skincare trend, you should already know that it's pretty effective at leaving your skin soft and smooth. It works in exactly the same way for your nails. By incorporating nail slugging into your daily pm beauty routine, you can look forward to a stronger, shinier set of nails in just a matter of weeks.
SHOULD YOU TRY THIS TIKTOK TREND?
Absolutely! In fact, nail slugging is probably better than skin slugging simply because it doesn't have any adverse side effects. While skin slugging can cause more breakouts in oily and acne-prone skin, nail slugging is well tolerated by all and won't cause any of those unpleasant side effects that skin slugging can.
For best results, try slugging your nails every day for 2-3 weeks right before going to bed as the last step in your beauty routine. You might want to take a break from gel manicures and press ons until your nails regain full strength.
HOW TO SLUG YOUR NAILS
#1: Wash Your Hands
Always start with clean hands. Using a gentle hand soap, wash your hands and nails thoroughly before starting the process.
#2: Drench Your Nails + Cuticles with Oil
Using a conditioning cuticle oil, massage it into your nails and cuticles. You can also use any moisturizing oil to hydrate your nails and cuticles. Leave it to absorb for a minute or two before doing the next step.
#3: Coat Your Hands in a Balm or Hand Cream
Finally, apply a healing ointment, balm, or hand cream — anything thick and conditioning — to your hands, nails, and cuticles to seal everything in.
BEST NAIL SLUGGING PRODUCTS
Here are some of our favorite products for nail slugging.
Glazed Donut Oil
A deeply moisturizing formula of coconut oil, grape, lavender, and vitamin E to nurture your nails and replenish lost moisture. You can also use it to alleviate dry skin on the hands. While it is an oil, this flash-absorbing formula sinks into the skin without leaving behind a greasy residue.
Pineapple Haze Extreme Repair Hand Cream
This repairing hand cream is formulated with a blend of hydrating oils and exfoliating pineapple to buff away dead skin while promoting new cell growth for super soft paws. It also contains hemp to soothe irritated, stressed out skin.
Unicorn Fruit Whipped Body Butter
Unicorn Fruit Whipped Body Butter is a buttery, deeply conditioning formula of shea butter, matcha, acai berries, and plant collagen to deliver your smoothest, softest, and strongest paws. While it's designed especially for the body, it's a known multitasker that doubles up as a lip balm, shaving cream, and cuticle softener. You can basically use it anywhere that's in need of a little extra love.
Pineapple Haze All Purpose Skin Salve
A multipurpose skin healer infused with hemp, organic jojoba oil, mango, and pineapple. This fix-it-all balm can be used to treat severely dry hands, nails, and cuticles while relieving irritation. You can use it anywhere on the body to alleviate dry patches.
There always seems to be a new beauty trend gaining popularity on TikTok. While some of them are questionable, nail slugging sounds like a trend that's worth trying for the sake of achieving stronger, healthier nails.
Have you tried slugging your nails yet? Let us know your thoughts about this new beauty trend by dropping a comment on our TikTok page!
Share
---