Next Up For 2022: "Skinimalism"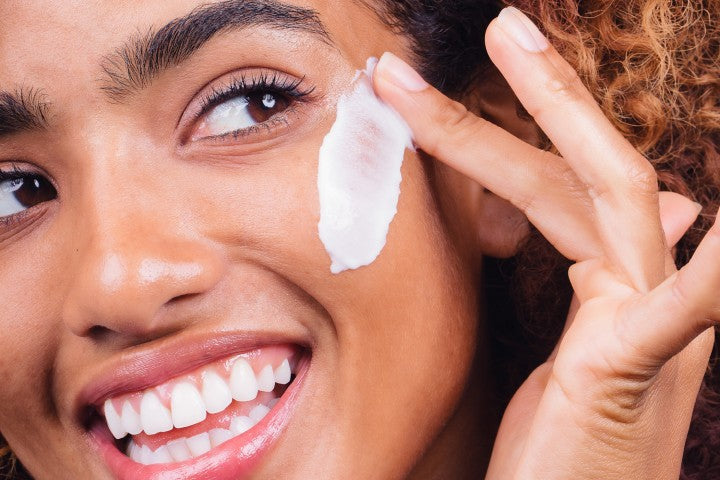 Skinimalism was a huge deal in 2021 -- just like Pinterest predicted.
However, it seems like it's also going to be a big deal in 2022. 
Since the pandemic, more of us have swapped out our extravagant 12-step skincare routines for something more streamlined. Even the influencers are digging it! And beauty brands all over are trying to embrace in their own lines. But that isn't it! Skinimalism also extends to natural makeup looks like skipping the eyeshadow and falsies for a simple sweep of mascara. You could say it's a form of self-care with the intention of embracing natural beauty. 
Want to embrace the beauty trend for yourself? Here's everything you need to know about skinimalism, and why you might want to try it for yourself.
WHAT IS SKINIMALISM?
Skinimalism is essentially about stripping back your skincare routine in favor of a more minimalist approach. For some people, that might mean reducing the number of skincare products and active ingredients in your routine. While for others it could mean utilizing the power of multitasking products. Ultimately, skinimalism is about committing to a more sustainable and eco-friendly beauty routine.
It can actually be quite beneficial for most skin types, especially those who have gone a little OTT on the retinol serums and exfoliating formulations. 
"The most common thing I see with new clients is irritation, sometimes in the form of rashes, inflamed breakouts, redness and flare-ups of conditions like peri-oral dermatitis," says facialist Debbie Thomas. "This is because using too many products, trying new formulas each day, layering incorrectly or combining too many actives overwhelms, overstimulates and confuses the skin."
By overburdening your skin with actives, your skin ends up not benefitting at all. It really is better to keep things simple and avoid overdoing it.
BENEFITS OF EMBRACING SKINIMALISM
There are a myriad of reasons to embrace skinimalism in the new year. First off, it prevents skin irritation which is particularly common in those with sensitive skin. By streamlining your skincare routine to the basics, you avoid overwhelming your skin with different ingredients that could potentially cause irritation.
Second, using too many beauty products at once or products that are too harsh for the skin can strip skin of its natural oils, leaving it dry and diminished. For those with acne-prone skin, symptoms can get worse. When the skin is overloaded with oil-zapping ingredients, it compensates by producing more. As a result, the skin becomes oilier and breakouts become more common.
Skinimalism focuses on using a few high-quality products made with high-performing ingredients to nourish and hydrate skin, while addressing current skin concerns.
You can also save a lot of time by adopting a stripped back skincare routine. By using multitasking formulas, you can get multiple benefits out of one single product. It's an easy way to do skincare -- and ideal for busy babes!
A SKINIMALIST'S SKINCARE ROUTINE
Want to transition to a skinimalist regimen? To get the most out of your routine, remember that a good formula does it all. You don't need half a dozen products when three products would easily do. For example, you really don't need two face moisturizers -- one for day and one for night -- when one well-made formula would easily do. Just think how much time and money you'll save! 
The same philosophy applies to serums. Why use a separate vitamin C, retinol, and hyaluronic acid when you can just as easily get all the same effects out of one or two serums -- that blend those actives?
Here are all the products you need to adopt a skinimalist skincare routine.
Cleanser
Start with a gentle cleanser like Truly's Super Matcha Facial Cleanser. This'll wash away any impurities, excess oil, and grime that's built up throughout the day. Plus, it'll remove makeup so you can go to bed with a fresh complexion. 
Ideally, aim to cleanse morning and night. But if you can only find time to do it once in the day, prioritize cleansing in the evening as that's when the most dirt accumulates on the skin. Plus, a fresh face allows other products penetrate better, maximizing the results.
Serum
Now it's time to treat those skincare woes. Got acne? Seeing signs of aging? Choose a serum that caters to your needs. 
We love Vegan Collagen Facial Serum for its overall versatility. Besides being branded as an anti-aging serum, it works for all skin types. Formulated with retinol, vegan collagen, vitamin C, and coconut oil, this formula targets creases, improves skin tone, fades pigmentation, banishes breakouts, and offers hydration.
You'll love what it will do for your skin!
SPF
Sunscreen is a must -- every single day, regardless of whether it's a sunny or cloudy day. For the sake of your skin's health, be sure to wear a broad-spectrum sunscreen with an SPF of at least 30 every day.
Dermatologists strongly advise covering up when the sun's out too. From hats to sunglasses to protective clothing, you can protect yourself from UV rays just by layering up.
If you weren't wearing SPF regularly last year, make it a priority to wear it every day this year. Don't leave it till next year again!
Moisturizer
Finally, you'll need a good moisturiser in your skincare arsenal to keep your skin smooth, healthy, and hydrated. Apply is as the last step in your routine unless you're applying sunscreen. 
Try Truly's Flower Child CBD Face Cream. This moisturizing and brightening formula is made with a blend of hyaluronic acid and hemp to leave one with nourished, glowing skin. For best results, use daily after cleansing. Apply to damp skin for optimum absorption.
Since the days of lockdown, we've discovered that skinimalism might be the way forward in the beauty industry. Of course, that doesn't mean you can't enjoy the occasional face mask, antioxidant night cream, or in-office beauty tech treatments. You absolutely can -- and should! It just means making things a little simpler and gentler on your skin.
One thing's for sure: you're going to be seeing A LOT more about skinimalism on social media platforms in 2022! Bring it on!!!
Share
---