Our Take on Lori Harvey's Yogurt Face Mask Hack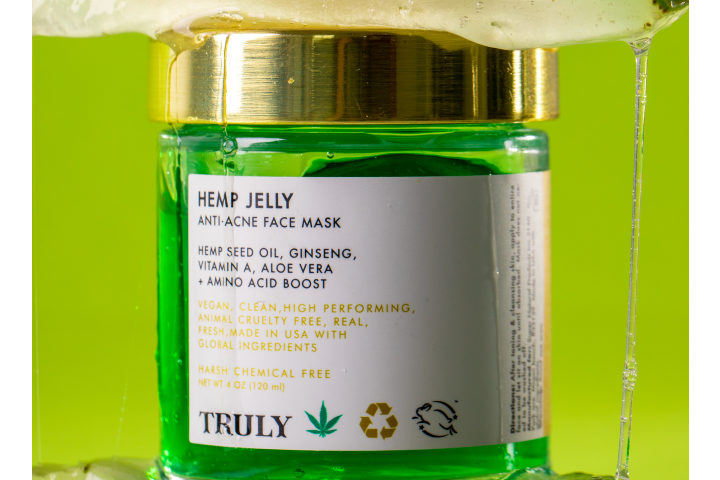 If you've been on TikTok lately, you may have noticed the commotion surrounding a certain celebrity's DIY skincare hack.
Everyone loves a good skincare hack, but sometimes TikTokers go a little far when it comes to achieving flawless skin. The latest TikToker to be criticized over her "terrible" beauty tips is model Lori Harvey.
The 25-year-old took to the social media platform to share her go-to skincare tip, which involves smearing her face with Greek yogurt to get rid of dark spots and hyperpigmentation. Instead of being met with appraise, the star wound up coming face to face with a skincare riot. Yikes!!!
LORI HARVEY'S YOGURT FACIAL, EXPLAINED
After slathering her skin in greek yogurt, which she calls a "gamechanger," people had thoughts.
"This is terrible," one user said in a response video. "It ain't even about profit or you having your own skincare line. This is terrible advice. She didn't even consult her esthetician for that."
"Food is to eat, skin care is for skin care," commented another.
Since receiving so much backlash over her yogurt face mask video, Harvey shared a follow-up video featuring celeb esthetician Joanna Vargas. The recognized skincare expert reassured viewers that applying yogurt to your skin isn't bad. In fact, she insists it can work wonders for your skin, helping to exfoliate, alleviate inflammation, and deliver hydration.
"It's a real thing, guys," said Vargas. "[...] I've been an esthetician for over 20 years, and whenever an esthetician is in a jam and can't calm down the skin, guess what's going on your skin? Yogurt. So, Lori Harvey knows what she's talking about."
WHAT WE SAY
After doing some research, we'd have to say that Harvey and her esthetician have a point. Yogurt — provided that it's natural of course — offers numerous skincare benefits. So far, we've discovered that applying a yogurt face mask can help to hydrate, brighten, minimize discoloration, banish blemishes, soothe inflamed or sensitive skin, and reduce signs of aging. It may even help with skin conditions such as eczema and rosacea.
Of course, it might not work for every skin type. However, it's definitely worth a try if you're looking for a natural and inexpensive way to treat your skin concerns.
SKINCARE BENEFITS OF YOGURT
Want to learn more about the benefits of yogurt for skin? Read on as we explain more about this beauty hack, and how it can help your skin.
It Hydrates Skin
Yogurt is a rich source of fats and protein, which works excellently as a natural moisturizer. According to a 2011 study, yogurt may reduce water loss from the skin and seal in moisture.
It Brightens Skin
Did you know yogurt also boasts natural brightening effects? According to dermatologists, yogurt contains lactic acid, an alpha hydroxy acid (AHA) that provides gentle exfoliation to skin, buffing away dead skin cells to reveal fresh, glowing skin.
It Treats Discoloration
Lori Harvey wasn't wrong when she said yogurt cleared up her dark marks. Thanks to its exfoliating benefits, topical yogurt can treat dark spots and hyperpigmentation. It can also fade post-inflammatory hyperpigmentation leftover by pimples.
It Reduces Signs of Aging
Research shows that yogurt supports natural collagen and improves skin elasticity, helping to increase skin's firmness while fading fine lines and wrinkles. It's definitely worth including in your daily skincare routine if you're looking for a natural anti-aging formula that can be found in your fridge.
It Alleviates Acne and Other Skin Conditions
"The probiotics in yogurt may help to bolster the microbiome of the skin, which we are learning plays a role in acne, rosacea, eczema and other skin conditions and the fat in full fat yogurt has moisturizing properties," explains New York-based board-certified dermatologist Dr. Hadley King.
If you're seeking clear skin, turn to yogurt for its acne-fighting effects. Thanks to its helpful bacteria, yogurt can combat Propionibacterium acnes, the bacteria responsible for those painful red breakouts.
It Provides UV Protection
Research from 2015 suggests that the probiotics in yogurt may be able to reduce the damaging effects of the sun's UV rays. These probiotics act as antioxidants, neutralizing the harmful effects of free radicals. This can also reduce sun-related skin issues like fine lines, wrinkles, and dark spots.
Of course, you'll still need to wear sunscreen on a daily basis in order to get full protection. But yogurt can help keep skin healthy, youthful, and glowing.
ALTERNATIVE FACE MASKS
Prefer to pick up face masks that are already ready to use instead of DIY-ing it? You'll find probiotics like those found in yogurt in cleansers, lotions, and creams. Looking for something different? Try one of Truly's top face masks.
Hemp Jelly Anti-Blemish Face Mask
Tackle your zits quickly, easily, and gently with Truly's Pore-Minimizing Face Mask. Unlike a lot of formulas, it won't dry out your face. This high quality formula contains blend of zit-zapping vitamin A, soothing aloe, and hydrating hemp to clear away blemishes, shrink pores, and leave skin visibly smoother.
Mary Jane Glow Mask
After that MET Gala glow you've witnessed on everyone from Kim Kardashian to Gigi Hadid? Reach for Truly's Mary Jane Glow Mask. This carefully crafted formula contains a powerful blend of retinol, caffeine, and glycolic acid to tighten, brighten, and soothe your skin while replenishing essential hydration. Finish with a few splashes of cold water to tighten pores and enhance your glow.
Starface Jelly Sleep Mask
A two-in-one, AHA-powered overnight mask that diminishes dullness for glowing skin that looks fresh, plumped, and renewed. Whether it's your first time or your 10th time using, you can always guarantee your skin will be gleaming after a night wearing this resurfacing formula. In addition to brightening skin, Starface Jelly Mask smooths out wrinkles, fades discoloration, and improves overall skin texture.
What are your thoughts on Lori Harvey's yogurt face mask hack? We'd love to hear from you!
Meanwhile, shop Truly products on Amazon, Ulta, Sephora EU, Target and on our official website: Trulybeauty.com
Share
---