So, We Tried the Rice Water Trend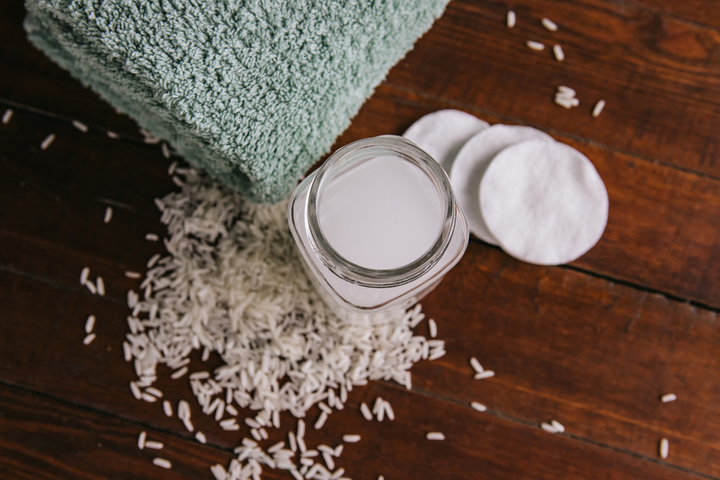 If you're someone who likes to keep their thumb on the pulse when it comes to the latest beauty trends, you've no doubt heard of the rice water trend.
Washing your face with rice water might sound a little bizarre, but it's been a key beauty ingredient in Korean beauty culture for generations.
Besides boasting brightening and anti-inflammatory benefits, dermatologist Dr. Joel Schlessinger says rice can also smooth out rough texture and boost skin elasticity.
"Rice water as a skin care ingredient has not been widely researched, but it is said to help smooth a rough texture, minimize pores, and encourage a brighter complexion," says Schlessinger.
Being the curious little souls we are, we decided to try the rice water beauty trend for ourselves. Is it as good as people say? Scroll down to find out.
THE BENEFITS OF RICE WATER FOR HAIR AND SKIN
"Rice water has been popular for hair and skincare in Japan, China, and Korea for centuries," dermatologist Dr. Aanand Geria, M.D., F.A.A.D explains.
While it's most commonly known for lengthening and strengthening hair, this ancient beauty ingredient offers some awesome skincare benefits, too.
"Rice water is thought to be rich in minerals, antioxidants, and vitamins B and E," Dr. Geria continues. "Given that, it's thought to be anti-aging in nature." 
For Skin
Loaded with an antioxidant called ferulic acid, rice-infused water is a known natural anti-aging formula. It's also supported by vitamins A, C, and E to soothe, brighten, and nourish the skin. There's even a study from 2013 suggesting that rice water may improve signs of sun damage.
Nearly all skin types can benefit from rice water, seeing as everyone's skin craves minerals, vitamins, and antioxidants. What's more, skincare experts say it may be good for dry and uneven skin tone.
And, being the natural ingredient that it is, rice water is suitable for sensitive skin. No worries at all there!
There are rumors that rice water can help acne-prone skin, but dermatologist Dr. Mona Gohara disagrees.
"In skin that doesn't have acne, rosacea, or eczema, rice water can have a smoothing effect," she explains. "I like it to add a bit of moisture too."
For Hair
Rice water can work just as well as improving the condition of your hair. As it is carbohydrate-based, it's highly effective at strengthening your tresses.
"Rice water has a rich history of benefits for hair, especially on dry and color-treated strands," says natural-hair expert Diane C. Bailey. "[It] provides strength and moisture, resulting in hair that feels smooth and strong from roots to ends. Additionally, rice water reduces friction, increases elasticity, and closes the cuticle, leaving hair extra shiny." 
Just like with the skin, rice water's gentle formula and multitude of nutrients make it an excellent choice for many different hair types, including color-treated hair. It can repair, strengthen, and nourish dry, damaged strands.
Can rice water boost hair growth?
There's no scientific evidence to prove it, but according to dermatologist Neil Sadick, it can make your hair appear healthier, shinier, and fuller.
"Rice proteins can strengthen hair strands and seal split ends," he says. "It contains carbohydrates, minerals, and vitamins that can foster a balanced environment in the scalp to keep your follicles healthy."
HOW WE UTILIZED IT WITHIN THE TRULY BEAUTY ROUTINE
To see if this beauty hack worked, we whipped up our own batch of rice water to witness what kind of effects it had on our hair and skin.
There are many different ways to use rice water for skin and hair. For the purpose of cleansing, we first removed any surface impurities with Truly's Vegan Collagen Facial Cleanser. Afterwards, we applied the rice water directly to the skin using a cotton ball – like you would a toner.
The rice water was practically odorless, but it left our skin feeling soft and smooth without any tightness or dryness. After one week of daily use, we could definitely see an improvement in the texture and tone of our skin.
You can also apply rice water as an eczema, sunburn, and age spot treatment to ease irritation and fade dark spots.
As for using rice water on our hair, we tried it as both a hair rinse and mixed in with our hair conditioner.
As a rinse, we used it directly after shampooing and conditioning with Truly's Super Plant Bundle. It definitely made the hair feel fuller and appear shinier after one use.
The next day, we tried mixing the rice water in with our Coco Rose Milk Hair Mask. It gave the conditioner a slightly watery texture, but it was easy to apply. After leaving it for five minutes in our hair, we noticed our tresses felt a lot softer than they did before using the rice water formula.
WHAT PRODUCTS ARE BEST USED BEFORE AND AFTER RICE WATER?
Skincare experts recommend applying ferulic acid (the main component in rice water) in conjunction with vitamins C and E to lock in moisture and help its effectiveness.
"There's a study that showed that when you add ferulic acid to vitamins C and E, there's eight-fold photoprotection that we see," skin pro Melissa Levin says. "That's really because antioxidants, just like free radicals, are pretty unstable, which means they break down pretty quickly. Ferulic acid is added to vitamin C, vitamin E concoction to stabilize the compound."
Try applying our Vegan Collagen Facial Serum formulated with vitamins A and C to maximize rice water's effects.
Make sure you leave a gap between applying ferulic acid and other acids, like salicylic acid or glycolic acid, to prevent your skin from irritation and redness.
SHOULD YOU INCLUDE RICE WATER IN YOUR BEAUTY ROUTINE?
Rice water might sound like just another beauty fad. In actual fact, it's a beauty secret deeply etched in Asian history – and one they continue to live by today.
Rich in minerals and vitamins, rice water can definitely do your skin and hair some huge favors. We tried it ourselves, and we've gotta say, there's a lot more we can learn from ancient Asian beauty rituals.
Share
---