The "Shelfie": Looking Into the Newest Internet Skincare Fad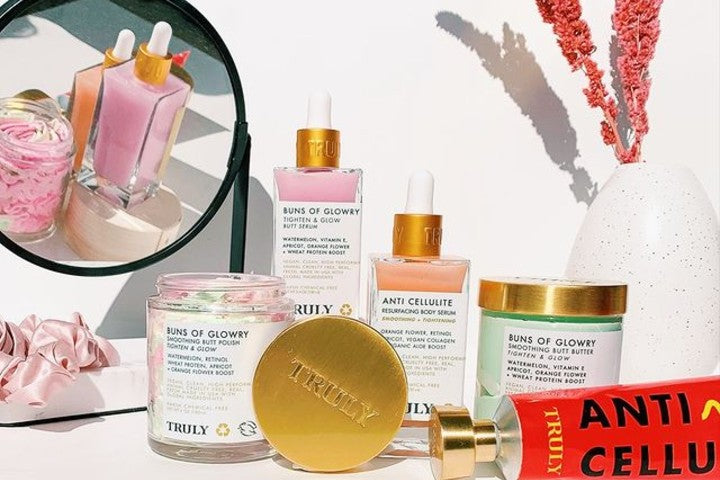 The shelfie hashtag has officially surpassed one million posts on Instagram. It's also trending on other social media platforms like TikTok with influencers happily broadcasting their skincare cabinets to the world of beauty fans.
Sure, posting your makeup selfie or #nofiltered look will forever be a photographic staple in the social media sphere, but there's just something addictive about watching beauty industry professionals and influencers give us a glimpse at their go-to skincare products. 
We're all secretly craving the beauty routines of others, in hope of learning something valuable that we can add to our own skincare routines. The shelfie, it seems, is the best way to do that.
Below, we spill the tea on shelfies and how to create your own shelfie for an extra large helping of hearts!
WHAT IS A "SHELFIE"?
So... to put it in the simplest of terms, #Shelfies are essentially a photographic display of people's skincare products. Think facial cleansers, serums, face oils, moisturizers, and sunscreens all lined up in an aesthetically-pleasing way. Or another way to think of it: a window into someone's favorite beauty products and beauty brands. 
Yep, showing off a sizable skincare collection is on trend right now. 
While shelfies are an excellent way to peek into the go-to products of editors, estheticians, dermatologists, makeup artists, and bloggers, there's an art to curating an IG-worthy shelfie. 
Besides selecting cute products with Instagrammable packaging, shelfies require good lighting, a decent camera (or phone!), and a knack for product arrangement. To bring your shot to life, a shelfie requires all of these elements. 
Wondering how to get started? Welcome, newbies, to your lesson in shelfie mastery. Get ready to get some major hits on your shelfies!
HOW TO CURATE YOUR BEST SHELFIE
Choose Your Key Players
Besides being beautiful to look at, your shelfie should also be authentic, housing the skincare products you use on a daily basis. Start by adding in that cleanser, moisturizer, breakout treatment, and SPF you use all the time. 
Got acne? Try Truly's CBD Jelly Baby Bundle to keep your skin clear and clarified. Looking for anti-aging skincare? Opt for Truly's Vegan Collagen Bundle instead. Besides being extremely effective, these bundles all include products that'll serve as the perfect base for your shelfie. 
Add in Some Pretty-Packaged Formulations
Now it's time to incorporate some bolder products that'll really stand out in your shelfie. Look for products that contain active ingredients to address your skin issues - uneven skin tone? Breakouts? Fine lines and wrinkles? The right serum can help. Next, make sure the packaging is cute enough to draw in attention and make your shelfie stand out among the competition. If you love pink, choose pink-packaged products. If it's blue, go for that color. You get where we're going with this...
Love pink? Then you'll adore Truly's Glow Up Kit. Looking for something a little less girly but still statement-worthy? Truly's Pineapple Haze Bundle is your shelfie BFF!
Match Your Colors
Not sure where you're going with the color theme? When it doubt, play matchmaker with your products. In other words, match your colors so your shelfie has a color theme.
Some great color combos include pink and gold, white and purple, and blue and yellow. Feel free to get as creative as you like. It's your shelfie and you can decide which color theme you want to run with. You can even extend the color match to three or four colors. For instance, gold, pink, white, and blue - if you're going for a girly, elegant theme. Prefer something more neutral and nature-inspired? Opt for greens, yellows, and blues. 
For a playful, girly mix, choose Truly's TikTok Bundle. For something more neutral, make Truly's Pore Shrinking Kit your first choice.
Accessorize!
Now you've picked out your products, it's time to accessorize your shelf. Mix in some colorful jewels or self-care products to diversify the shelfie. You could also add in candles, plants, or photographs - your shelfie, your choice.
We recommend heading over to Instagram and TikTok and taking a look at what the millennials and gen z people are putting on their shelfies. 
If you want to give off skinimalism vibes, you can avoid this step and keep things simple with a few minimalist products. Just make sure you select luxe skincare brands like Glossier, Sephora products, and of course Truly to create a powerful effect. 
 Do it in Daylight
Good lighting is essential for an impactful shelfie that attracts lots of likes. The best lighting for a shelfie is daylight. So make sure you only take your snaps during the daytime so you have a nice white light. Avoid dark or yellow lighting. 
Snap Away!
... but before you do, ask yourself a few questions: does the skincare shelf look pleasing on the eye? Is it colorful enough? Does it fit with the theme you're running with? How good is the lighting - does it show off your shelf in its best light? And what about the angle? Face on or angled - which works best?
Once you've answered those questions and you're happy with the final result, you can finally shoot your shelfie! Make sure you take a few so you can review them after and decide which looks best.
Last year and most of this year, the pandemic has given us a lot of free time to play around with. We've had time to discover beauty trends and skincare tips, recreate them, and understand more about skincare as a whole. 
The shelfie just happens to be the internet's new skincare fad, and we're so excited to try it out for ourselves! 
So gather all your skincare goodies, grab your phone or camera, and start snapping some Insta-worthy shelfies. And be sure to share them with us over at Truly! We'd love to see your shelfie - and the products in it! Are there Truly products in your shelfie? Tag us in them so we can check them out and give you a big heart from us! 
Share
---