TikTok Skincare Trends: Hot or Not?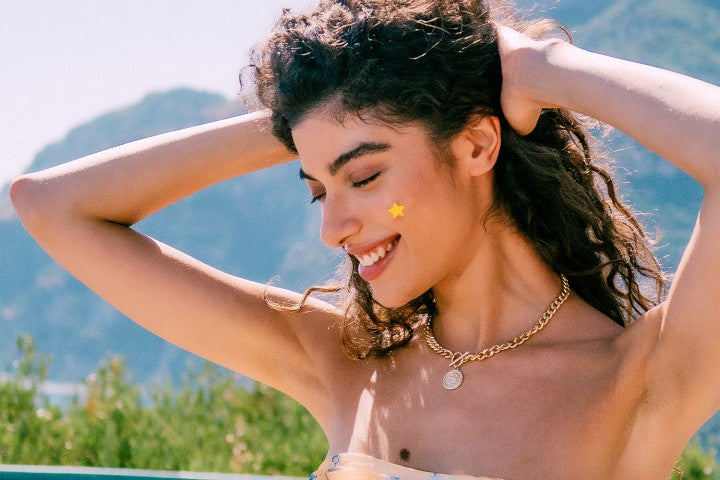 If there's one place you can rely on for breaking beauty trends, it's TikTok. 
The social media platform is awash with influencers who share daily beauty hacks that can range anywhere from genius to eyebrow raising to totally insane. Maybe you've seen a few of them crop up while scrolling through your FYP? 
In case you're wondering which ones to try and which ones to let fly, here's the lowdown on TikTok skincare trends...
The Q-Tip Lipstick Trick = HOT
TikTok users swear by this trick for seamless lipstick application. 
Unlike when using a brush, applying lipstick with a Q-tip helps you achieve neat lines and next to no smudges. It gives you a nice, clean finish. Plus, it's really quick to do -- making it perfect for ladies applying lipstick on-the-go.
While applying lipstick over the Q-tip can be a little fiddly, it's a great technique for cleaning up your lipstick application. Use a lip liner for pristine edges and a staying power boost. You can even dab your favorite shade on for a pretty stained effect that won't smear.
As for what we think, this TikTok beauty hack definitely gets our seal of approval for being innovative, effective, and easy!
Drinking Cucumber Water = NOT
Water is an essential, but will adding things like cucumber, turmeric, or ginger actually do anything for your skin? Or will it simply inject a little flavor?
According to health experts, these additivities within water are unnecessary. While they add some flavour, they don't actually achieve too much in regards to skincare. 
So, if you've heard that drinking cucumber water will give you glowing skin or clear your breakouts? You may want to consider trying something else to add glow or banish blemishes.
The "Instant Facelift" = HOT
Makeup artist to Kim Kardashian, Mario Dedivanovi, changed the way the world uses concealer to shape and brighten the face. But according to TikToker Megha Singh, we've been missing out on a key trick for achieving definition in our face. According to Singh, the easiest way to sculpt your face is with the clever placement of directed lines that draw the eye upward.
Using a concealer two to three shades lighter than your skin tone, draw outwards, highlighting the natural contours of the face to emphasize the natural shadow in the face for an "instant facelift."
Instead of making thick triangles around the eye, you're using a small amount of product to achieve a more defined look without things looking cakey. Hashtag: we're obsessed!
Applying Aspirin for Acne = NOT
A TikTok beauty trend we've been hearing a lot about lately is using aspirin to treat pimples. 
Some TikTokers use several tablets of aspirin, crush them up and mix them with water to turn them into a paste, then apply it to their face as an exfoliating face mask. Dermatologists say this isn't a good idea. In fact, it could very well be dangerous.
Applying aspirin topically to your skin can be damaging, drying, and irritating to the skin. If you want to do something about your breakouts, try dermatologist-approved acne-fighting ingredients like salicylic acid (BHA), benzoyl peroxide, or glycolic acid (AHA).
Get the CBD Jelly Blemish-Clearing Bundle here.
'80s Eyeshadow = HOT
Amp up your look with TikTok's latest beauty hype: bold, '80s inspired eyes.
Since the success of RuPaul's Drag Race and It's a Sin, club kid culture is making a comeback in the beauty world. 
To achieve a bold, '80s eyeshadow look, begin by prepping the eyelid with an eyeshadow primer, and apply shadow in a wing, blending it out at the crease. Blend in a little black shadow in the outer corners for depth, then smudge with a finger and finish with a swipe of mascara. Set everything in place with setting spray. 
Make sure you choose a pigment that works with your skin tone for the best results from your makeup products. 
Using Lemon to Fade Dark Spots: NOT
Yes, lemon lightens, and yes, lemon is high in vitamin C, but the link between lemon juice and dark spot fading isn't professionally approved.
According to the derms, neither lemon juice nor honey or turmeric are effective on dark spots. The best way to get your skincare benefits from vitamin C is to use a vitamin C serum or moisturizer. A nightly retinol can also help to boost cell turnover and fade dark spots. Always use sunscreen if you apply any of these products in the day time.
Especially if you've got sensitive skin, you want to avoid using DIY skincare products that may only irritate your skin. 
Get the Vegan Collagen Bundle here. 
Glass Skin Hack = HOT
While the majority of TikTokers know the importance of a daily beauty routine, they prefer seeing results right away rather than waiting months to see a noticeable difference.
If you too are looking for the quickest route to dewy, radiant skin, try TikTok's glass skin cheat technique. According to TikTok, all you need are a couple of drops of moisturizer, primer, foundation, and highlighter to create the ultimate dewy base.
While we strongly believe in the less is more approach, the only downside to this trend is that it doesn't work for all skin types. If you have oily or acne-prone skin, this high shine finish can look more greasy than dewy. 
Those with dry skin seeking hydration will enjoy the most benefits from this makeup hack. 
Icing Away Acne = NOT
Ice can be anti-inflammatory and soothing, true. However, derms can't be sure whether ice cubes can actually ward off acne outright. 
The best way to treat acne is with a targeted skincare routine containing beauty products that especially treat blemishes. Use a cleanser, serum treatment, moisturizer, and SPF daily to keep your skin clear, healthy, and glowing.
Try Truly's Super Acne Trio whenever a pimple pops up so you can attack it right away. 
On TikTok, you'll find hundreds if not thousands of unique and often debatable beauty trends swirling around. In addition to the ones mentioned above, there's also slugging (smearing your face with Vaseline), and numerous tricks involving a hairdryer. You'll also find multiple wellness tips and tricks. 
Try them, experiment, and have fun, but stay smart...if something doesn't sound right, don't do it. You could end up putting yourself at risk.  
Share
---