Try that Trend: Bleached Eyebrows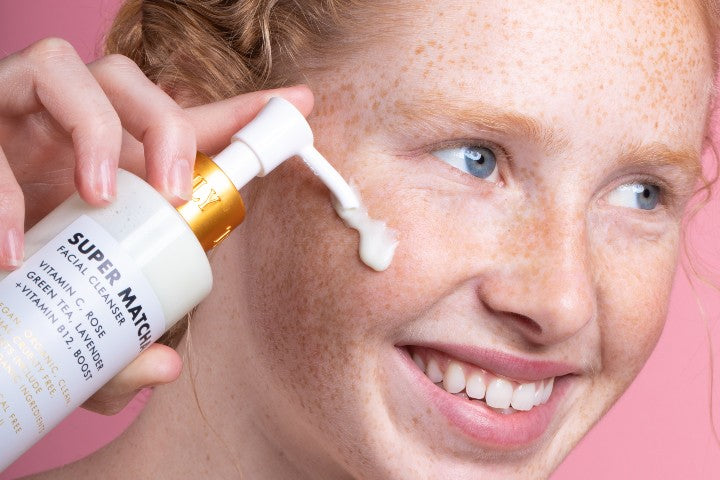 From Kendall Jenner to Maisie Williams, a slew of celebrities were spotted sporting bleached brows at this year's Met Gala. While it may not be the most practical of beauty trends, bleached eyebrows are a great way to make a statement, anytime, anyplace.
Even before the Met Gala, we've seen the likes of Kim Kardashian, Katy Perry, Lizzo, and Bella Hadid rocking the bleached brow look.
Thinking of lightening your arches too? Here's everything you should know about the bleached brow trend.
WHAT ARE BLEACHED EYEBROWS?
Bleached eyebrows are an eyebrow trend achieved by applying special brow bleach to brow hairs in order to take the color completely out of the eyebrows. Unlike eyebrow lightening, which lifts color a few shades lighter than your natural brow color, bleaching delivers a statement blonde brow often seen on runways and magazine photoshoots.
WILL BLEACHED BROWS SUIT YOU?
Some people love the end result, while others find it too harsh. Before making the transition, "try on" the look by mixing concealer and purple corrector and applying it to your brows. You won't get the complete bleached look, but it will lighten the brow and give you a general idea of what you look like with lighter brows.
IS BROW BLEACHING BETTER FOR BLONDES OR BRUNETTES?
Anyone can bleach their brows, but there are some caveats for darker hair colors. For those who have naturally light brows, the process of lightening will be easier and result in a very light shade of blonde. Those with naturally dark hair may experience brassiness when bleaching, so you may have to repeat the process to achieve desired results. Alternatively, you can try using a purple cream corrector to cool the brass.
Since they're such a dramatic beauty look, bleached brows suit almost anyone. However, it's all down to personal preference. As we mentioned before, some people love the effects while others loathe it.
If you're looking for a way to switch up your look, the bleached brow trend is definitely worth a try. And it's not like it lasts forever, so you're not committing to permanently bleached brows.
HOW LONG DO BLEACHED BROWS LAST?
Bleached brows are great if you're looking for a short-lived statement brow. If you want to make it a permanent thing, maintaining bleached brows can be extremely high-maintenance.
According to the pros, you'll begin to see your roots in just one week after bleaching, and your natural color should come back in about two weeks. To maintain your new look, brows will need to be touched up every week or two weeks to keep them looking their best.
HOW TO BLEACH YOUR EYEBROWS AT HOME
Here's a step by step tutorial for bleaching your brows at home.
#1: Do a Patch Test
Start by performing a patch test to ensure you don't have an allergic reaction to the bleach. Mix a small amount of the product and leave it on your skin for 10 minutes. If everything's good, you can do ahead and proceed with the next step. Experiencing redness, burning, and itchiness? You're experiencing an allergic reaction, and should not proceed with the bleaching process.
#2: Wash Your Face
Before bleaching, you want to ensure there's no product on your brows. Using a gentle cleanser like Truly's Super Matcha Facial Cleanser, wash your face thoroughly and pat dry. You should always start with a clean, dry base when brow bleaching.
#3: Apply the Bleach
Now for the actual bleaching! With whatever product you decide to use, always make sure you carefully read the instructions. That said, most follow the same set of guidelines.
First, mix up your product until you get a paste-like consistency. Avoid using anything too watery as it won't stay in place and may end up running down your face and into your eyes. Ouch! Next, apply the mixture with the applicator included or a spoolie brush, making sure you thickly coat all hairs from all sides. Once everything's covered, set a timer for 10 minutes.
You can either do one brow at a time, or do the other brow quickly and add on another couple of minutes to ensure both brows end up the same shade.
#4: Remove the Bleach
As soon as you hear the beep, remove the product with a paper towel. Use this time to assess the result, and repeat the process for another five minutes if you want to go lighter.
When you're satisfied with the color, wipe everyone off with a paper towel and wash the product off with cold water.
#5: Moisturize
After washing off the bleach and patting your brows dry, apply a soothing moisturizer like Truly's Flower Child Face Cream. It's made with hyaluronic acid and hemp to quell inflammation, reduce redness, and hydrate skin.
BLEACHED BROW AFTERCARE TIPS
To keep your freshly bleached brows looking their best, it's important to follow a few aftercare rules. For starters, if your brows begin looking brassy over time, apply a purple shampoo with a Q-tip to keep your blonde hair cool.
You can continue your skincare routine as normal. However, it's best to use soothing products that won't irritate the skin, and temporarily take a break from exfoliating.
Since the brows are hair, treat them to the occasional masking session to keep them soft and healthy. Some of our faves include Truly's Super Fruit Conditioner, Coco Rose Milk Hair Mask, and Unicorn Locks Hair Repair Mask.
WHICH MAKEUP LOOKS BEST WITH BLEACHED EYEBROWS?
According to makeup artists, there are no rules when it comes to which makeup looks best with bleached brows. If you're looking to keep things low-key, opt for soft neutral eyeshadows and a lick of mascara. Alternatively, go bright and bold with a red lip. You will also find inspiration on the red carpet, catwalks, and of course — TikTok.
Bleaching your brows is a bold move. But if you're looking to switch up your look, it's a great way to make a statement. If you're worried about doing it at home, visit a professional instead.
Share
---