Vacation or Not, You Need Truly Beauty's New Luxury Trunk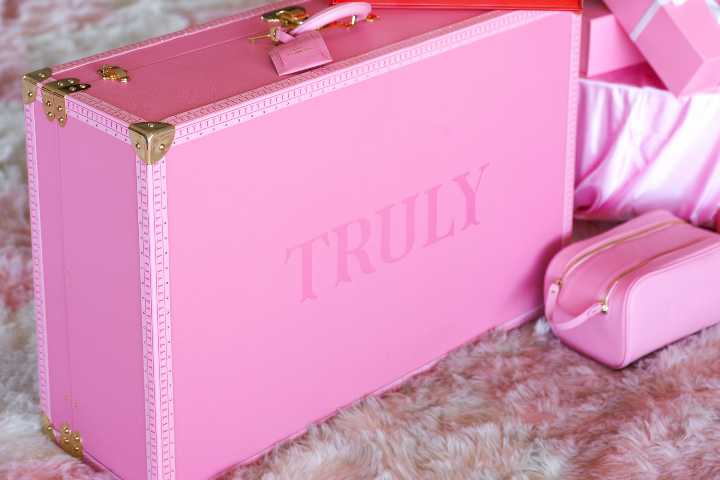 The most coveted Truly accessory is HERE! Our Signature Luxury Trunk makes travel and storage irresistibly chic. Made from 100% vegan leather, it features gold hardware corners and clasps, sturdy handles, and a spacious two-level interior to store or stow all your skincare routines. It's also engraved with our iconic logo to help you stay on brand.
Vacation or not, Truly's Luxury Trunk is the hottest new accessory you need in your life. Here's everything you need to know about our timeless new trunk, and all the ways you can use it.
Fill it, travel with it, snap it, LOVE it, grow old with it!
THE ICONIC TRULY TRUNK
What You Should Know
Truly Beauty's first ever extra large trunk has arrived.
Crafted from the finest vegan leather in a hot pink hue, it features gold hardware corners and clasps, sturdy handles, and is engraved with our iconic logo on the front. Its spacious two-level interior allows its owners to stow or store everything from clothing to accessories to the most elaborate skincare collections. With vintage roots and contemporary touches, it's 2023's hottest new accessory to add a little luxury to your living area — or trips.
WHY IT'S SPECIAL
Made from 100% vegan leather

Dimensions: 32.05" x 22.45" x 10.85"

Weight: 29 lbs 

Features a lock with key, reinforced with two trunk latches

ALL THE WAYS TO USE TRULY'S LUXURY TRUNK
Destined to be a bestseller, our pink Luxury Trunk is incredibly versatile and can be used for a whole range of purposes. Here are just a few ways you can use our timeless, ultra-chic trunk.
For Travel
Get to your destination in style with this luxe pink trunk. Besides being a statement symbol, this luggage trunk is strong, sturdy, and practical. It can hold all your travel essentials — and even features a lock to keep everything safe. Take it with you on business trips, overnight stays, or long vacations. This large, strong, and luxury piece will not let you down.
For a Vintage Train Moment
Vintage train moment, anyone? Fill this trunk with all your treasures and take it with you on your next train trip. Psst...don't forget to take A TONN of selfies on your journey! You can also use the time to indulge in a self-care moment by filling the trunk with our well-loved beauty products (think eye creams, face masks, brightening serums, and acne patches!). This is your chance to pamper!
For Sensational Storage
The Truly Trunk is so spectacular, it's the perfect accessory for spicing up your living area. At the same time, it's extremely functional, offering endless space for everything from your body butter collection to your clothes to your sentimental items. Store whatever you like in this trunk, then place it somewhere it'll be seen.
Unlike a lot of storage pieces, this trunk deserves the spotlight. You could even make it the center piece in your beauty quarters. And the best part? It gives you lots and lots of storage simply because it's so spacious.
As a Cute Table
You can even use this luxury trunk as a cute coffee or vanity table. So, there's not going to be excessive space for your coffee cups, lotions, or body serums. Still, if your condo's lacking furniture, what better way to spruce things up than with this fabulous trunk?
Even better, it serves more than one purpose. You can use it for storage and as a cute table. It's the decor your place has been desperately seeking to inject a little chic into your home.
As a Fabulous Photo Prop
Looking to make your Insta posts a little more exciting? Add in this Signature Luxury Trunk as a fabulous photo prop, and watch your likes BOOM! Whether you're doing a beauty tutorial, skincare product review, or simply want to elevate your seating area or background, the Truly Trunk is the photo prop you need to give your posts a pop of color and elegance.
For Storing Skincare
Truly's Luxury Trunk stores even the most elaborate skincare collections. If you've got 50+ jars and tubes, give them a permanent home in this ultra spacious trunk. Cleansers, toners, retinol serums, exfoliating body scrubs, butt polishes, boob butters, pimple patches, sunscreens, and hydrating serums...they'll all fit perfectly in this XXL trunk. Plus, there'll be space leftover for your makeup and haircare products.
Some Truly devotees have collected the majority of our lines. From Acai Your Boobies to Buns of Glowry, Coco Cloud to Vegan Collagen Booster, there's enough space to fit all of your Truly collections in here.
For Storing Clothes
It's not only reserved for skincare products. The Truly Trunk can also be used to store all your clothes. Whether you're going on a trip or simply want to add space to your wardrobe by storing your seasonal clothing, the trunk has got you covered.
And we're certain even with all your clothing in there, space will be leftover for your shave butter, vitamin C serum, blemish treatment, and full-size anti-cellulite formulas.
As a Holiday Gift
Feeling generous this Christmas? Spoil someone special with this deluxe trunk. You can make it even more interesting by filling the trunk with a bunch of Truly's TikTok-famous face and body care formulas. And throw in a few limited edition surprises to make her feel even more special!
Regardless of her skin type, all our products use the best ingredients such as retinol, salicylic acid, glycolic acid, and hyaluronic acid to treat all her skin concerns. From breakouts to fine lines, there's a Truly formula that will conquer her skincare goals.
Shop the Signature Luxury Trunk
From skincare to clothing to your eyeshadows and mascaras, this deluxe, supremely chic trunk is spacious and sturdy enough to hold all your essentials. Vacation or not, there are plenty of ways you can use our new trunk. It's a timeless piece that's well worth the investment. Expect to grow old with this vintage meets contemporary Pink Luxury Trunk.
Share
---