10 Holiday Beauty Gift Ideas Under $100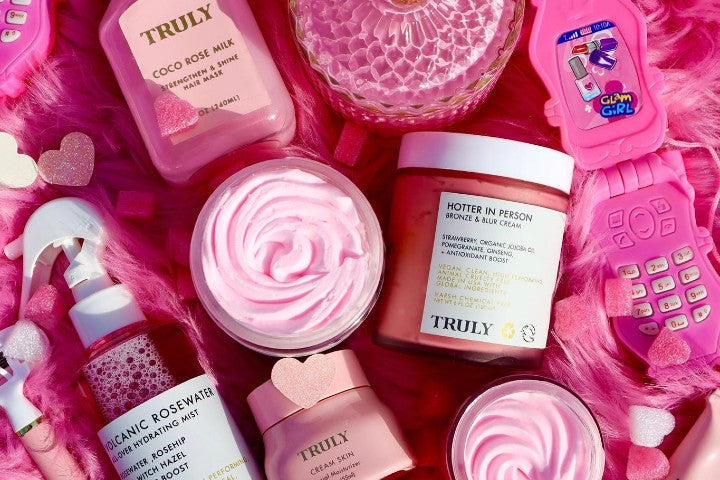 Wondering what to get your mom, sis, bestie, or co-workers this season? We're removing some of the guesswork out of holiday shopping by giving you a list of bestselling, editor-approved beauty products for everyone on your contact list.
From shaving sets to glow-enhancing skincare bundles, here are 10 beauty gift sets your loved ones will cherish this holiday season. All under $100!
#1: Dry Skin Kit
Chilly temperatures and harsh winds can leave skin feeling dry and dehydrated in winter months. Treat them to some skin therapy with Truly's Dry Skin Kit, which boasts full sizes of our bestselling Vegan Collagen Serum, Volcanic Rosewater Mist, Cream Skin Face Moisturizer, and Unicorn Fruit Lip Balm for year-round hydration. It's a great gift for anyone who appreciates good skincare.
#2: Glow Up Kit
Radiant skin is always in demand. Give your best friend or work colleague all the essentials they need to hydrate, brighten, and dewify their skin with our Glow Up Kit. Featuring a face mask, serum, and acne patches, these products rely on powerhouse ingredients like retinol, glycolic acid, and caffeine to wake up and revive skin. It's the perfect gift for people in your life in need of a little glow boost.
#3: Unicorn Party Kit
Wondering what to get your fun-loving sister or daughter this Christmas? Consider this sweet-smelling collection of Truly's bestselling Unicorn Fruit products -- bundled. Centered around the brand's viral-worthy Unicorn Fruit Whipped Body Butter, the set also stars our signature eau de parfum, lip plumping balm, and body sculpting polish. It's certainly a holiday gift to remember!
#4: Tuned n Tanned Trio
A sunless self-tan kit for those lovely ladies IYL who wish to be sun-kissed all year-round. Our Tuned n Tanned Trio offers every step needed for year long bronze, featuring Hotter in Person Bronze & Blur Lotion, Moon Rocks Body Scrub, and Berry Cheeky Polish to prep the skin for a subtly shimmery, seductive tan. It's far more interesting than any of those conventional beauty stocking stuffers (think nail polish, eyeshadow palettes, and mascara). Because who doesn't want to be bronzed and glowing every month of the year? 
#5: Ultimate Smooth Legend Shave Kit
This limited edition shave set includes everything she needs for a perfect, soft to the touch shave: Smooth Legend Pre Shave Scrub, Happy Hairless Shave Butter, Glazed Donut After Shave Oil, plus our magnetic razor and fuzzy pouch. Inspire her to enjoy more self-care days with this 3-step bestselling shave kit. What's wrong with treating her to a little more TLC? She deserves it!
#6: Bonne Nuit Beaute Satin Sleep Set
Looking for the best gift for that special lady in your life? Forget gadgets, pajamas, and gift cards, and consider Truly's Satin Sleep Set instead. It's the beauty sleep upgrade she never knew she needed! 
Featuring one standard size pillowcase, an eye mask, headband, and a cute scrunchie, all these satin sleep essentials are designed with the purpose of securing a night of restful beauty sleep. While the pillowcase helps with hair frizz and facial creases, the eye mask ensures a restful sleep, the headband keeps your hair out of your face, and the scrunchie secures a smooth morning. She'll love this luxe sleep set!
#7: Super Fruit Repair + Restore
Help them maintain a healthy mane with this moisturizing, repairing, shine-enhancing duo. Utilizing ingredients like coconut, argan oil, and jojoba oil, these plant-based ingredients will coat your locks and restore their naturally strong, smooth, silky form. And they're ideal for all hair types! It doesn't get much sweeter than this. Sent alone or as a supporting present, this haircare set is guaranteed to be appreciated by giftees. 
#8: Flawless Skincare Bundle
Beauty holiday gift guides always tend to feature items like highlighters and matte lipsticks. As much as we love receiving makeup as a Christmas gift, skincare is where the magic really happens. With our Flawless Skincare Bundle, your friends and family members can tackle all areas to enjoy long-term hydration, de-puffing, and dewiness. 
The kit contains three nourishing formulas: Glass Skin Face Serum, Cream Skin Face Cream, and Eye Candy Anti-Puff Eye Cream. All three formulas rely on high-performing ingredients such as hyaluronic acid, sea kelp, and willow bark to plump out fine lines, minimize pores, clear blemishes, and diminish discoloration. 
#9: Body Brightening Kit
Skincare isn't just for the face. Encourage your mom, sis, or gran to show their bods some TLC with this Body Brightening Kit, designed to tackle dryness, dullness, discoloration, and irritation with 4 simple products. 
Each product in our Brightening Kit works to moisturize and brighten skin through a body care routine imbued with natural ingredients like vegan collagen, vitamin C, glycolic acid, and lavender. And the best thing about gifting body care is that it's quite a generalized gift. Or to put it another way, you don't run the risk of offending anybody.
#10: Ultimate Hemp Bundle
The perfect gift idea for cannabis lovers in your life! This bundle features our most popular Hemp skincare products, each uniquely crafted to boost skin health. Inside, you'll find a body butter, face cream, facial cleanser, and acne patches, all formulated with skin-calming hemp. It really is the best beauty gift for gals in your life who live for this anti-inflammatory, pain-relieving plant. It's also a great gift for anyone who hasn't got their skincare routine pinned down just yet.
While you'll find hundreds if not thousands of beauty gifts on Amazon, Nordstrom, Sephora, and Ulta, Truly offers some of the most unique, carefully crafted vegan formulas around. All our products are made with you and your skin concerns (and goals!) in mind. Whether you're dealing with dryness, dullness, acne, creases, or hairiness, Truly's got you covered. 
We hope you've managed to select the best beauty gifts to wrap up for your loved ones this holiday season! If not, scroll through our full selection of products and take your pick!
Share
---