24k Gold In Skincare? Bought Or Flopped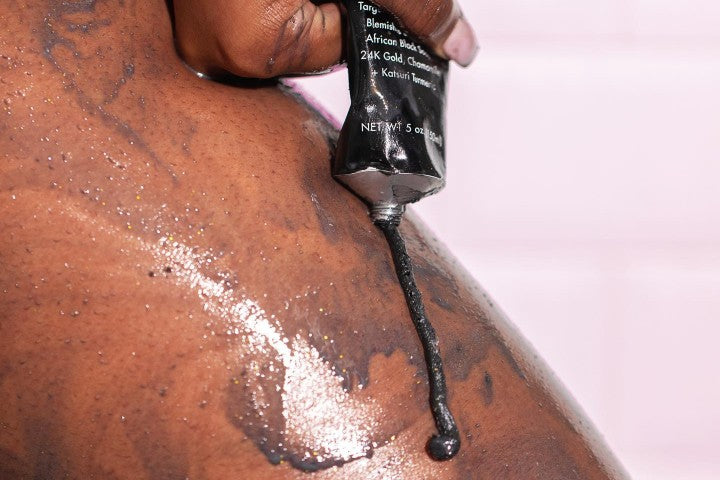 Skincare routines infused with real gold sound like a luxury only the rich could afford.
As it turns out, 24k gold in skincare has been around for sometime now - and it's making its way into a myriad of budget-friendly beauty products.
24 karat gold skincare is mostly spoken about in myth or legend. For instance, it's been said that Cleopatra covered her face in pure gold each night to keep her skin youthful and glowing. 
As a skincare ingredient, gold particles are infused into formulations mainly for anti aging and anti inflammatory properties. According to dermatologists, colloidal gold can also work as an effective barrier against environmental aggressors like UV rays and pollution.
One of the wonderful benefits of using colloidal gold infused skincare products is that results are almost immediately visible. Skin experts claim that using gold skincare products helps to reduce fine lines and even out skin tone.
It's time to do some more digging, don't you think?
BENEFITS OF GOLD SKINCARE
How could you not want to fill your beauty cabinet with serums, essences, and oils specked with glittery gold flakes? But here's the thing about gold: it does far more than just look pretty. 
"Gold is an antioxidant, and it can help protect against free radicals that accelerate the aging of the skin," says Corey L. Hartman, M.D., a board-certified dermatologist and founder of Skin Wellness Dermatology.
While there isn't a whole lot of research regarding gold in beauty, experts say it does possess potent anti-inflammatory properties, indicating it can help treat acne-prone skin, puffiness, and even conditions like rosacea. What's more, 24k gold boasts anti-aging benefits. It's shown to boost elasticity, providing firming effects and minimizing the appearance of fine lines and wrinkles. It also offers brightening effects. 
"Gold can certainly have a brightening effect, even a bronzing effect due to the color itself," explains Mara Weinstein, a dermatologist at Schweiger Dermatology Group in New York City. "It's the perfect ingredient to use to temporarily brighten those under eye circles or to give a nice glow for an evening out."
The best part of all: it can be tolerated by most skin types, including sensitive skin. 
So if gorgeous, youthful, glowing skin is you're think, you might just get it from 24k gold.
DOES IT ACTUALLY WORK?
Nowadays, we have so much to choose from when it comes to power-packed skincare ingredients. From collagen to retinol, hyaluronic acid to vitamin C, it can be hard to figure out what you should add to your regimen. Well, from what the experts tell us, it seems like treating yourself to the occasional gold face mask can definitely offer you some benefits.
"Gold is an antioxidant and has anti-inflammatory properties. It can calm acne and reduce redness, and it protects against free radicals that lead to skin wrinkles," says celebrity facialist May Hamid.
Of course, you should be aware of purchasing products with a high price tag. You actually don't need to spend hundreds of dollars to buy an effective gold-infused cleanser, moisturizer, or serum. 
Ultimately, look for a product that has both gold in it and a range of other high-performing ingredients. You want to make sure you're purchasing high-quality skincare products that will make a difference for your skin. 
We think we have exactly what you're looking for...
SCIENCE BEHIND OUR 24K GOLD PRODUCTS
Truly delves into the science behind our two favorite 24 karat gold skincare treats.
24k Gold Black Soap Impurity Cleanser
Truly's 24k Gold Black Soap Cleanser is skin radiance in a tube. A blend of pure 24k gold, African black soap, and chamomile cleanses, hydrates, and nourishes skin. Used regularly, this hydrating cleanser targets blemishes, dry skin, and signs of aging all at the same time.
This product is great to use during the day before applying makeup to provide the perfect base, and in the pm to clear away dirt, grime, and leftover traces of makeup for clear, clarified skin. Its gold particles create a natural, glowy sheen on the skin throughout the day.
On a more scientific note, gold restores elasticity, slows down collagen depletion, and prevents aging skin. Thanks to its ability to stimulate cellular growth, 24k gold helps regenerate healthy skin cells, while offering a sculpting effect to avoid sagging. 
Gold also boasts antibacterial and anti-inflammatory properties, meaning this formula will clear blemishes and any redness left behind from them.
For best results, use this cleanser 3-4 times a week. 
Apply a thin layer to wet skin and gently massage in an upward, circular motion. Rinse with cool water.
Golden Leaf Resurface & Brighten Face Mask
If you struggle with dull, sagging skin and discoloration, look no further than Truly's Golden Leaf Resurface 24k Gold Mask. Besides being incredibly moisturizing, this facial mask contains 24 karat gold to fade dark spots, even out texture, and brighten a dull complexion. There's also hemp and glycolic acid in there to clear away zits and discoloration. 
According to aesthetician Mary DeRolph, by using nano gold or gold leaf products, "Your skin will have an incredible iridescence." She adds, "The gold will dissolve on your skin's surface to instantly reflect light, and tiny particles will seep in to protect against fine lines and discoloration."
For best results, use this mask two to three times a week.
Start by applying a generous coat on clean skin. Let it sit for 10 minutes. Rinse with cool water. You can also stick it in the refrigerator a few minutes before using for a very cool treatment. For an intensive treatment, leave it on overnight.
So 24k gold in skincare? Are you bought or flopped? Frankly, we think it's worth a try. There's plenty of evidence to suggest this ingredient works. On that note, don't splurge on expensive products just because they have gold in them. You've got two very affordable Truly products that contain 24 karat gold. No need to spend your month's salary!
q
Share
---