5 Fast Fixes For Your Summer Skin Concerns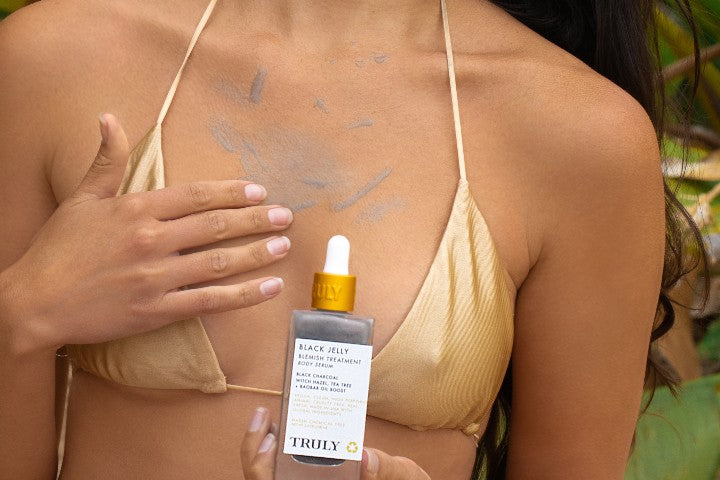 Every season comes with its own set of skincare challenges. Since summer is almost here, we're going to delve into the most common summer skin concerns — and how you can fix them with one single skincare product.
Of course, if you're experiencing severe redness, dryness, or burning, make sure you get it checked out straight away by your dermatologist. However, if your symptoms are mild, you should be able to treat them effectively with the right skincare product.
Ahead, your summer skin problems resolved.
#1: Breakouts
The Fix: Super Heart Pimple Patches
The summertime is probably one of the worst seasons for acne-prone skin types. The combination of high temperatures, outdoor activities, and increased sweating creates the ideal breeding ground for acne breakouts.
"People tend to break out in the summertime because the hot, humid weather means more sweating and oil accumulation on the skin. Ultimately, this means more food to feed acne and block pores," explains Joshua Zeichner, MD, of Zeichner Dermatology.
Fix your summer blemishes with Truly's Super Heart Pimple Patches. Flecked with zit-draining hydrocolloid and acne-fighting benzoyl peroxide to zap away dirt, oil, and bacteria, and clear up your spots. Treating breakouts has never been more fun!
#2: Sunburn
The Fix: After Sun Kit
Sunburn is a common side effect of spending too much time in the sun — unprotected. Symptoms of sunburn typically include red, sore skin that can end up blistering if you don't control the burn ASAP. In addition to reducing your sun exposure, make sure you keep your skin protected by slathering on a broad-spectrum sunscreen with SPF 30. Wearing sunscreen helps prevent the onset of sunburn while warding off other nasty effects such as fine lines, dark spots, and even skin cancer. And according to dermatologists, you should be applying sun protection all year-round.
Fix your sunburn with Truly's After Sun Kit. Inside, you'll find a face mask, serum, and body balm that all work in harmony to soothe and restore red, sun-irritated skin while extending the lifespan of your tan.
Aloe vera in our Mary Jane Glow Mask boasts anti-inflammatory properties that help to heal and restore skin. Amino-rich watermelon in our serum offers hydrating and soothing effects. Antioxidant-rich hemp rejuvenates and moisturizes skin. And pineapple in our body balm contains an exfoliating enzyme known as bromelain which gently buffs away dead skin cells, fading sunburn sun spots and allowing lotions and moisturizers to penetrate more deeply.
In addition to following this 3-step sunburn relief skincare routine, remember to wear sunscreen daily.
#3: Dry Skin
The Fix: Best Buddies Whipped Body Butter
While dryness is normally a winter skin concern, you may also experience dry skin throughout the summer months — especially if you're using the air conditioning a lot. Even though you're probably wearing sunscreen on a daily basis, you still need something that'll inject moisture into your skin and keep it hydrated. Those with oily skin may also end up experiencing dryness if you're using a lot of harsh acne-fighting cleansers and scrubs in your daily skincare routine.
Fix dry skin with Truly's Best Buddies Whipped Body Butter. This brightening body moisturizer contains a nourishing blend of brightening pineapple, smoothing algae, and hydrating hyaluronic acid to deliver juicy, illuminated skin. In addition to its moisturizing benefits, it also protects the skin against sun damage thanks to its antioxidant properties.
If you have a skin condition like eczema, speak to your dermatologist for the best treatment options.
#4: Heat Rash
The Fix: Volcanic Rosewater All-Over Hydrating Body Mist
Heat rash, also known as prickly heat, occurs when sweat gets trapped, leading to clogged sweat glands and ultimately irritation which appears as a red rash with itchy bumps. You'll usually get heat rash when you experience excessive sweating or friction from tight clothing.
"The sweat ducts can be blocked by an overgrowth of bacteria which normally live on our skin, which leads to a 'sticky' by-product blocking up the sweat ducts and trapping sweat under the skin. Up to 30% of people may develop this under certain trigger conditions, which is naturally most common in hot, humid climates," explains dermatologist Dr. Stefanie Williams.
Fix heat rash with a spritz of Truly's Volcanic Rosewater Mist. Made with a soothing blend of rose, aloe vera, and witch hazel, this hydrating formula will instantly calm irritated skin. Plus, it'll leave you smelling like a floral dream!
If your symptoms don't subside with this formula, try taking an antihistamine.
#5: Folliculitis
The Fix: Black Jelly Blemish Treatment Body Serum
Folliculitis is a common skin condition that caused skin to become red, inflamed, and itchy. Its main symptom is inflamed hair follicles, which is typically caused by a bacterial or fungal infection. While this condition can occur at any time of the year, it's most common in the summer when people sweat more and wear tighter clothing.
Fix folliculitis with Truly's Black Jelly Blemish Treatment Body Serum. Its main ingredient — tea tree oil — boasts antibacterial and antifungal properties, which can help clear up skin and scalp folliculitis. It also harnesses the antimicrobial powers of witch hazel and charcoal to target and reduce inflammation without drying out the skin.
The summer comes with its fair share of skin concerns, as you've seen above. Other common complaints include aging spots, heat hives, melasma, and sunburned lips. Most of the time, you should be able to quickly ease your symptoms with one or more skincare products. If your skin issue isn't clearing up with traditional treatments, give your derm a visit to receive the best treatment plan for your concern.
Summertime should be your chance to enjoy long walks on the beach, ocean dips, and hanging out with friends. Don't let a summer skin concern like breakouts or heat rash ruin the fun!
Share
---