5 Innovative Skincare Ingredients to Look Out for this Summer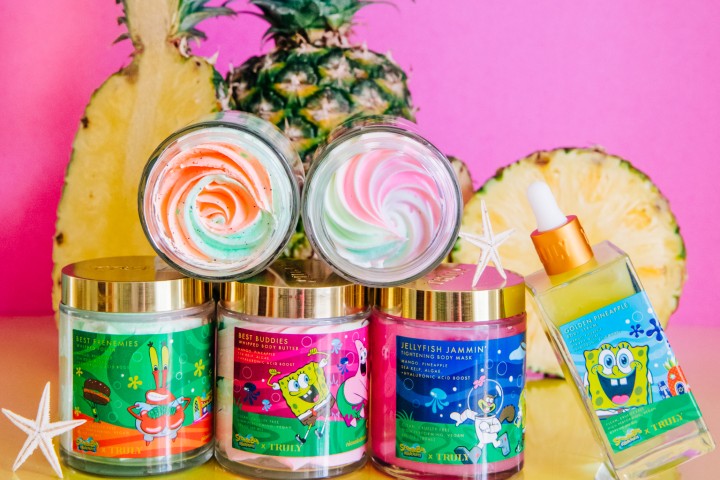 Fresh, dewy, glowing skin...If your summer skin goals sound something like this, it's time to add a few powerhouse skincare ingredients into your daily skincare routine so you can get fresh and glowy just in time for summer. And stay glowing throughout the season!
In the summer, your skincare regimen should focus on two main elements: hydration and protection. It's also the season for including brightening skincare products and antioxidant-rich formulas into your routine.
Here are the best summer skincare ingredients you'll want to start using ASAP — and the products you'll find them in.
Hyaluronic Acid
Between the hot temperatures and drying air-conditioning, your skin is prone to becoming parched in the summer months. That's why hydration is so important. Look no further than hyaluronic acid, a humectant known for retaining moisture in the skin and plumping out fine lines and wrinkles.
"When you apply a hyaluronic acid serum to your skin, it acts like a sponge by attracting moisture to boost hydration on the surface of skin," says Kate Bancroft, Nurse and Founder of Face the Future's CQC-regulated Advanced Skin Clinic & online shop. "The moisture that hyaluronic acid attracts comes from your external environment, so it absorbs moisture from the air around you to leave skin plump and hydrated."
The best thing about hyaluronic acid is that it's safe for all skin types. Even if you have sensitive skin, your skin should easily adjust to this ingredient without any undesirable side effects.
Shop Hyaluronic Acid: Truly's Dulce de Leches Kit
Vitamin C
Vitamin C is a radiance-boosting antioxidant that's famous for its brightening effects, as well as its ability to fight free radical damage formed by UV exposure. It's your best defence against sun damage — and premature signs of aging! Thanks to its brightening benefits, this active ingredient can also minimize the appearance of dark spots and hyperpigmentation.
Vitamin C also plays an essential role in regulating the enzymes lysyl and prolyl hydroxylase which help support collagen production. In other words, vitamin C skincare products can help keep the skin smooth and supple this summer — and beyond!
You'll find vitamin C (often listed as ascorbic acid) in everything from cleansers to toners to serums and lotions.
Shop Vitamin C: Truly's Blueberry Kush Bundle
Niacinamide
Otherwise known as vitamin B3, niacinamide works wonders for your skin. It's a universal ingredient that can treat a wide range of skin concerns, including fine lines and wrinkles, discoloration, acne, and uneven skin tone and texture.
"Niacinamide works with your skin's natural chemistry to improve overall skin texture by rebuilding a lipid layer, minimizing the appearance of pores, and preventing UV damage and inflammation as an antioxidant," explains board-certified dermatologist Brandith Irwin, M.D.
Used topically, niacinamide can help to prevent damage by UV rays, which is why it's commonly found in sunscreen. By including it in your summer routine, you'll be protecting your skin while addressing current skin concerns.
In addition to being safe for all skin types, niacinamide pairs well with most skincare ingredients, especially retinol, alpha hydroxy acids (lactic, mandelic, glycolic acid), squalane, aloe vera, and vitamin E.
Shop Niacinamide: Truly's Cherry Jelly Body Cleanser
Ceramides
Ceramides are important lipids that help to maintain the integrity of the skin barrier and maintain hydration in the skin. According to the derms, using ceramide-infused products is a key anti-aging secret due to their ability to firm, plump, and reduce the appearance of fine lines and wrinkles.
"Ceramides help to seal and trap hydration within the skin," says Laurel Geraghty, MD, of Dermatology & Laser Associates. "Even though the outer layers of skin naturally contain ceramides, our complexion can still become dry, sensitive, and irritated when exposed to cold or dry air, irritating products, harsh cleansers, sun, and other factors."
Ceramides are especially helpful for those with dry skin or eczema. As a matter of fact, experts say ceramides are the missing component in people with this skin condition or severely dry skin. Topical application of ceramides helps restore the outer layer of the skin, and therefore contribute to healthy, hydrated skin.
Pair it with your best hyaluronic acid serum to seal in long-lasting hydration.
Shop Ceramides: Truly's Cake Maker Recipe
Pineapple
There's nothing quite like a juicy pineapple on a hot summer's day. But did you know this tropical fruit isn't just for snacking on? It can also be applied to your skin for brightening, smoothing, and hydrating benefits.
Pineapple is naturally rich in vitamin C which helps brighten and protect skin. It's also packed full of exfoliating alpha hydroxy acids, which help buff away dead skin cells and excess sebum for visibly clearer, smoother skin. And it boasts anti-inflammatory benefits to ease irritation and calm down painful red breakouts.
Whether you've got dry, acne-prone, or oily skin, every skin type can benefit from including pineapple in their skincare routine.
Shop Pineapple: Truly's Hydrating Summer Set
SKINCARE INGREDIENTS TO AVOID IN THE SUMMER
Your skin requires different things in the summer when the sun is stronger and humidity hikes. In order to keep your skin healthy and protected this season, there are a few ingredients you'll want to limit in your routine.
Retinol, for starters, shouldn't be worn during the daytime as it increases skin's sensitivity to the sun, which puts you at a higher risk for sun damage. You can use this elasticity-restoring ingredient in the evening in face masks or creams when you're not exposed to the sun. Alternatively, switch it out for bakuchiol — a gentle alternative to the vitamin A derivative.
You'll also want to avoid oils in sunscreen — particularly if you're blemish-prone. Choose an SPF 30 formula that's oil-free to prevent clogging your pores and experiencing more breakouts. There are plenty of beauty brands out there that offer clean beauty products such as oil-free sunscreen. Choose a formula with zinc oxide!
Ready to get fresh, fab, and glowing this summer? Look out for these ingredients on the back of skincare products, and start reaping all their benefits for radiant summer skin.
Share
---