5 Ways Sweet Almond Oil Can Transform Your Skin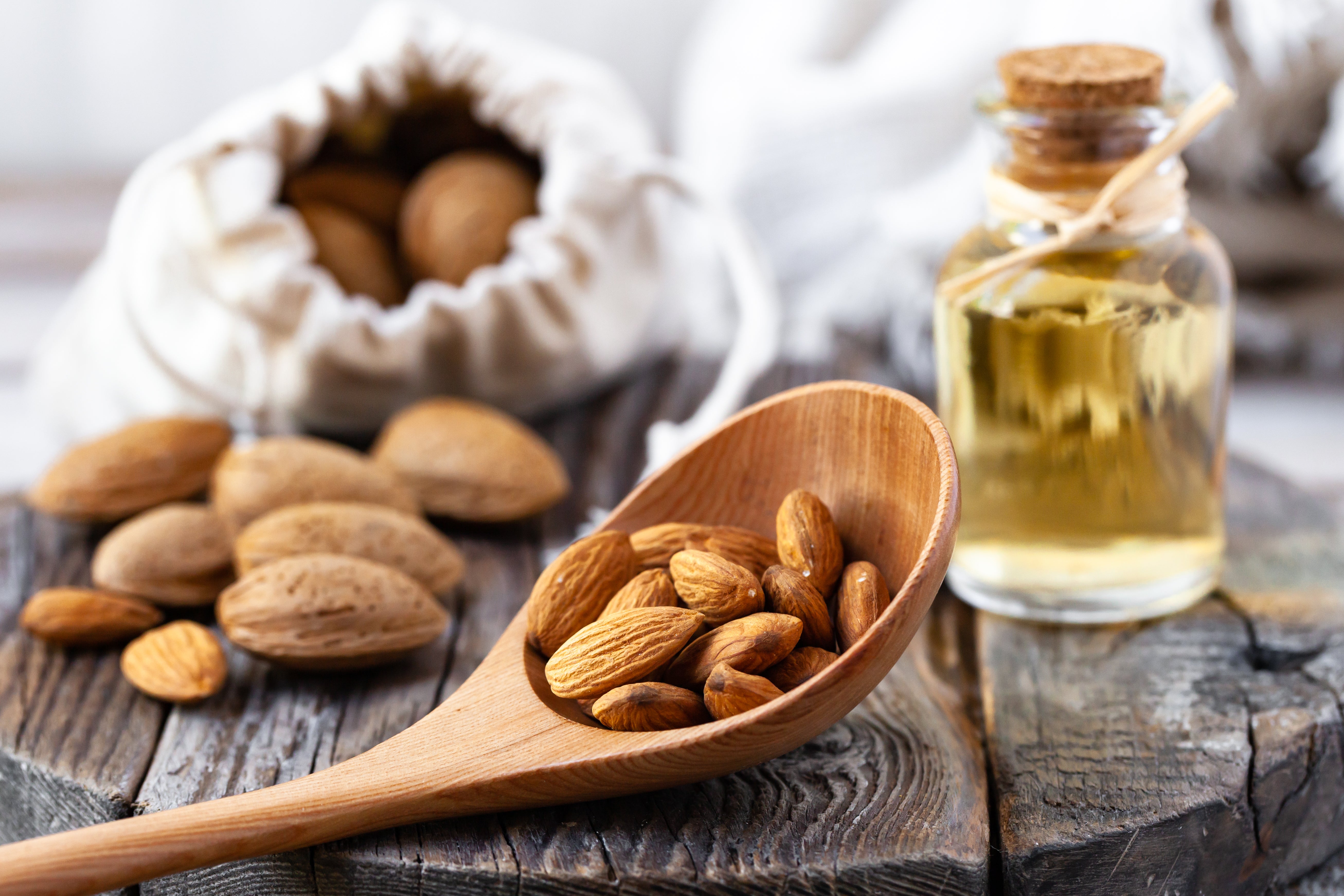 Almonds aren't just a nutritional snack in between meals. They're also highly beneficial for your complexion -- in numerous ways. More specifically, almond oil or sweet almond oil. This nutty oil can work wonders for your skin, including evening out your skin tone and conquering acne among other benefits.
Ancient Chinese and Ayurvedic practices have used sweet almond oil for centuries to help soften the skin and to treat wounds and cuts. Today, this essential oil is sold in nearly all cosmetic and beauty store. And for good reason!
Let's take a look at what sweet almond oil actually is, what it does, and why it might be worth making it a part of your skin care regimen.   
What is Sweet Almond Oil?
Almond oil comes in two main forms -- bitter and sweet. The different varieties come from the Prunus dulcis tree. These almond trees are common in Mediterranean countries, and almonds are its seeds.
Almond oil is made by pressing or grinding almonds and then using heat to refine the oil. Cold-pressed almond oil, on the other hand, is extracted at a low temperature without solvents. Typically, dermatologists will tell you to opt for the cold-pressed version of the prunus amygdalus dulcis oil because it's 'better' for the skin.
What Nutrients Does Pure Sweet Almond Oil Contain?
Sweet almond oil is generally considered the better suited version of the oil for skin. That's because it contains a myriad of nutrients:
Vitamin A: Stimulates the production of new skin cells.
Vitamin E: Offers antioxidant properties to help prevent skin cell damage.
Zinc: Heals acne or other facial scars.
Oleic Acid: Calms and soothes sensitive, irritated skin. 
Omega 3 Fatty Acids: Helps prevent premature aging and protects against sun damage.
What are the Benefits of Sweet Almond Oil?
Without a doubt, sweet almond oil can transform your complexion with regular use. For healthy skin, you should definitely give this pure moisturizing oil a try. It offers natural nourishment for the skin and potent hydrating properties. Let's take a full look at its list of benefits.
It Evens Out Your Skin Tone
Thanks to its emollient properties, sweet almond oil can improve the complexion and skin tone. This natural oil works by sitting on top of the skin rather than soaking deep into the epidermis. That's why it works so well at treating surface skin problems. Another benefit of this essential oil: it is suitable for all skin types. Dry skin. Sensitive skin. You name it, it works. 
It Treats Dry Skin
Sweet almond oil is a moisturizing powerhouse. It is a highly effective moisturizer for people suffering from dry skin. 
As you may already know, moisturizers supply water to the skin and lock it in with an oily substance. Emollients -- like almond oil -- smooth the skin and help it retain moisture by strengthening its barrier function. Additionally, this nut oil can improve skin conditions such as dermatitis and eczema.
According to one study, moisturizer containing sweet almond oil reduced the symptoms of severe hand dermatitis. 
It Can Clear Up Acne Issues
This essential oil's high fatty acid content means it can help dissolve oil on the skin and as a result, reduce the appearance of acne.
You can use almond oil either as a cleanser, makeup remover, or in replacement of lotions (no good for acne sufferers!). 
It Smooths Out Stretch Marks 
If you've been seeking medical advice about your stretch marks lately, you don't need to worry about undergoing painful procedures to get rid of them. 
Preventing and reducing the appearance of stretch marks can be achieved with regular use of sweet almond oil used as a massage oil all over the entire body. Use it like you would any other body oil -- and pay close attention to those pesky areas.
One study found that sweet almond oil cream may reduce the spread of stretch marks and their feeling of itchiness.
It Can Make You Look Younger
Almond oil may also help reduce signs of aging. Now, we know there are a lot of beauty oils out there to choose from. Think avocado oil or jojoba oil, coconut oil or argan oil. However, pure almond oil is very beneficial for various skin types -- particularly aging skin. 
Some researchers believe that sweet almond oil can protect the skin from the effects of ultraviolet radiation, which leads to skin aging and in some cases, skin cancer. 
Still, there is little evidence around this theory, so it's still important to slather the sunscreen on whenever you go outside. 
How to Use Sweet Almond Oil For Skin?
You can either use it pure or as a carrier oil. However, we recommend the former to reap all its benefits.
As part of your personal care routine, you can use almond oil either as a cleanser, makeup remover, or as a moisturizer. 
Only use a small amount. A few drops is enough to reap its full effects.
A little added tip: sweet almond oil isn't just for skin, you know. Feel free to use it in your hair care routine as a conditioner or in your next aromatherapy session. 
COCO ROSE FUDGE JUMBO
Want to feel hydrated while smelling like fresh roses at the same time?
That is the power of Truly's Coco Rose Fudge body butter. 
It's cruelty-free. Vegan. And very desirable! 
Formulated with a blend of coconut, rose, and sweet almond oil, this nourishing butter will brighten, soften and smooth -- all while giving you the best glow of your life. 
Forget about oily residue and stickiness that usually accompanies rich, gorgeous-smelling lotions. Coco Rose is immersed in feminine floral aromas and whipped to perfection, with the most luxurious consistency that simply glides onto the skin.
Packed with nutrients and minerals, this is the hydration body butter every girl needs in her life. 
HOW TO USE
Apply Truly's Coco Rose Fudge Jumbo butter to the entire body after showering. This butter is more suitable for dry skin on elbows, knees, feet, and cuticles. 
Trust us, you're going to want to try this ASAP. 
Share
---