A Field Guide for A Smooth, Golden Summer (Bye Redness, Bye Strawberry Skin)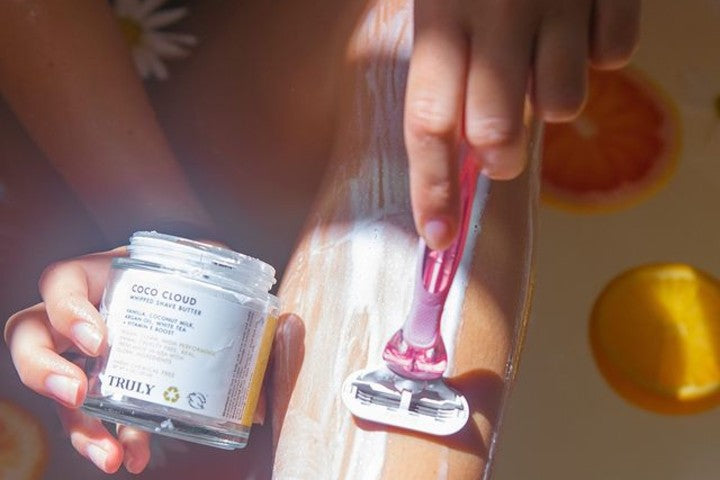 There's something about summer that motivates us to prep our skin to perfection. Maybe it's the lovely, hot weather that puts us in a brighter, inspired mood, or perhaps it's knowing that our legs, arms, and abs are going to be on display.
Either way, it's always nice to take extra care of your skin, regardless of the season. Think of it as a well-deserved self-care session.
We're going to show you how to achieve smooth, golden summer skin with just a few simple tips. Once you know how to handle redness, strawberry legs, and dryness, you can look forward to healthy, happy skin from head to toe.
Bye Sunburn
Sunburn is painful, but it can be prevented: by applying plenty of sunscreen before leaving your house. And it's just as important even if you don't plan on spending the afternoon at the beach.
"Completely indoor activities don't require sunscreen, but many of us discount the sun that we get on a daily basis from just running errands and all the 'incidental' sun damage adds up," says Elizabeth Tanzi, founder and director of Capital Laser & Skin Care. "That's why we recommend daily sunscreen application, so you are always protected and don't have to think about it."
If you're using a chemical sunscreen, make sure you apply it to clean, fresh skin. You need to give it time to absorb so that it interacts with skin cells. However, a sunscreen with zinc oxide or titanium dioxide should be applied last – after your other skincare steps.
We recommend applying products with ingredients that repair the skin, such as hyaluronic acid or vitamin C, like Truly's Cream Skin Facial Moisturizer and Truly's Vegan Collagen Facial Serum.
If you're too late and you're already suffering the side effects of too much sun exposure, aka sunburn, turn to the tried-and-true after-sun ingredient: aloe vera. You'll find it in Truly's Soothing Rosewater Mist.
Dermatologist Melissa Kanchanapoomi Levin also recommends opting for a lightweight cream after sun exposure rather than a thick cream.
"Heavier moisturizers with lots of emollients and oils can actually hold the sunburned heat into the skin, and [they] don't provide the relief that something more lightweight would," she explains.
Bye Strawberry Skin
Strawberry skin is the result of open comedones which have been clogged with oil, resembling the seeds of a strawberry. It usually appears on the legs but can also be found on other parts of the body like the arms and cheeks.
The best treatment for strawberry skin is salicylic acid. This hydroxy acid penetrates deep into the follicles, keeping pores clean and decongested. Luckily, you will find salicylic acid in numerous skincare products, including washes, peels, and lotions.
Say cya to strawberry skin with Truly's CBD Jelly Anti-Blemish Body Cleanser. It's made with a blend of salicylic acid and retinol to clear pores and promote smooth, blemish-free skin.
You should also be mindful of how you shave.
"Shave with a new, sharp, clean blade, and change your blades frequently," says board-certified dermatologist Hadley King, M.D. Get Truly's Silky Smooth Shave Set to guarantee a perfect shave.
Alternatively, consider shaving instead.
"Waxing removes the hair by the root so the hair follicle is completely removed whereas shaving just cuts the hair right at the edge of the skin's surface. [It] also removes the dead top layer of dry skin along with the hair, which provides an exfoliation at the same time," says esthetician Ali Tobia. 
She adds, "Over time, waxed hairs grow back softer and thinner, which can help you spread out the time between hair removal and minimize the strawberry legs effect."
By using a salicylic acid cleanser and adopting better hair removal habits, you can expect to see the last of your strawberry skin.
Bye Dry Skin
Dry skin on your body can be caused by multiple things like sun exposure, dry weather, travel, or lack of exfoliation. Even taking hot showers can dry out your skin, as can many scented lotions which often contain alcohol. To keep your body hydrated and flake-free, exfoliate and moisturize frequently.
"Exfoliation is my secret weapon to having great skin," says celebrity facialist Joanna Vargas. You can even try making your own DIY scrub by combining a cup of brown sugar, 1/4 cup honey, and 1/4 cup coconut oil. "The brown sugar is super soft on the skin, but is just strong enough to really clean out your pores. I recommend exfoliating twice per week in summer and once a week for winter."
Alternatively, try Truly's Moon Rocks Whipped Body Scrub.
It's also worth investing in a nourishing body wash that hydrates your skin rather than dries it out. Many body washes contain alcohol and other chemicals that can dehydrate the skin. You can replenish lost moisture by washing with a hydrating body wash, containing plant oils and antioxidant ingredients.
Then follow up with a body oil like Truly's Blueberry Kush CBD Body Oil.
Oil can soothe troubled skin, providing moisture and also reducing irritation and redness. It will also cleanse your skin of any dead skin that's build up over time. Plus, it'll leave your skin smelling divine.
To lock in all that moisture, complete your body skincare routine by slathering on a thick layer of body cream, butter, or lotion, like Truly's Unicorn Fruit Whipped Body Butter. This'll help seal in all that moisture and keep your body soft and smooth all day long.
The summer season is the perfect excuse to spend extra time in the bathroom. By implementing a good skincare routine for your body now, you can enjoy flawless skin ready to be shown off by the time summer rolls around.
Of course, don't forget to protect your skin, too. Applying sunscreen daily is a necessity to maintain healthy, youthful-looking skin, while protecting you from sun damage.
You don't have to break the bank balance with these affordable beauty products. And they'll definitely deliver the results you've been hoping for!
Share
---