A No BS Skincare Routine that Works for Everyone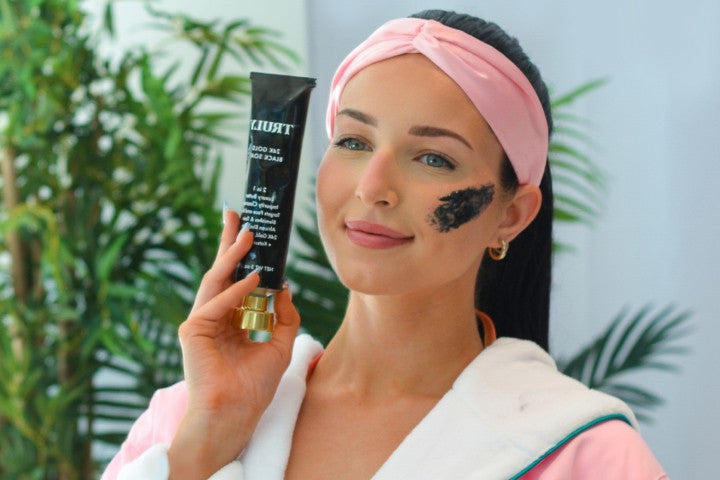 If you're tired of hearing about 12 step skincare routines, this guide is for you. When it comes to skincare, you really don't need a dozen steps or multiple lavish skincare products to achieve your skin goals. Even if you're dealing with skin concerns like acne, fine lines, discoloration, dullness, or dryness, every skin type with every skin concern can benefit from a streamlined routine.
The secret is in the products you use. A few high performing products incorporated into your daily regimen is all you need to achieve your best skin.
Here's a no BS skincare routine that works for everyone.
AM NO BS SKINCARE ROUTINE
Start your day with this no BS skincare regimen -- chock full of no bs products.
#1: Cleanser
Morning cleansing preps your skin for product application. In other words, by lathering away the buildup of oil, dead skin cells, and grime, you allow the active ingredients in other products to penetrate deeper into your skin, enabling them to work better.
As soon as you wake up in the morning, wash your face with a gentle cleanser like Truly's Super Matcha Facial Cleanser. It's gentle enough for sensitive skin yet powerful enough to treat issues like breakouts, dryness, and dullness. Made with brightening vitamin C, blemish-clearing green tea, and hydrating coconut oil, this formula works for all.
Whether you've got oily skin, acne-prone skin, or dry skin, every skin type can enjoy the benefits of this daily facial cleanser.
#2: Serum
While toners today are far gentler and more hydrating than they used to be, they're an optional step. If you're looking to follow a no bs beauty routine, you can definitely skip the toner in favor of a serum that targets your specific skin issues.
The great thing about serums is that they contain a high concentration of active ingredients to effectively tackle different concerns. They make an excellent topical treatment for everything from fine lines to acne to dark spots and even sagging.
In the daytime, however, it's best to use ingredients that aren't photosensitive, like vitamin C for brightening effects, hyaluronic acid for hydration, and aloe vera for irritation.
Try Truly's Glass Skin Facial Serum, a formula of moisturizing sea kelp and acne-clearing willow bark to hydrate, calm, and clear your complexion. Another good choice is Truly's Golden Pineapple Serum, which is loaded with vitamin C and vegan collagen to help protect skin from sun damage — and make your SPF work harder!
#3: Moisturizer
Even oily skin needs hydration to stay clear and healthy. In the daytime, opt for a lightweight moisturizer like Truly's Cream Skin Face Cream. Enriched with hyaluronic acid, sea kelp, and coconut oil, this daily moisturizer attracts and seals in moisture for day long hydration.
Besides leaving skin feeling soft and looking dewy, this formula can improve skin tone and skin texture for your smoothest, brightest complexion. And you only need a pea-sized amount!
#4: Sunscreen
Every no bs skincare routine includes sunscreen. SPF is a daily essential for protecting your skin against skin-harming UV rays which contribute to premature aging, as well as skin cancer. Look for an oil-free sunscreen with SPF 20 or higher. If you have fair skin, go no lower than SPF 30 for maximum protection. Re-apply every two hours.
PM NO BS SKINCARE ROUTINE
Finish your day with this no BS night-time skincare regimen -- chock full of no bs products.
#1: Cleanser
The most important time to cleanse is at night before hitting the sheets. During the day, your skin accumulates a buildup of dirt, dust, and oil, which can clog pores if they're not washed away properly. Plus, having that buildup on your skin prevents other products like your serums from fully absorbing into the skin.
Opt for the same cleanser used in the am routine, or if you're looking for something that offers a deeper cleanse, try Truly's 24k Gold Black Soap Impurity Cleanser. This face and body cleanser contains charcoal, salicylic acid, and 24k gold to deliver gentle exfoliation and buff away the daily grime, leaving you with fresh, clean skin. It also helps to fade discoloration, acne scars, and pesky pimples.
#2: Serum
Since retinol can cause sun sensitivity, it's best to reserve your retinol serums and creams for the evening. Other ingredients that can leave skin vulnerable to sun damage include AHAs (glycolic, lactic acid), BHAs, (salicylic acid), and benzoyl peroxide. It's fine to use these ingredients in your cleanser since it doesn't stay on the skin, but if you're using them in serum form, it's best to use them when your skin isn't exposed to the sun.
The night time really is the best time to apply your favorite serums, as skin absorbs product better at night. From your pure hyaluronic serum to your vitamin E serum, apply these products at night to get the best results from them.
To treat a slew of of skin concerns ranging from fine lines to blemishes to discoloration, opt for a retinol-based formula like Truly's Vegan Collagen Facial Serum. It's made with retinol, vegan collagen, coconut oil, and vitamin C to tighten, brighten, and hydrate skin.
#3: Moisturizer
Seal everything in with a nourishing moisturizer. You can choose from a retinol night cream or a night hyaluronic cream. You can even throw in a caffeine eye cream if you're dealing with dark circles. Just make sure you moisturize before going to bed.
You can use the same moisturizer featured in the am no BS skincare routine.
#4: Overnight Face Mask (Optional)
Occasionally, try using a sleep mask to treat fine lines, wrinkles, acne, and dullness as you sleep. Truly's Starface Jelly Sleep Mask features a blend of resurfacing AHAs, free radical fighting vitamin C, and collagen boosting retinol to visibly firm, tighten, and brighten your complexion.
When following a no bs skincare routine, try to choose products free of sulfates, parabens, and fragrances, which can irritate skin — especially skin that's already sensitive. Speak to a dermatologist if your skin doesn't improve after four to five weeks of following the above no bs routine.
Share
---