Going Organic: Easy DIY Summer Face Masks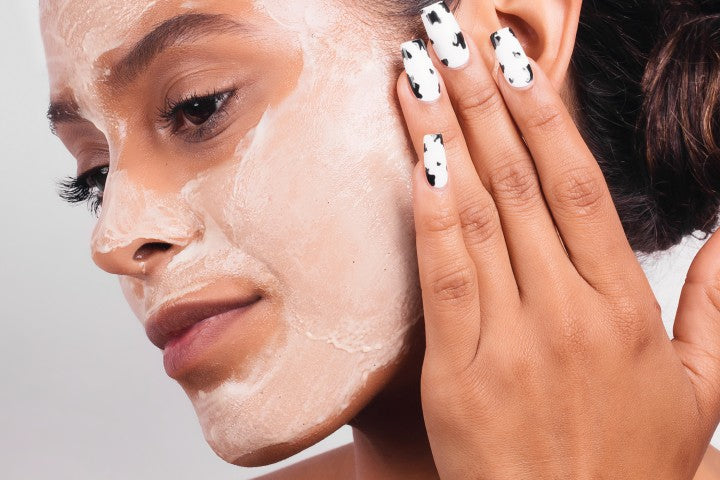 Who doesn't love a good face mask?
Whether you've had a crappy day in the office or you're just looking to unwind on your day off, face masks are a truly enjoyable wellness ritual that benefit both your skin and your mental health. 
Know what's even more fun? Creating your own DIY summer face masks.
Turns out, your next face mask fix might be found in the contents of your fridge.
Let's start whipping up some yummy skincare treats!
The Hydrating Mask
1/2 ripe avocado
1 tablespoon of plain yogurt
1 teaspoon of honey
This moisturizing facial mask offers relief for dry skin. Mash the avocado until it's soft, mix it together with the yogurt, and then add in the honey so you get a paste. Layer it on your face and leave on for 10-15 minutes. If you're seeking intense hydration for chronically dry skin, add two teaspoons of olive oil into the mix. It'll instantly smooth the skin and give your complexion a nice, dewy finish.
Avocado and olive oil are loaded with essential fatty acids and nutrients that hydrate the skin. Teamed with honey -- a humectant that helps your skin retain moisture -- it'll leave your skin looking smooth and radiant.
Same results, different formula: Truly's Hemp Oil Facial Serum
The Anti-Aging Mask
2 tablespoons of yogurt
1 mashed ripe banana
1 teaspoon of honey 
Enjoy a more youthful appearance with this easy, anti-aging homemade face mask. In a small bowl, mix together the ingredients until you get a smooth paste. Leave the formula in the fridge to chill so that it'll temporarily tighten your skin when applied. Apply the mix to your face, and let it sit for 20 minutes before rinsing. 
What makes this anti-aging mask so effective is the lactic acid found in yogurt. Lactic acid is an alpha hydroxy acid (AHA), which means it boasts natural acidic properties that help exfoliate away dead skin cells while stimulating skin turnover for a healthy, radiant glow.
Bananas are powerhouses of antioxidants and vitamins that are essential for vibrant, youthful skin. And the honey functions as a humectant to moisture and seal in moisture for super soft, smooth skin.
Same results, different formula: Truly's Vegan Collagen Face Mask
The Glowing Skin Mask
2 teaspoons of cocoa powder
1/4 papaya
A squeeze of Aloe Vera gel
This brightening face mask recipe works wonders for dull, lacklustre skin. It's also suitable for all skin types (including sensitive skin) thanks to its no-acid formula. Mix all three ingredients together, apply to the skin, and let it sit for ten minutes before rinsing.
Aloe Vera is bursting with vitamin A, vitamin C, and vitamin E, as well as a variety of B vitamins, which means it offers moisturizing and brightening effects. Papaya is packed with exfoliating enzymes that will remove dead skin cells. And the added cocoa powder provides an extra burst of glow.
Same results, different formula: Truly's Mary Jane Glow Mask
The Blemish-Banishing Mask 
1 tablespoon of honey
1 teaspoon of turmeric powder
1/2 teaspoon of Dead Sea salt
1 teaspoon of nutmeg 
Slather on this exfoliating honey mask to treat acne-prone skin. Just mix them together, and apply to the face -- you can either use your hands or a foundation brush. Let it work its magic for 10 minutes before washing off with warm water and apply a lightweight moisturizer or serum.
Honey is a natural antibacterial that prevents and treats breakouts. Dead Sea Salt and nutmeg gently exfoliate the skin to draw out impurities and unclog pores. And the turmeric? That's to bring down any redness.
Together, these natural ingredients stop acne in its tracks, bringing down infection, irritation, and excess oil that clog the pores and lead to breakouts.
Same results, different formula: Truly's Hemp Jelly Anti-Blemish Face Mask
The Pore-Minimizing Mask
1 egg white
1 teaspoon of lemon juice
1/2 teaspoon of turmeric powder
Who isn't currently on the search for pore-shrinking beauty products? The good news is, you can create your own formula for achieving a matte-like complexion. Just whisk together the three ingredients, slather the mix all over your face, and leave it on for 15 minutes before rinsing. You'll probably want to change into an old T-shirt before applying -- it could get messy!
Egg white proteins are fab for oily skin types because this ingredient tightens pores and attacks acne-causing bacteria. Combined with the dose of vitamin C from the lemon and brightening properties of the turmeric, this mask can help shrink your pores, eliminate excess oil, and brighten your complexion.
Same results, different formula: Truly's Golden Leaf Resurface & Brighten Face Mask
JUST SOME THINGS TO REMEMBER BEFORE ATTEMPTING A DIY MASK
Check the Expiration Dates
Thinking about putting that tub of yogurt that's been sitting in your fridge for ages to good use? Think again. If you wouldn't eat it, don't bother applying it on your face either. Using old, expired products can cause irritation to the skin. So make sure what you're applying is still fresh to avoid coming out in blotchy patches.
Steer Clear of Certain Ingredients
DIY face masks are generally quite safe, because they're made with natural ingredients. However, there are certain products you don't want to put on your skin without pre-mixing first, such as apple cider vinegar and lemons.
Use Your Mask Within an Hour of Mixing
Unlike the majority of face masks you find in beauty stores, DIY face masks don't contain preservatives. As a result, the ingredients in them can quickly go off when exposed to air and bacteria. To avoid irritating your skin, make sure you use your mask within an hour of making it.
DIY summer face masks are easy and fun to make -- and surprisingly, very effective.
For best results, apply one of these masks once a week followed by a gentle serum and moisturizer. Of course, this should also be an extension of a regular, targeted skincare routine if you want to achieve glowing summer skin!
Share
---