How To Actually Fade Dark Spots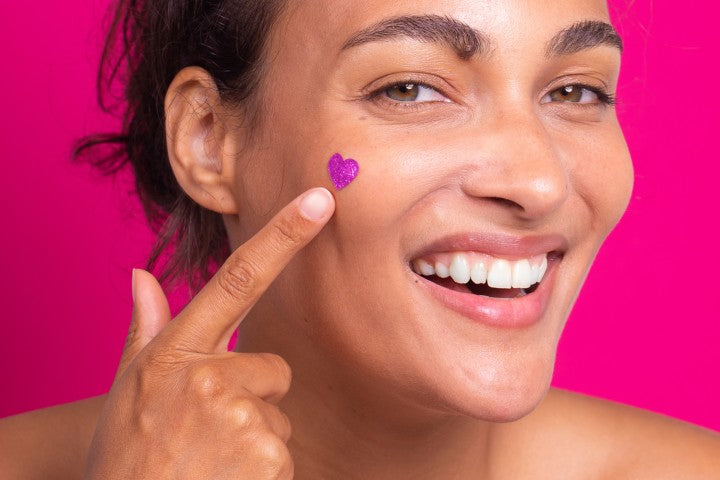 If you've noticed a recent cluster of dark spots appearing on your skin, you're no doubt wondering if there's a quick fix for them, right?
When it comes to dark spot treatments, you have plenty of options to choose from. But where do you even start? Are there certain ingredients you should be on the lookout for? Do they even work?
Don't let uneven skin and discoloration get you down any longer. We've done the research – and we've found the solutions to finally fade dark spots.
WHAT CAUSES DARK SPOTS ON THE SKIN?
The secret to treating skin issues is figuring out the underlying cause. Once you can establish the issue, you can then get to treating it.
According to plastic surgeon Melissa Doft, MD, "Dark spots or hyperpigmentation are due to the overproduction of melanin in the skin by melanocytes." So, what causes extra melanin production?
She explains, "Hormones—both estrogen and progesterone—can increase the level of melanin—why pregnant women see dark spots that often lighten following birth; the sun can increase the level of melanin—why we have more dark spots after the summer; and age can increase the size of the melanocytes—why we see dark age spots in older patients."
But that's not all. Even skin irritation caused by acne, harsh scrubs, and waxing can cause dark spots.
Now you know the causes of dark spots on the skin, let's find out how to actually get rid of them for good.
HOW TO GET RID OF DARK SPOTS ON SKIN
Fortunately for you, there are a few treatments to choose from when it comes to fading dark spots on your skin. We've put together the best at-home skincare products for erasing those pesky dark spots you've been putting up with for far too long.
Glycolic Acid
A great ingredient for making dark spots disappear: glycolic acid. This alpha hydroxy acid (AHA) helps dissolve the glue between dead skin cells, leaving you with a clarified, brighter, glowing complexion.
Besides scrubbing away surface-level dead cells, glycolic acid can enable other products to better absorb and make them more effective.
Truly's CBD Jelly Toning Solution contains glycolic acid, aloe, and rose petal to smooth skin, decongest pores, and fade discoloration.
Retinol
This superstar ingredient can do many things – including diminishing dark spots.
"Retinols increase cell turnover and make skin cells cycle more efficiently," says Dr. Corey L. Hartman, MD, founder of Skin Wellness Dermatology in Birmingham, Alabama. He explains that they also inhibit the production of tyrosinase, the enzyme that causes dark spots to develop in the first place. In short, retinol serves as a kind of exfoliant to slough off dead cells and speed up the production of new ones for a clear and even complexion.
But that's not where its magic ends. Retinol also stimulates collagen production, which promotes skin cell turnover, helping to fade away hyperpigmentation on the skin.
Treat your dark spots with a few drops of Truly's Purple Rain Facial Oil. It's packed with retinol!
Vitamin C
Vitamin C is an excellent topical antioxidant that blocks free radicals from damaging your skin. It can also brighten skin, prevent wrinkles, and even fade dark spots.
"It also inhibits enzymatic processes that produce melanin in the skin, as such it can help to reduce dark coloration of the skin," says Sumayah Jamal, M.D., of Schweiger Dermatology Group.
Vitamin C also lightens only affected areas with pigmentation – not the rest of your skin.
For a daily boost of vitamin C in your skincare routine, add Truly's Vegan Collagen Facial Serum to your shopping cart.
Salicylic Acid
This beta hydroxy acid (BHA) is another great product for fading dark spots on your face. That's because it stimulates the formation of new skin cells, speeding up the healing process of dark spots.
What's more, salicylic acid helps clear excess oil from the pores and reduces redness and irritation on the skin.
Salicylic acid is an effective exfoliating ingredient. That's what makes it a go-to product for treating hyperpigmentation.
With Truly's CBD Jelly Anti-Blemish Facial Cleanser, you can enjoy the benefit of salicylic acid, CBD, watermelon, and vitamin A for smoother, clearer skin.
Hydrocolloid Patches
If your dark spots are caused by acne scars, hydrocolloid might be your best option. Or more specifically – hydrocolloid patches, otherwise known as acne patches or stickers.
Hydrocolloid patches work by drawing out oils and grime while simultaneously healing the tissue around the area. They're often infused with healing ingredients like witch hazel and glycolic acid to brighten dark spots.
As Mona Gohara, MD, associate clinical professor at Yale University puts it, "They help skin heal from the inside out in a moist environment, like the way it's supposed to."
Want to give zit patches a try for yourself? Stock up with Truly's Super Acne Trio.
Layer on the Sunscreen
Most important of all: use a broad-spectrum sunscreen every day. Besides treating dark spots, it can also prevent them.
"Dark spots will get darker with sun exposure," says Alan J. Parks, M.D., board-certified dermatologist and founder of DermWarehouse. "Sunscreens, and particularly physical sunblocks that have either zinc oxide or titanium dioxide, can block out most of the rays that will darken the dark spots."
So invest in a high-quality sunscreen that you can wear every day for ultimate protection. Even if it's not a particularly sunny day, you should still be wearing plenty of SPF 30 sunscreen to keep your skin healthy and shielded from harsh UV rays.
If you've tried all of the above things and you still visibly see your dark spots, it's time to book an appointment with your dermatologist. They'll be able to offer you some effective in-office treatments for getting rid of dark spots. Some of these include laser treatment, chemical peels, and microneedling.
However, we do advise you to give the above tips a try. Give it several weeks of regular use before you give up. Patience is key when it comes to fading dark spots.
Share
---