How to Look Expensive AF: A Beauty Routine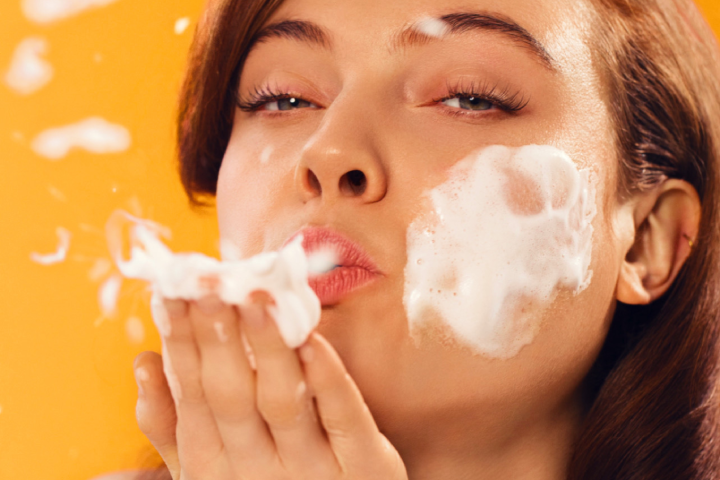 Many people think wearing designer clothes and having a Louis Vuitton perched under their arm signals wealth, when in actual fact looking expensive can quite easily be achieved with just a few beauty essentials.
See, good skin alone is enough to think someone has access to the best dermatologists in town. Not to mention glossy hair, which indicates someone's ben taking their vitamins and using the best hair care products money can buy.
Luckily, you don't have to splurge on hundred dollar products to look like a mega rich babe. No, you can achieve that expensive AF look with a solid skincare routine and a few hardworking beauty products.
Here's a beauty routine to help you look like a billion dollar boss babe!
#1: Keep Your Face Fresh
That means washing your skin with a gentle cleanser morning and night to remove oil, impurities, dead skin cells, and makeup. Daily cleansing is crucial for keeping pores clear and skin clarified. Whether or not you're acne prone, it's important to cleanse frequently in order to prevent blemishes, improve skin tone, and enable other skincare products to absorb better.
Try our Super Matcha Facial Cleanser to soothe, clear, and hydrate your skin while ridding it of excess sebum and impurities. It's made with a nourishing blend of matcha, vitamin C, and lavender to keep your complexion clear and glowing.
#2: Always Moisturize
Expensive skin looks clear, bright, and well hydrated. Unfortunately, we can't say the same thing for dull, dry, flaky skin. Keep your skin look ultra lush by moisturizing it after every cleansing session. It's best to do it while the skin's still slightly damp so it penetrates the skin more effectively and gives you that lovely dewy look.
Try our Flower Child CBD Face Cream to keep your skin babysoft all day. It's made with hyaluronic acid, jojoba oil, and CBD to lock in moisture while soothing irritation. Plus, it's suitable for all skin types.
#3: Buff Away the Dullness
Exfoliation really is the only true way to achieve rich-looking radiance. That's because exfoliation buffs away dead cells on the skin's surface, revealing fresh, healthy skin underneath for a youthful, glowing complexion. Besides the brightening effects, exfoliation also improves skin texture, so your skin will feel a lot smoother after a buffing session. Plus, it will make your concealer and foundation glide on seamlessly. 
You can either use a physical sugar-based scrub or a chemical exfoliant with AHAs or BHAs. We love both, but the latter is better for all skin types. 
Try our CBD Jelly Toning Solution to wipe away dead skin and dirt, banish breakouts, and leave your skin smooth and sparkly. Glycolic acid, tea tree oil, and aloe work together to dissolve dead skin and oil buildup while reducing redness and inflammation.
#4: Don't Forget Your Lips
Nothing says luxe more than plump, glossy, satin-smooth lips. Just like the rest of your face, your lips are prone to dryness, irritation, and flaking, too. That's why you need to take good care of them.
Try our 4-step lip plumping kit AKA GLOAT: Greatest Lips Of All Time to exfoliate, moisturize, and plump your pout to princess-worthy levels. The kit features a lip scrub, serum, oil, and butter formulated with coconut oil, hyaluronic acid, and peppermint to nourish and add oomph to your kissers.
#5: Address Skin Concerns
From fine lines and wrinkles to breakouts and pigmentation, it's important to address skin concerns so you can enjoy clear, smooth, radiant skin. The kind rich babes know!
To iron out creases and restore your youthful glow, try our Vegan Collagen Skincare Bundle. It's loaded with retinol, antioxidants, and vegan collagen to plump, smooth, and hydrate your skin.
To tame oily skin and ward off blemishes, try our Anti-Blemish Facial Kit, which features a cleanser, toner, serum, and mask designed to clean pores, prevent blemishes, and soothe easily irritated, sensitive skin. 
And finally, to treat pigmentation, try our trendy-on-TikTok Jelly Booster Pigment Treatment. It's made with pomegranate, vitamin B12, and spirulina to quell inflammation, lighten pigmentation, and diminish dry skin.
#6: Always Wear SPF
Sunscreen shouldn't be reserved for summer only. If you want your skin to stay clear, healthy, and luminous, wear a broad-spectrum sunscreen every day regardless of whether or not it's sunny outside. 
You can easily find sunscreen at your local drugstore or Sephora. Just make sure you choose a product that offers the protection you need to ward off unpleasant side effects of the sun, like fine lines, dark spots, and dullness.
#7: Keep Your Makeup Clean and Polished
Thick, heavy, gunky makeup doesn't exactly scream rich biaach. If you want to look expensive af, keep your makeup clean and polished. 
A light layer of foundation, a couple of lashings of mascara, and a sweep of lip gloss should be enough to leave you looking pretty, prepped, and polished without looking OTT. A rich girl's makeup look appears almost minimalistic. 
#8: Wear Weekly Hair Masks
And finally, let's not forget that fantastic mane of yours! To keep your strands looking silky and shiny, aim to apply a hair mask at least once a week. It really is one of the best hacks for reducing frizz, strengthening your strands, and flaunting fab hair.
Try our Star Fruit Hydrate & Shine Hair Mask. It's made with a blend of hydrating coconut, shine-inducing chamomile, and soothing Buddhas Hand for those shiny, strong strands you can only dream about.
Healthy hair is expensive hair. Unfortunately, it's hard to pull of the look if your hair is brittle, broken, and beaten. Use this mask at least once a week to enjoy all its benefits!
Now you've got your expensive AF beauty routine down to a tee, it's time to head to your wardrobe, slip on a blazer, structured handbag, and some polished heels, and you're ready!
Looking expensive doesn't need to break your bank balance. With the right products and consistency, you can get that rich girl skin, hair, and makeup in less than $100 bucks. 
Share
---